As a finance blogger, I get a lot of questions related to trading in futures and options.
I have no practical knowledge for trading in futures or options or even commodities and forex for that matter and there are few reasons for it.
So here is why I don't trade in futures and options: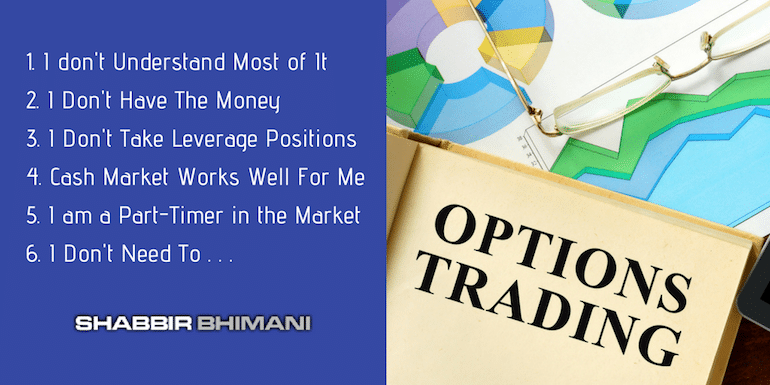 1. I don't Understand Most of It
Though I am in the market for more than a decade, I still don't understand futures or options market and there is no harm in accepting it. I don't have the needed domain expertise to be able to understand it.
I have written some basic articles on open interest or call and put options, but to be able to trade in the market, I need to put the information to use and be able to predict the price movement. I still don't understand the concept behind the need for an expiry date for an open position either. Why it needs to be squared off or rolled over at a given date. Or why there has to be a premium or a discount to the current price.
I understand chart pattern and price action but there are more things about futures market that goes way over my head. So it is better to keep away from things that are beyond your understanding.
2. I Don't Have The Money
My view of the futures market is – It is for traders who want to hedge their cash market open positions. I don't like to hedge but prefer a stop loss and so it is not for my type of retail investors. This is what my view of the futures market and I may be wrong.
So to trade in futures or in options, one needs more money than the current investment in the cash market.
I know this sounds contradictory to the common view of retail investors about futures or options market. Most of the retail traders are in futures or options because they have less money and can take the leverage of futures to make significant returns from the market.
Actually, the opposite is true. If you have a very small sum of money, you shouldn't even be investing in stocks but should invest in equity via the mutual fund route to have some diversification.
3. I Don't Take Leverage Positions
Some argue leverage is good whereas others are against it. I am against it.
The advantage of leverage to generate much better returns are well known but the amount of risk it adds isn't something I am willing to take.
So I always avoid leverage based trading. Futures, options, commodities and forex are all leverage based trading. The position in the futures market that one can take is a few times the amount invested. The leverage adds a lot more risk to the invested capital.
4. Cash Market Works Really Well For Me
Necessity is the mother of all invention. If the cash market wouldn't have worked for me, I may have gone onto the trade in something else but as of now, it is working really well for me.
Being a part-time investor, I am fine doing the research at my own pace and invest in companies or take minor positional trade positions that I am fine with my availability of schedule for the market.
When it is working for me as I want it to be, there isn't too much of a need for me to try futures or options or for that matter commodity or forex.
5. I am a Part-Timer in the Market
I have my own client services business and blogs to manage. I don't trade in the market full time.
At times it is tough on my end to dedicate the much needed time for the market and I am fine investing in those companies where even if I forget them for few months, there isn't too much of risk involved on the invested amount. The returns may or may not be as good as being an active investor but this is ok based on my other responsibilities.
Futures and options are more for the people who are into the market as a full-time trader.
6. I Don't Need To
When you have a business and have an option to expand, investment in the equity market will always be secondary.
If I would have done trading for a living, I may have considered it but not when I have my online business that needs my full-time attention.
Finally
I don't recommend trading in futures, options, commodities or forex to anyone who isn't a full-time trader because it needs a lot more of your time dedication than a passive trader or investor in cash market. There are so many moving parts that it becomes tough for any part-time trader to keep track of futures and options.
If you are full time into trading one may consider it but not otherwise. The emphasis is on the word "may".