Let me answer what I think is the best possible investment opportunity in equity mutual fund for 2015.
I have been getting this question quite often on the the best possible mutual fund investment for 2015 in my Ask Me Anything. Let me answer it based on what I think could be the best mutual fund investment opportunities for 2015.
Thinking about investment, I always have a view of atleast 5 years or so. Anything less than 5 years is not an investment and you can know about the details of why I consider atleast 5 years timeline for investment in my fundamental analysis article where I have explained the time rule for investment.
So let us understand the investment criteria in 2015?
Does size matter?
Indices are at all time high and though correction is anticipated, I don't see it coming anytime soon. So if you have to invest in mutual funds the best option should be in companies and sectors which are still to catch up to those that have already gone up which means it has to be more of mid cap and small cap companies that can do better than large caps.
So now we have 3 possibilities for market as a whole.
Market goes higher from here.
Market consolidates which means the small and midcap companies will have the time to catch up to the large cap companies.
Market falls which can have a larger impact on the midcap and small cap companies.
So investment in midcap and small companies has higher risk for higher reward ratio and so I think the best strategy should be to invest in SIP in a small and midcap fund in 2015.
Other than size what else can matter?
Apart from size of the company I think sectors will matter more. Let us see how sectors have performed in the past and if we can make anything out of it.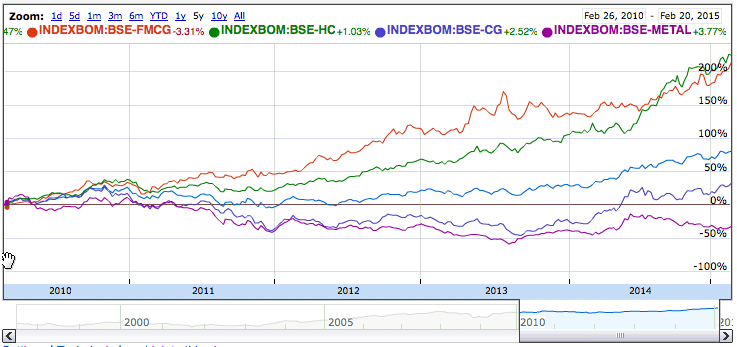 Above chart is from Google finance where I compared Sensex (Blue line) with 4 other sectors viz FMCG, Health Care (HC), Capital goods (CG) and Metal.
Clearly metal has performed the worst in last 5 years when compared to others and so if market remains stable with Sensex at around 28k, metal sector has to catchup.
Same thing could have been said about capital goods in 2014 which started to catch since second quarter of 2014.
Now you can use similar comparison on any sector using the following link in Google Finance and compare them with any other Indices.
I think metal index needs to catch up ASAP if market is to remain where it is now. So investing in mutual funds that have more exposure to metal index should be your best bet in 2015 for next 5 years or so.
What's your view?
Do you think it is metal sector that will perform better or you think budget will have impact on other sectors? Share them in comments below.