Review and Analysis of new fund from Mirae Asset – MIRAE Asset Korea Discovery Mutual Fund.
Mirae Asset is coming up with something unique and they have filed offer document for a new fund – MIRAE Asset Korea Discovery Mutual Fund. This would be a fund of fund, which means that it will hold other mutual funds as its assets. The objective of the fund is to invest in Korean equities and it would be achieved by investing in the units of the Mirae Asset Korea Fund and asset allocation to this fund would be in range of 80-100%
The Mirae Asset Korea Equity Fund is benchmarked against the KOSPI index, so here is a chart of how KOSPI has performed over the last five years.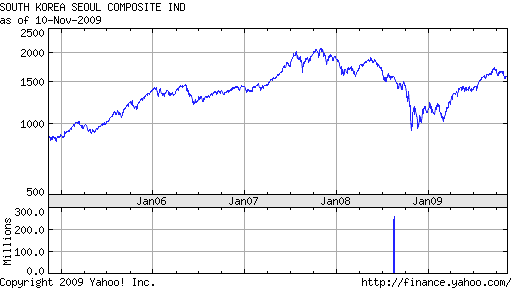 Advantages
This is the first fund that offers Indian investors' exposure to Korea.
As Korea is also an emerging market like India and so you can get good diversification.
Disadvantages
Double fees for the fund i.e. the fee of the fund itself plus the fee of the underlying fund.