I rarely share stock ideas but as I could not share anything last week as I was on a vacation to Digha (Snaps here) I thought I will make my blog readers wait worth. Gateway Distriparks Ltd is the stock we will analyze.
Official Website: www.gateway-distriparks.com
Business: Gateway Distriparks Ltd is a Container logistics company with Pan-India presence.
Why Gateway Distriparks is Multibagger?
The company has been reporting strong numbers for last few quarters and in the current quarter the company has shown an increase of about 35% in sales and 20% in profit YoY. Better capacity utilization and higher volumes has helped Gateway Distriparks Ltd to post such good result.
Plotting quarterly important results data of GDL from Moneycontrol  we have the following graph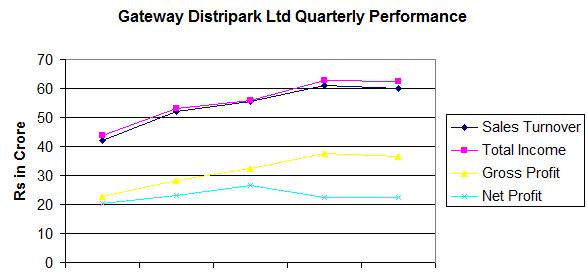 Stock Technical's
6 months charts of GDL suggest, stock has reacted positively on the back of good results. The stock is near its 52 week high of around 150. My view is the stock will consolidate around the current levels of 140-150 INR for some time before forming a breakout pattern.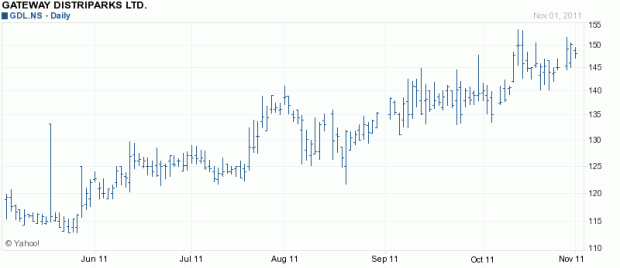 Ratios
Presently, Gateway Distriparks is trading in range of 140 to 150 i.e. at a PE of about 17. With 35% sales growth and 20% profit growth, PE expansion is pretty much likely.
Interest cost for GDL is reducing all the time and the company has announced Dividend 3 times in a year's time suggesting good cash levels for the company.
My Position
Due to very volatile markets and Nifty hitting support of 5200 twice in last 2-3 trading sessions I have a very small long position on this stock at an average purchase price of Rs 144. Yes I do plan to add more as I see more positive clues in the market and stock performs as I expect. My stop loss for the stock is if it breaks 140 decisively. I have scheduled the post to go live after the market close on Friday so you can do you homework on the stock in the weekend and don't forget my disclaimer.
Share all your questions as well as views on Gateway Distriparks Ltd in comments below.
Update 14th Nov 2011: The stock is trading below 140 and make sure you make the right trading decision. I am out of the stock currently.