Multibagger stock should have No Debt, High ROE and ROCE, Low PE Ratio, Future growth, Market leader, Ethical Management, Experience
We all want to invest in multibagger stocks and there is nothing wrong with it but having a very high expectation can prove to be wrong.
You can see emails like this hit my inbox quite regularly.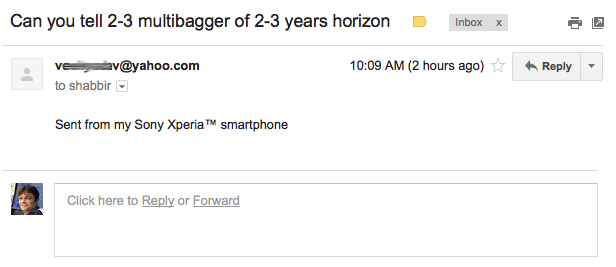 If I could identify 2 to 3 multibagger stocks, should I invest in them or should I tell you?
Maximum I would do if I find a multibagger stock is add it to our wealth building portfolio but then identifying those multi bagger is not easy and to be honest you don't even need multibaggers.
Why I don't need Multibaggers?
If we continue invest 50k per month for an elongated period of time like 20 years and manage an average return of 18 to 20%, the investment amount will become 12 crores and if we do the same for 30 years, it will become 75+ Crores.
Do we still need multibaggers?
Annualized 20% return isn't good enough?
Understanding From Past Multibaggers?
So you still want to be investing in multibaggers. So let us see how others have identified multibaggers and see if we can find some trend in identifying the next multibaggers.
Warren Buffet invested in companies like IBM in 2015 and the most recent is Apple in March 2016.
Apple, he did not identify it when they were trading at $10 but he purchased it now in March of 2016 when it is trading at $100.
IBM, he purchased in 2015.
Did he identify stocks when they were trading at penny levels, NO.
Let us take an example of Rakesh Jhunjhunwala who is considered as Warren Buffet of India and his most talked about investments are Lupin and Crisil.
Let us take an example of Lupin.
Lupin has gone from Rs 2 to 2000 Rs in the last 15 years but Rakesh Jhunjhunwala invested in Lupin at around 100 and not when it was at Rs 2.
Similar things can be said about his other investments including CRISIL.
Any investors who have made big money from the market had invested in stocks when they were not penny stocks but when they are market leaders or were becoming market leaders in a few years to come.
How to Identify Multibagger Stocks?
I would define multi baggers as stock that can become 10x in the next 10 to 15 years.
I don't mind elongated time of 10 years but the more important criteria is 10x because if you look at Tata Steel that we invested at around 220 in Feb, it has touched 360 in few month's time but then it is not multibagger for me yet though it has given stellar return for a short period of time.
So here are few things that a multi bagger stock should have
1. No Debt
The company should be debt free in their inception stages as well as in their growth stages. You cannot just allow your profits to be taken away by bankers.
Any company which has low to no debt for me has a very good chance of becoming a multibagger.
Growing companies can be overwhelmed with growth and can borrow aggressively for expansions but it can be a tangle if they cannot pay off in time or growth numbers are not inline with expectations.
2. High ROE and ROCE
ROE is Return on Equity and ROCE is Return on Capital Employed and so any stock can become multi bagger if they have high return on equity and if they can generate good returns on the capital employed.
If a company invests 100 Rs and can generate 10 as profit has more chance of being a multibagger than company that can generate 9 Rs on the same 100 Rs invested. It means businesses that are capital intensive have fewer chances of being multibaggers.
3. Low PE Ratio
Company available at a lower price to earnings (low PE) and as they generate more consistent earnings will have PE expansion and get higher PE ratio providing much better returns for investment.
Low PE ratio is not the only criteria but consistent earnings with low PE ratio has a better chance of being a multibaggers very soon.
4. Future growth
Any business should be able to increase capacity and still generate similar profit. Company should be in a sector that is not too small to grow further for the company.
Companies like Reliance Industries or Bharti Airtel cannot grow further in their own sector and need sectorial diversification.
5. Market leader
The company should be market leader in whatever they are doing on a smaller scale and should be able to make that on a large scale over time.
The focus of the company should not be on profits but on increasing revenue and growing market share.
6. Ethical Management
The most important factor in identifying multibaggers is to invest in companies with ethical management.
No ratio can help you find if the company's managment is ethical and the best way to find out is to read companies reports in the worst times.
Once things were bad, did they deploy tricks to increase the price of their share so that they can pledge their stake in the company?
7. Experience
The management should have experience with the current business. This does not necessarily mean they should be a public limited company trading for years but they should be in the business for an elongated period of time.
Conclusion
The reality is no one can identify a multibagger before it is already a multibagger. So invest in businesses that are market leaders and continue to generate value to investors, over a period of time they will prove to be multibaggers.