Answer to questions: Do I see a market bottom being formed and if not what could be the possible market bottom? Is this the right time to be investing? What are some of my favorite stock in such tough time.
The week when Nifty and Sensex are down by almost 7% and I had a lot of questions related to my view for the market. So let me share my views of the market as well as answer all such questions that were sent to me.
My views
My view is lot different from what I have seen on the news channels by many experts. I am really surprised to see that most expert is of the view that the current fall in the Indian market is related to global sentiments and I don't buy that.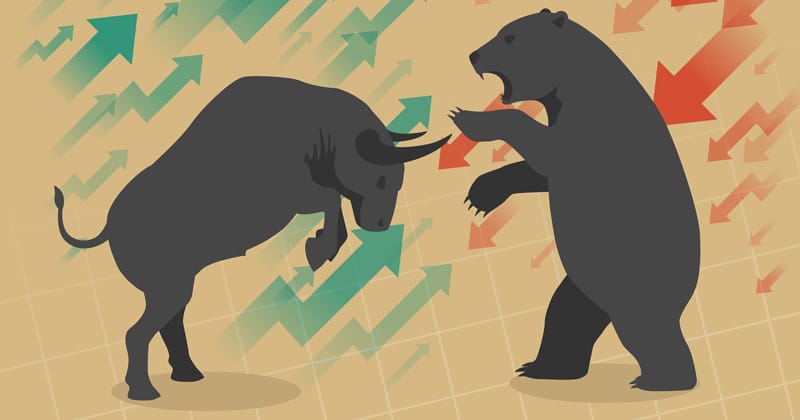 There are so many clues in the current market that I just don't believe the current fall in the market is purely global.
1. Complete sell off week
We saw a complete sell off starting from Monday and continuing till Friday. Market from a high point on Monday just kept getting lower and lower and closed on Friday at the lowest point.
Normally short trades open in weak market but short covering also happen. 600 points falls in Nifty and yet we did not see any Friday effect. The Friday effect should have kicked in as short traders would have been making huge profits. Without too much of short covering in such sharp fall, it means not short build up at higher levels but it was pure unwinding and sell off.
It suggests couple of things, either FII (Foreign Institutional Investors aka Foreign Investors) are net sellers in the market but DII (Domestic Institutional Investors aka mutual fund) were also not net buyers which resulted in complete sell off where as in 2015 when FII were net sellers DII just kept buying which could mean that flow from domestic investor is drying out in the market because of bad ROI.
2. Asset class changes
There has been sell off from FII for quite sometime now all around the globe in the equity market and it has not stopped for the calendar year in 2016 but Gold is on the rise. I assume that FII are parking their money in an asset class like Gold where we have seen 8% increase in price of gold in just one week.
An indication that equity investments to underperform in 2016 compared to other asset class including gold and bonds.
3. Result of Indian companies
The Indian economy is doing good and is expected to grow where the world economy is starving for growth but then growth cannot be at any price or at any valuation.
If we look at the market leaders in most of the sectors in India, every company has missed earnings target. Infrastructure sector or banking sector or metals or in capital goods or manufacturing.
There are very few companies who have done really well with earnings and if the current fall in the market is only for the global cues, why companies are missing the earnings estimate.
We had global issues in the Metal sector for a few years now but then Indian market was doing good when Metal sector was getting hit. If only the banking sector has issues, we can still do well on some other sectors and so it is not one sector that is having an issue in India. There are issues of Indian business not able to grow the business as the market expects them to grow and so it has to cut the valuations of such companies and the Indian economy as a whole.
This is causing the Indian market to further grind down.
Reader Questions
Let me now answer some of the questions.
Do I see a market bottom being formed and if not what could be the possible market bottom?
2 out of 3 clues are not global and currency is quite stable in the scenario.
My view is there is growth in India but expectations and valuations of Indian companies are slightly higher than expected and earnings are not able to justify such valuations. The mismatch in earnings to expected earnings is to remain for next 3 to 4 quarters and so I don't expect the market to form a bottom before that.
Nifty can bottom at any levels like 6800 or even 6300 but then I expect the formation of the bottom to take at least 3 to 4 quarters and not before that.
Price wise it can be any number (6800 or 6300) and I will not predict that but will let the charts tell me but time wise it cannot be before 3 to 4 quarters fundamentally.
Next earnings season when the market will expect less earnings and can have some hits and misses and the process has to continue for a couple more earnings season when expectation of earnings bottoming out and that is when the market would see a bottom being formed.
Is Budget the next best thing to look at?
No. I don't see the budget can make the market sentiments good when underlying earnings are not doing that good. The right policies can definitely help reduce the time of 3 to 4 quarters shorter but I see budget a double edged sword which when applied rightly cannot do slight good but slight negativity and the pain can be extended for an elongated time.
Is this the right time to be investing?
For lumpsum investment I would say NO but Yes I think this is the right time to start investing in SIP mode and it is the best approach in market. You don't want to be putting in too much money but then you don't want to be doing too little investment either.
Market is likely to give us ample time to invest wisely. Remain liquid and try to invest in tranches like I have been doing with my wealth building portfolio. I am investing 50k per month where I plan to invest 15L Rs in next 30 months or so and I don't think there will be any better time than the next 30 months or so.
What are your favourite stocks?
You can almost never avoid this question and the whole point of my blog is for my readers to be able to find such stock themselves. If you aren't sure about what stocks will perform go with mutual funds.
Still if you ask me, my choice of companies would be those that have a higher dividend yield as they have ample cash. Once I am looking for cash rich stocks, I will still avoid Reliance Industries as in my opinion it is quite directionless stock of what they should be doing.
I will definitely avoid any company with heavy debt. Debt equity ratio or more than 1 is a complete avoidance for me.
Final Thoughts
Don't try to predict anything in the market and let the market tell you everything.
If you have any more questions, share them in comments below and I will be more than happy to answer them all.