Recently in our members discussion forum we had a discussion on the inspiring story of a handicapped lady trader who made 6L with a trading portfolio of 15L and here is the mini snapshot of discussion we had in the forum.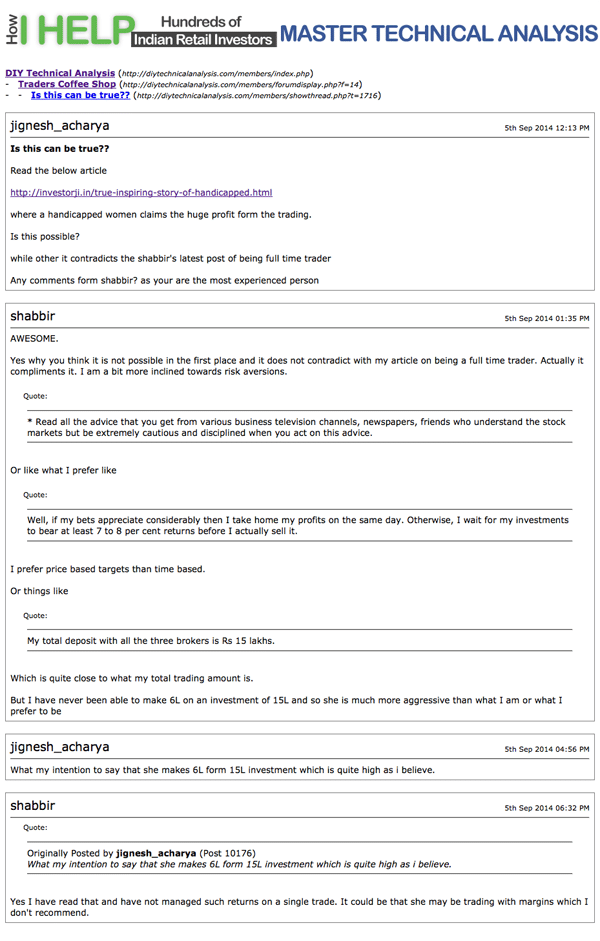 Apart from such questions in forum, I also have couple of emails with question as to what should be size of each trade in market. (If you have any question just drop me an email from here)
My answer to the question is – Each trade should not be more than 1/3rd of the total portfolio. Yes I agree that some positions are equal to my complete portfolio value but those trades are rare and few when too many odds are in my favor but ideally it is always close to 1/3rd of my total trading portfolio.
My trading portfolio was close to 10 Lakhs but in 2013 last quarter I completed the purchase of an office space and the loan on that property did not go through. So I had to opt for private short term loan which was not enough. So had to reduce my trading portfolio considerably but with a trading portfolio of 10L, I never used to take up positions of more than 3L in any single trade. Yes few trades where I anticipated sure shot chances of making money with very little chances of loss, positions upto 10L were taken but never ever I have take position above my portfolio value.
Margin and trading on other people money is a sin. I Never recommend trading on leverage.