The business analysis of Divis Lab in a 3-step process and understand why the share price of Divis Lab keeps falling.
One of the most asked questions among my blog reader is to know why the share price of Divis lab keeps falling. So today, I will share the comprehensive business analysis of Divis Lab in a 3-step process.
I have also shared the complete business analysis of
Investing in any listed company, including Divi's Lab, is not recommended. I am not a SEBI registered broker to recommend any stock. I have chosen Divi's Lab to help you understand how to analyse a business.
Still, I will not talk about price information. Instead, I will share information to analyse the underlying business in Divi's Lab. Everything I am sharing is available in the public domain.
So now, without much ado, let's begin.
Step 1: Ratio Analysis
The first step to becoming a good investor is to analyse a business and reject the company for investment without too much effort.
More than 3000 companies are trading on NSE and BSE. If you analyse each of them, revisiting a stock investment can take a long time. So if I can reject the wrong businesses to invest in, it can save me a lot of time and energy to spend on good companies.
So the first set of rules that I use for rejecting a business is using the financial ratios and investment checklist.
Initially, I was pretty rigid on the financial ratios. I learned it by missing the investment opportunity of Avenue Supermart or DMart. It has a low OPM of under 10%, which made me pass on the investment opportunity back then.
However, I realised some businesses compromise on the margin for very high growth. So, now I am also ready to compromise on some parameters for higher growth.
However, I never take debt lightly.
Step 2: Sector Analysis
The Pharma Industry has three major types of companies.
Innovators
Companies that spend time and money to research and development create pathbreaking drugs. Then take a patent to protect the drug for 20 years. No one else can copy it during this time.
Non-Innovators
Companies who are not innovators but they wait for patents of popular drugs to expire. Then they launch a drug with the same ingredient but package it differently. These will be cheaper drugs that the masses will consume.
Many Pharma companies in India go this route.
A report shows that over $20 Billion in patents are going off-patent in the next few years.
Contract Manufacturers
Every pharma company needs the drug's essential molecule, active pharmaceutical ingredients (APIs). For example, the medicine Dola 650 and Calpol 650 both contain the same Paracetamol.
Check it out on 1MG, and you will see the salt composition for each is the same.
The contract manufacturers are the one that manufactures the paracetamol ingredient.
Step 3: Business Analysis of Divis Lab
Finally, we will do the actual Business Analysis of Divis Lab. The critical aspect is understanding the company's growth, debt, and competition because I prefer to invest in a unique business with very little competition.
So I look for the following in Divi's Lab.
Unique Business
Selection of API and Divi's DNA
Growth Outlook
Sector Leadership
Anything and everything that can help me understand the business.
Now, let me share how I have analysed each point for Divi's lab, which has helped me to analyse the business better.
Unique Business
I have been invested in Divi's lab since 2017, and I invested in it because of an import alert for Divis by USFDA. The price was corrected by more than 50%, but I was shocked that some drugs were exempted from the alert.
Import alert means that the products manufactured at the plant cannot be sold in the US. The USFDA however, has exempted a few drugs from the alert which include Levetiracetam, Gabapentin, Lamotrigine, Capecitabine, Naproxen Sodium and Raltegravir.

Excerpt from the news on NDTV.com
It meant the company was manufacturing APIs that no one else could manufacture and that the US didn't have an alternative to these APIs
The Divis DNA
Murali Divi, keenly interested in mastering chemistry in 1990, started the company as Divi's Research Centre. It then changed to Divi's Laboratories Limited in 1994 to signal its intent to enter the API and intermediates manufacturing industry.
In 1995, the company established its first Manufacturing facility at Choutuppal, Telangana. However, it was a pretty late entrant into API manufacturing.
Still, Divi's began with an ingredient called Naproxen — a popular anti-inflammatory drug. Then, Divi's found a very efficient way to manufacture it. It used enzymes instead of chemicals to induce a reaction from the drug faster.
As Murali Divi had a keen interest in chemistry, he could manufacture drugs using the custom synthesis process for the API. So Despite starting in the 90s, Pharma innovators realised that the Divi was onto something.
Slowly, Divis Lab became the manufacturing partner to many companies.
Divi's lab was slowly into Nutraceuticals, which means they were now using food or part of foods or dietary supplements that may provide medical or health benefits.
So this leads to three main products for Divi's Lab.
Active pharmaceutical ingredients (APIs)
Custom synthesis
Nutraceuticals
So Divis lab selects an API with a vast market and then dominates it by developing better manufacturing processes.
Growth Drivers
Divis lab has five main growth drivers.
Growth in Dominating APIs – Divis' APIs, where the company has a market share of over 60% or more, are expected to grow double-digit. Divis will continue to maintain the market share and increase a little as well.
Increase Market Share in Non-Dominant APIs –  The company is building the capacity for APIs where it is still not a dominant player and has around 30% or less market share. It plans to achieve a 60-70% market share through capacity expansion.
SARTANs API Based on the technical advantage towards areas of impurities in the Sartans, Divis plans to enter areas of Sartans (for API).
Off-Patent of APIs in 2023-25 – Over $20 Billion of patented drugs are going off-patent in the next few years (2023 to 2025). So many new non-innovators will start manufacturing these drugs, and so will require APIs from Divis.
GEO-Mix – 44% of Divis revenue comes from America, and India is only 10%. So they can grow in India and Asia as well.
Why the Stock Price Keeps Falling
I see it because the company's EPS jumped from ₹50 to ₹111 in a couple of years. It isn't easy to continue performing YoY at such a high base. So each time we see disappointing results, the stock price has a steep cut.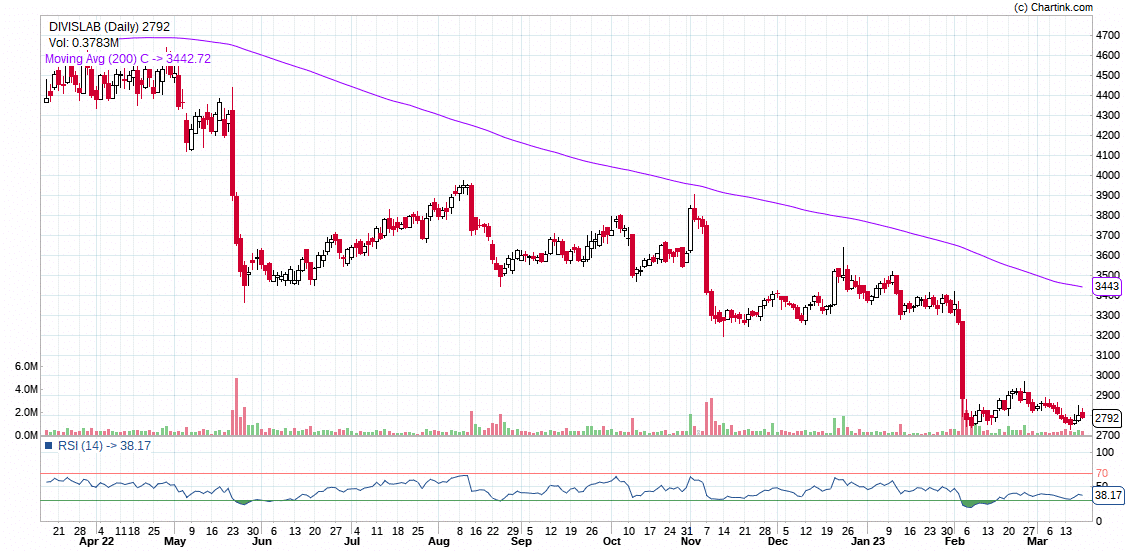 And I think the same may continue for one to two more quarters.
Final Thoughts
The reason for the success of Divis Lab has been it is a
Low-Cost Producers because of expertise in chemistry
Careful selection of APIs and focuses only on a few APIs that they can make by the use of better chemistry
Sector leader in every API
What are your views about the company?