Why I got fake currency probably from an ATM and how this can be easily avoided and yet government and regulators don't deploy such simple solutions to help common man but just put hard to follow guidelines to take undue advantage of it.
All my income is online, so the money that I get are all deposited to the bank account first and then withdrawn from ATM in the form of cash. This is quite common for majority of salaried Indians where the salary gets credited into the bank account and then withdrawn from ATM in the form of cash.
Few months ago I remember I had cash crunch and in the midst of it, I expected some payments to clear but that did not happen and as the credit card payment due date was approaching, I visited the bank branch for depositing some cash that was with me possibly from previous ATM withdrawals.
In the process of depositing the funds, I found that one 500 Rs note was detected as fake by the bank. It was shocking as well as made me nervous.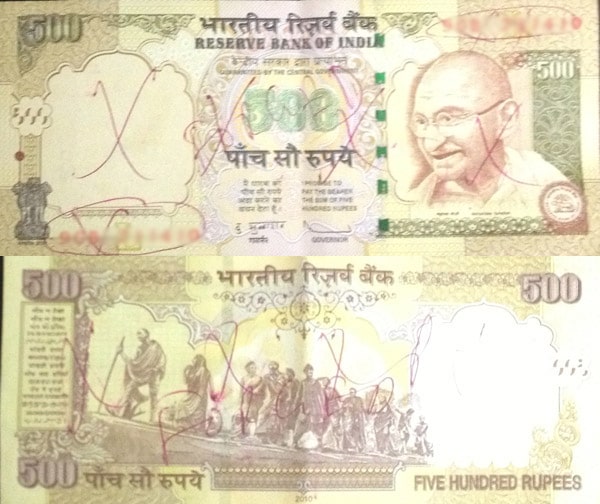 The bank officials preferred tearing the note off but I requested to give me the note back to me by doing the needed cancellation process and they agreed. The above photo that you see is the actual fake currency note of Rs 500 Rs. After taking the snap, I have torn it off in 2 pieces and you can see the same as well here.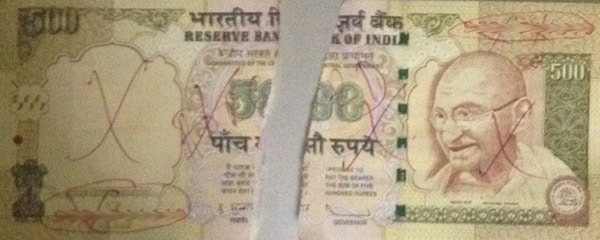 What I Should Have Done to Save 500 Rs?
Once I was done with the cash deposit process with the bank, I started searching about what happens if you get fake currency from ATM and found this article from InvestmentYogi which describes all the details about the process you should be following to avoid the fake currencies getting into your hands. I just could not stop laughing on the law that we have. Bank needs concrete evidence of currency is from an ATM and there is nothing to make such concrete evidence at least for those who even want to be doing it.
Rules are such that जो पकडा गय़ा वो चोर (The one who is caught is thief). As I was depositing the cash in the bank, I had to bear the loss of 500 Rs or else I need to have a strong evidence of the source of this 500 Rs is from an ATM that I am sure no Indian on any given day will have.
Why Can't We Have a Feasible Solution?
RBI Guidelines are such that I have to check all the notes when withdrawing from an ATM but the problem is I am not an expert at detecting fake currencies. The photo above that you see is fake one but I could not understand why it was fake and when I asked them, they told me that Gandhiji's photo is not right in the currency where as it looked all fine to me.
Theoretically even if I want to follow the guidelines of RBI I am yet to see any ATM machine where I can check for counterfeit notes. Practically I don't even count the notes that I get from ATM and I see the same being followed by many (not all some people do count money before leaving ATMs).
The question is why do we need to have such guidelines when we can have a very simple solution. Just make the ATM machine slightly more intelligent.
The Simple Solution that may take Ages for RBI to Implement
The cash counters in the bank do have fake currency note detector cum counter. It means if they are counting your currency on a machine, it automatically detects fake currencies.  A machine detected my fake note as well. So when notes are counted and dispatched from ATM, they can be checked for fake as well.
Simple.
The only problem to the above solution is – Bank will have to bear the loss of fake currency notes and not the common man. So don't expect anything like this being implemented unless RBI forces it to, which I doubt they will. RBI can only make life of an Indian Freelancer more difficult by restricting PayPal  as Indian freelancer's are and were making American's Jobless.
The best solution for the banks is to leave the fake currency checking on the receiving counter and once the common man holds it loot him.
Final Thoughts
A really simple solution that the Government and regulators will not be able to put into practice to help the common man and so a common man has to keep losing these 500 Rs just for nothing. It is not a big deal for me but it could mean a fortune for someone. On top of that this should have been a loss for the bank.
Share your views about my solution in comments below and if you want to be sharing your experience with fake currency issues, voice them in comments as well.