Gold prices are falling for last nine months or so and if we look at the charts of GoldBees (My preferred Gold ETF) for past 1 year, there is a clear pattern of lower top lower bottom being formed.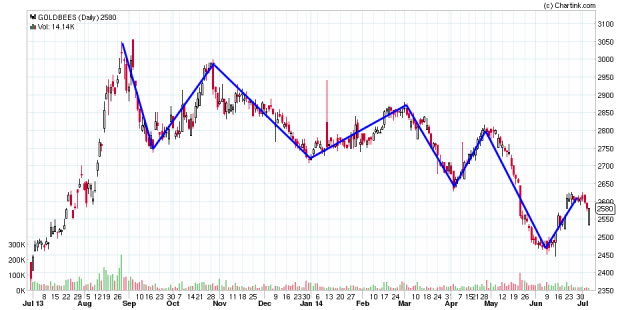 If we look at weekly chart for 1 year, we see a support for Gold at around 2400 levels or ~24,000 level for 10 grams of gold.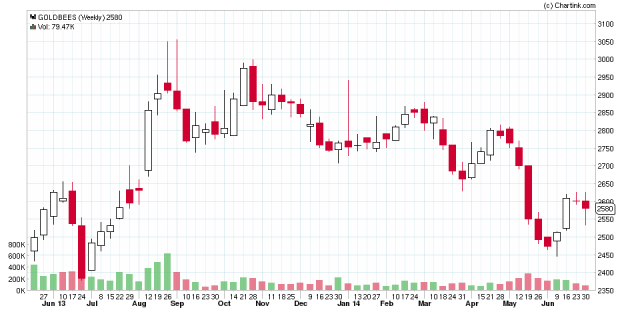 2 years chart confirm 2400 is a major support for GoldBees or ~24,000 for 10 grams of gold.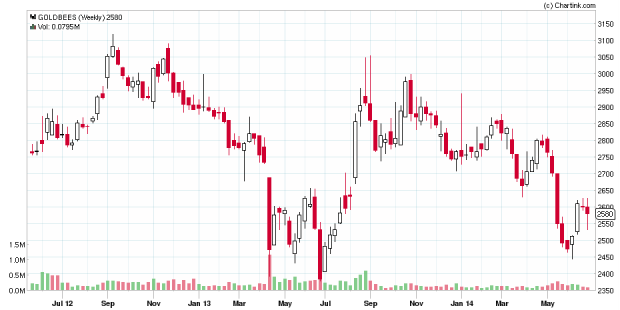 Investors in Gold may be loosing money in the current fall but many retail investors don't think about this fall as a loss because falling gold prices is not something that we worry too much about as we never invest in gold for selling and is always in the form of buy gold (as jewellery) and keep for generations.
I always knew about such logic with jewellery and so had purchased Gold biscuits from HDFC Bank when gold price was 10k per 10 grams. When I think about selling it, I am not able to convince my Wife for it. She always has an argument of keeping it for kids.
Is falling gold price an Opportunity?
Lets look at monthly chart of GoldBees for last 7 years. It clearly indicates that 2200 resistance breakout in August 2011 has been big one and then 2400ish level has acted as good support for in June 2013.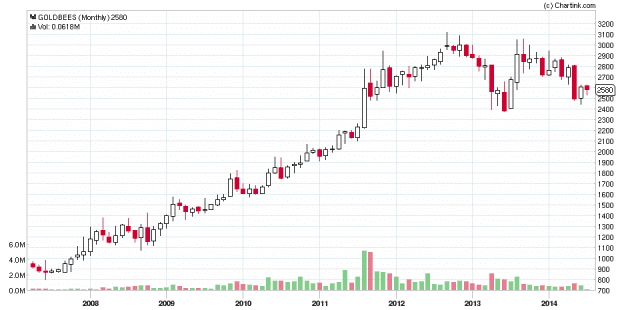 It means that gold at around ~24000 for 10 grams has a good support and so if Gold can remain above ~24000, it can be a good opportunity for investment in the next coming month but if ~24000 is cracked decisively, it may not be a good choice of investment as of now.
What are your views on Gold? Share your views in comments below.
Charts by ChartInk.com