Readers Response to the question What would they do if they happen to get Rs 10,000 as well as answering the most asked question of How to Make that Extra 10,000.
March comes with financial closure pressure and on top of that I went to a mini Vacation to Agra and Ajmer and so was not able to update the blog but before going Agra and Ajmer I asked a simple question which was
What would you do if you happen to get Rs 10,000?
There were quite a varied response to this question. If we classify them into few kinds of response, they are as follows.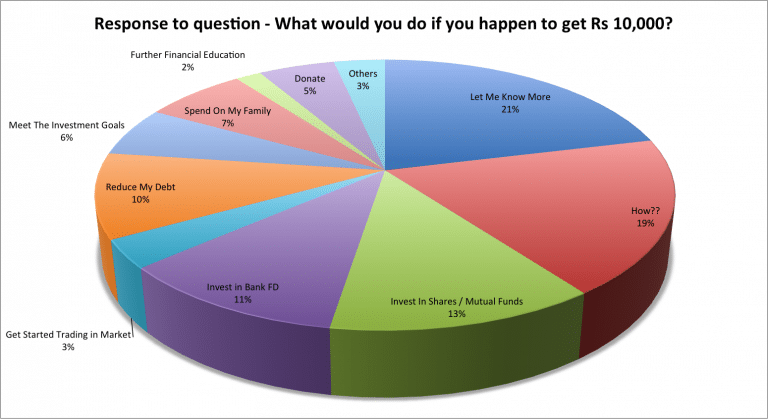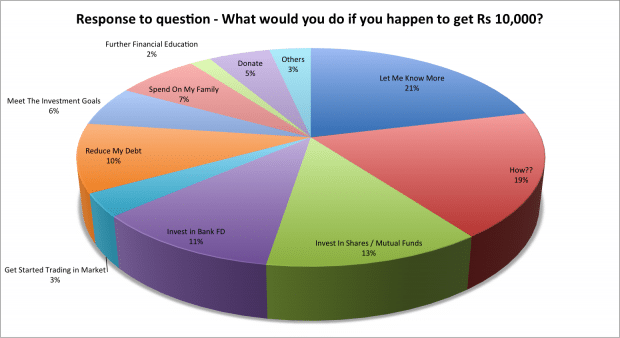 Also to the surprise there are people who responded like they would donate part of the income but there was no one who responded with the answer that I will use it towards some kind of emergency that can come my way.
Emergency fund is the amount of money you keep ready for any kind of emergency and normally such small savings of 500 to Rs per month can be used to be kept in secret account which can be used for an emergency fund.
At times you minimum balance in your bank account can serve the purpose of emergency fund or even your credit card limits can help you towards emergency fund but using credit card limits towards emergency fund is good if you can manage the amount of your credit limit in 30 days to avoid high interest rates.
First step to making any investment is to have an emergency fund. How well are you prepared for an emergency fund? Share your views in comments below.
Reality of Extra Income
Many people wanted to know how but the whole point of the question was. The whole point was to know how do we handle the extra wealth and do we realize extra income. People just don't realize it.
Shocked or surprised!!!
Let me share some examples.
If you are salaried individual. You get salary hike – Isn't it? So do you consider the hike as an extra income? I don't think many would. Now do you consider the hike in the first month as extra income? I don't think so.  For most of us as soon as the extra money credited into the bank account, it becomes part of our lifestyle.
Same goes with business and other type of incomes. Extra sale or income in any month becomes the benchmark and that becomes the target in the coming months.
So can you actually make any extra money with this kind of mindset? Share your views in comments below.
Saving or Making Extra Rs 10,000
If you ask your mom or wife if they make any savings from the month on month expenses and if you are lucky enough you may know the secret.  February has less days and when I was child I knew for sure that my mom always used to save some money in February. Apart from that in Holidays when we used to travel she used to save as well.
Does the salaried individuals think like February is a month where work days are less and get paid the same? Extra income. I didn't used to see things like that when I was salaried person. Business individuals may argue for February but they have bigger advantages in 31 day months. They may have to work harder in February to achieve same monthly targets but may have more days in 31 day calendar month to make that extra sales and income. Do you look at things like that? I don't and I don't think many would.
The whole idea is making extra Rs 10,000 per year in saving or making an extra income is something we always do but it becomes part of our life in such a way that it does not remain an income anymore and we don't consider it as extra income.
So those who had the question of How and those who wanted to know more about earning 10,000, I am sure you are earning extra income but are you able to realize it? Share your views in comments.