7 vital reasons why retail investor who wants to build wealth should consider investing every month irrespective of the indices being at all time high
We calculate things on a monthly basis. We prefer salary on a monthly basis, instead of weekly, daily or quarterly. We plan expenses on a monthly basis.
A month is something that is not very fast moving like a week or a day and it is not very slow moving like quarter or year and is convenient in many ways.
Everyone should develop the habit of investing every month. It doesn't matter how much more or how less you invest in any given month but it is all about developing the crucial habit and considering investment as one of your expenses so you take aside the money that needs to be invested.
Here are 7 reasons why you should consider investing every month.
Beat the ups and downs of the market – I guess this is said more often than one may need to hear but I will reiterate it once again. When market is up or market is down, you will tend to average your investment and that will help you remain profitable more often in market.
Diversify investment over time – When you are not investing at one given point of time, you average your investment over a period of time to reduce the risk of market fluctuations and aberrations.
Diversify investment over price – The price is ever fluctuating but when you invest regularly, your investment is diversified over range of price.
Beat the inflation – The only way to beat inflation is by investing where you have much better returns than inflation which has always been near 5%. Investing in equity every month can help you beat the inflation by a big margin.
Accumulate savings – When you prefer to be investing every month, you start to accumulate savings that can help you build a good corpus amount invested without much of a dent on your pocket.
Compounding returns – Compounding is the 8th wonder of the world and as you are adding more to the investment kitty every month, your earlier investments start generating returns that can have the cascading effect of compounding the returns.
No one can invest enough in one go – We Aren't Warren Buffet or Rakesh Jhunjhunwala who can invest a truckload of money in one stock at a given point of time. We have limited money and so have to plan to build corpus over time.
Market at all time high what should one do?
In this article I mention about stopping SIP but it was meant only for those who want to be booking profits and not for everyone.
The market is at all time high and we often consider it to be not the right time to invest but this is not the time to stop investing either.
Let us see some numbers.
The market in march 2015 hit an all-time high when Nifty touched 9119. It remained high until market took out 9119 again in March 2017.
So from March 2015 to March 2017, the index has been flat but what happens to the returns of the retail investor who start a SIP when the market was at all time high.
The funds that I select are from my pick of the best large cap fund, best midcap fund and best small cap fund of 2017 and his portfolio as on April 2017 looks like this.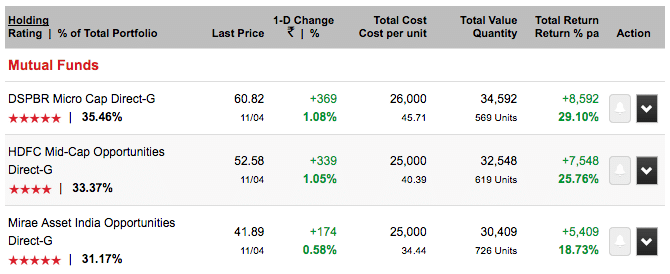 The returns vary from 18% to 30% depending on the type of fund he selected. 18% return is awesome considering he started when the market hit a peak.
So if you are considering it may not be the right time to start your SIP, time to rethink your strategy.