Anyone selling you insurance policies is actually not selling you an insurance policy but they are selling you the worst investment product ever.
Anyone selling you insurance policies is actually not selling you an insurance policy but they are selling you the worst investment product ever. If we take an example from LIC, more often than not agents sell either Jeevan Anand policy or Money Back policy. Even my father in law has taken money back insurance policy for my kids :D. Each time I ask him why or recommend canceling it and he replies kaam ata hain (It works) but cannot explain how, when or why. Cannot argue beyond this point with him.
The reality is every insurance agent is selling such insurance policies and unknowingly we all buy them. I also had couple of them but decided against it in 2008. Total premium paid by me was 200,000 and when I decided not to pay and get my money back I got back 110,000. Deepak Bhattacharya on March 13 asked a question about insurance here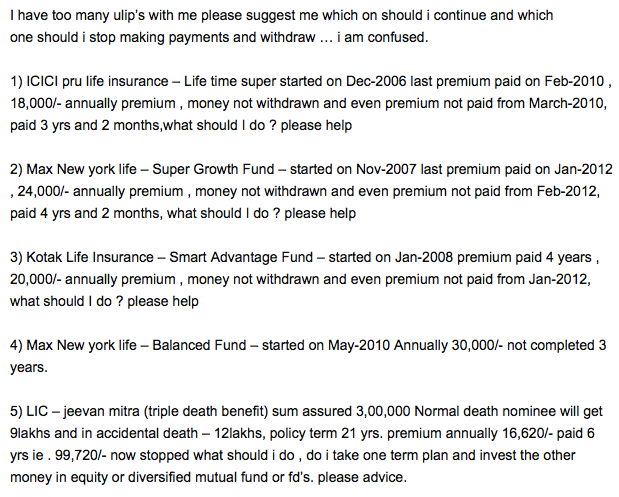 I have used a very harsh words worst investment product ever. So let me justify why it is actually worst investment product ever and why I decided to make a loss of 90,000 investing in LIC policy would be better option for me.
Insurance and investment cannot go hand in hand and I explained why in my article – Is Insurance an Investment Option?. Let us actually see if we can be insured with Jeevan Anand or Money Back type of insurance policies.
Based on my current earnings, expense and other liabilities I need an insured amount of 1 crore. I am 32 years old now and so adding those data into LIC's insurance calculator this is what I see as the premium amount I need to pay for Money Back Policy and Jeevan Anand Policy.
I cannot afford 40,000 Rs as monthly premium and I am damn sure very few can actually afford such amount.
So what is the solution. Definitely not reducing the sum insured because the amount of 1 crore is not by choice but by compulsion based on my requirements. The solution is term insurance and LIC's product name for term insurance is Amulya Jeevan.
The sum I need to pay is 32,800 Rs per year or 2733 Rs per month for being insured for Rs 1 crore which I think everybody can afford for an insurance cover of 1 crore.
This concludes that Jeevan Anand and Money Back type of insurance policies are not for your insurance but only for investments because you are anyway not insured. So if you are only investing in those policies then why you are giving away those insurance fees and administrative charges each year and reducing your return on your investment?
I know there is no answer to it and don't worry I also had no answer to it when I took that LIC Policy. There is nothing to feel shy about and this happens to everybody.
Average return on non-equity linked insurance policies are in range of 7-12% and debt investment don't work for the longer term because beating the inflation with debt only investment is very tough.

Loading ...
Let me give a small task to all my readers. List all your insurance policies you have and then ask to yourself – Are you really insured with those policies? Or can you actually afford to be insured with those insurance policies?
If your answer is NO make sure the next insurance agent calls you, ask him to give you Amulya Jeevan (or equivalent term insurance policy in his insurance company) and you will see how he will convince you that it is worst possible product that will not give you any return.
The reality is 3000 Rs as monthly premium would mean he would get hardly few hundred as commission and on top of that would need to get lot of documentation to get you insurance cover of 1 crore.
Remember insurance with returns is not affordable by any individual and so treat insurance as insurance and not as investment. Invest in investment products and not in insurance products.