Yesterday all day on CNBC TV18 I saw one news being broadcasted almost all day (Apart from India Australia Wordcup match) – JPMorgan overweight on Unitech. I could not resist myself in getting my views on such crap research. In my book about Chart Pattern I have made it very clear on how you should be handling such news, i.e. when some fund house gives a buy call on any stock.
First the headline JPMorgan upgrades Unitech to overweight; target Rs 60.
I don't buy the theory that JPMorgan is ready to do service for the Indian retail investor by making public it's financial research about Unitech. My concerns are
How suddenly the land valuation becomes higher when everything related to interest is going down?
Suddenly JPMorgan's take on the pending receivables is positive. Unitech from an over debt situation gets into a position of 3000 crores receivables.
Double PAT with no solid reasoning as to how will this be achieved.
And many more.
The only reason I see for such a crappy report is they (or some of their big clients) have a large holding in the stock which they want to offload. See how the increase in volumes for the shares yesterday and you know who could be the potential sellers. 🙂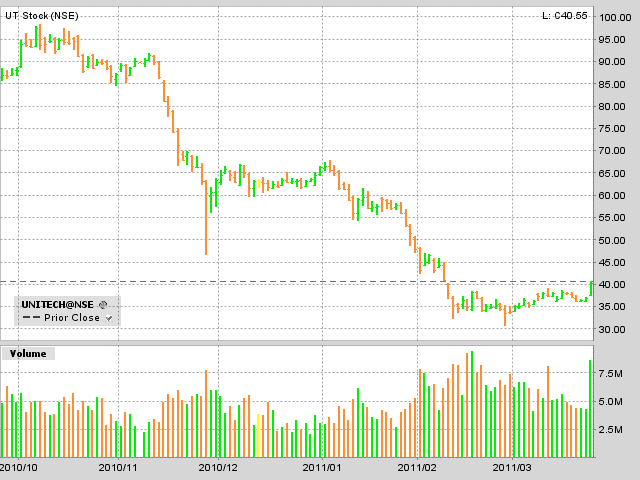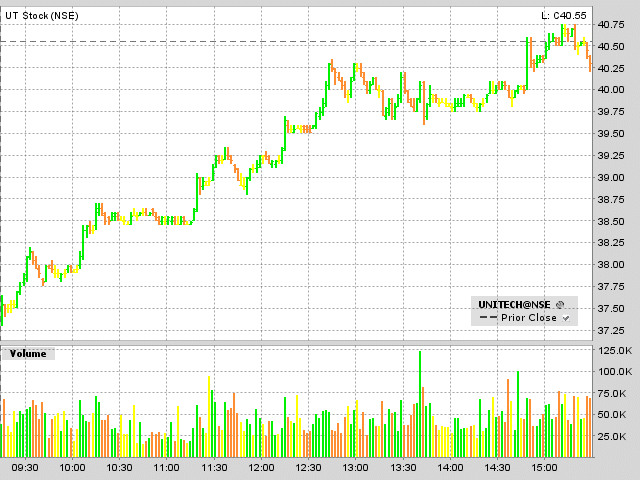 Make sure you are not trapped with such crappy news. If you have read my book you should know how to play this to your gains. The idea is when the volume starts declining make sure you short the stock in the spike. I hope this helps all my follow investors.
Charts by Interactive Broker's Trader Workstation