Should opt for home loan or go for a rented house? Let me share what analysis should be used to make the right choice for yourself – Home Loan or House Rent.
I get this question quite often in my inbox asking if they should opt for a home loan or go for rented house. The question is mostly asked by salaried people where salary is in range of 30 to 50 thousand per month and most of the time my recommendation is to go with a rented house and I will share what analysis I use to come to that conclusion so my readers can calculate themselves what is the right choice for them – Home loan or a rented place.
Normally for salaried people it is very easy to get a loan of up to 85 to 90 % of the total value of the flat and so this is where people tend to opt for a home loan assuming they will only need to pay 10 to 15 % of the value of the flat upfront.
The Analysis of Loan Vs Rent
I live in Park Circus Area of Kolkata and so let me try to analyze some scenarios and cost of living in this area and analyze the Home Loan Vs House Rent scenario and then scale the same numbers.
The rent in Park Circus area is roughly in range of ₹ 15,000 to 18,000 in better complexes and price of per square feet is around ₹ 5500 to 6000 per Sq ft. So the cost of a 1000 Sq Ft flat becomes roughly 55 to 60 lakhs of Rupees and 3 to 4 lakhs for car parking. So assuming the cost of the flat becomes 60 Lakhs and cost of renting the same would be roughly 15 to 18 thousand Rupees each month.
If you plan to take a home loan of 80% of the total value of 60 Lakhs then you are opting for a loan of 48 Lakh Rupees. Current interest rates are in range of 10.5% for SBI Bank to 11.9% for LIC Housing Finance and so for our calculations let us fix interest rate at 11%.
Using my favorite EMI Calculator by DHFL at an interest rate of roughly 11% – EMI for 48 Lakh is 49,558.

Which becomes too much for most of us and so many would prefer to go for more self-contribution part of 50% and still the EMI is 30,974.
This may be affordable by few but there is one more factor in our calculation which is Park Circus area of Kolkata which is slightly costly area and so you can opt for a house where the per square feet rate is slightly lower – something in range of 3500 to 4000.
Cost in New Town Rajarhat area is roughly ₹ 3500 to 4000 per square feet and so a 2 BHK pricing will be approximately 35 to 40 Lakhs. If you plan to take a loan of 30 Lakhs, you may only need to pay 25% as down payment and still may be able to afford a home loan but you should also consider the rent in Rajarhat New Town area which is 33% lesser than Park Circus area and is roughly in range of 12 to 15 thousand rupees per month. Comparing your EMI of 30k, you are roughly paying 2.5 times more as an EMI than to rent.
As a general rule that I prefer for a loan is if you can pay more than 50% of the value as your contribution, you should think about buying or else you can safely say no. Ideally I prefer 60 to 75% (depending on interest rates which I have explain below) of the value if I can pay then only you should opt for your home loan and not otherwise.
Why 60% to 75% is ideal Down Payment / Your Contribution?
The range of 60 to 75% is based on experience and data collected from various property prices in various areas in Kolkata.
The rent of houses is approximately 33 paise per ₹ 100 of price of the flats. So a flat for sale at 50 lakhs will have a rent around 15 to 18 thousand. Even in the new town city of Rajarhat where ready flats are priced at ₹ 3500 to 4000 per Sq ft, you get 1000 Sq ft flat for rent at around 10 to 12 thousand Rupees per month.
If your rent were 33 paise for ₹ 100 then if you make down payment of 66% of the total value of your house, your rent would be comparable to EMI in current interest rate scenarios. Add 7.1% as registration cost you need to pay to Government and 1% as other legal charges associated with purchase of flats and 66% would increase to approximately 75%.
If the interest rates come down to 8 odd percent then you can have 60% as your contribution and still your EMI would be comparable to rent.
How EMI Works?
Before jumping into a Loan, it is very important for every one of us to know and understand how EMI Works. EMI stands for Equated Monthly Installments where a fixed amount is paid by borrower to lender at a specified interval. EMI Consists off both interest and principal part being paid each month, so that over a specified period of time, the loan is completely paid off.
From the definition it is very clear that EMI consists of interest as well as Principal part but there is a catch, which every one of us need to understand. In EMI's the principal part for the majority of period is kept smaller and interest part is kept higher and as you approach towards end of your tenure, principal part becomes a major contributor in EMI. See the Amortization Calculator in DHFL EMI Calculator.
On a Loan amount of 15 lakh at an interest rate of 11%, EMI is 15,487.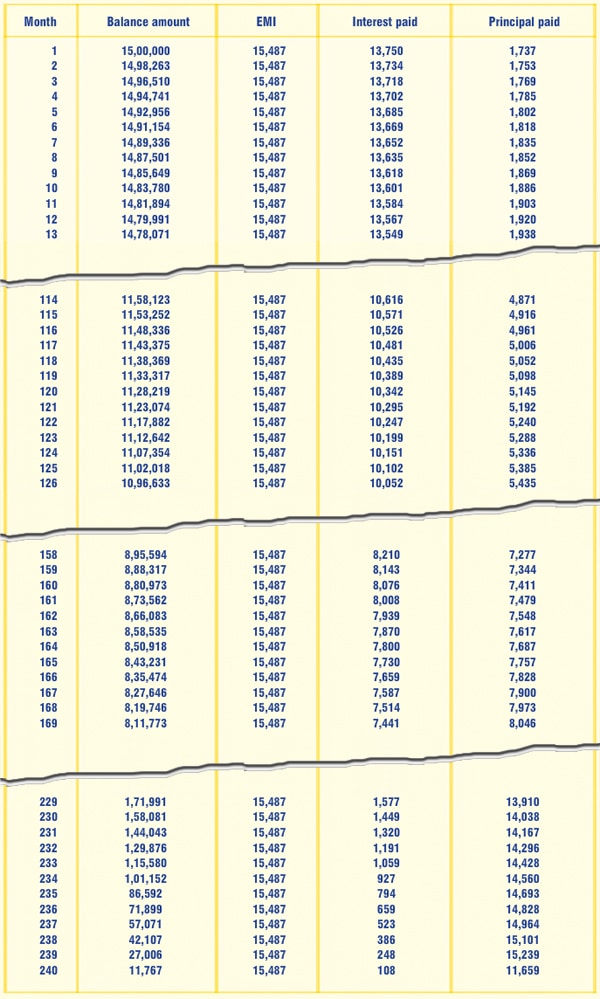 After paying the EMI for 10 long years and paying ₹ 18,58,440,  your principal amount is not reduced to half and you still have a pending loan amount of 11+ lakh.
Even if you pay the EMI for 14 years, your loan is not reduced to half but this is the time where in your EMI portion, Principal becomes major part and interest becomes a minor contributor.
So for any loan it is important that you try reducing the principal part of your loan as soon as you can.
How Banks handle Pre-payment?
Indian banks don't prefer anybody making a prepayment but as they are forced by RBI not to have any prepayment charges and borrower should be allowed to prepay. So now bank makes the prepayment process such that borrowers do not prepay. Prepayment ideally should mean reduced EMI so borrowers can save more and prepay more. On your loan of 15 lakh, prepayment of 1 lakh should mean that the EMI gets reduced in ratio of prepayment amount but banks prefer to change the tenure of loan so that you still pay the same EMI. This is when people turn themselves off from prepayment thinking, it is of no use and that is banks want.
Ideally you should ask banks for reducing EMI's but even if they don't, you should still prepay.
Mentally what I recommend is to consider EMI as payment of interest part only and as you pay EMI regularly and on time, bank may offer you discount on payment of Principal. Let me share with you an example.
We have a loan of 15 Lakh and so you should be mentally prepared to pay back the whole amount as prepayment. This is the first thing you should be prepared for when taking a loan. Let's say you took the loan for 20 years but after a year, you have the needed funds to pay back your loan. Be prepared that you need to pay complete 15 Lakhs but as you were regular payee of EMI, you only need to pay 14,79,991, a discount of 20,009 for you being a regular payee of EMI.
Similarly if you are prepaying after 10 years, you still need to be mentally prepared to pay 15 Lakh but as you were regular payee of EMI for 10 long years, they offer you discount of 3,76,926 and you need to pay only 11,23,074.
My 3 Golden Rules to taking a Home Loan
Go for loan only not based on what EMI you are comfortable paying but opt for 60 to 75% as down payment and rest of 40 to 25% as loan.
Opt for EMI's only when it is comparable to Rent and not otherwise.
You should be prepared for prepayment within the first few years of your loan and make sure you don't need any top-ups done to your loan for other expenses especially registration and legal expenses.
Common Misunderstanding for Home Loan
1. Tax Benefit Under 80C
Tax benefits under 80C are – For payment of Principal amount up to ₹ 1 Lakh and interest paid is tax free up to ₹ 1.5 Lakh per accounting year.
This is by no means a benefit because tax saving under 80C is an option for any individual without a home loan as well and he can avail the benefit by investing in Tax saving mutual funds also known as ELSS Funds, Insurance policies and the list continues. Apart from those investments your child's tuition fees and your contribution to provident fund also falls under 80C tax saving scheme.
With averagely good salary, your provident fund contribution makes most part of your tax savings under 80C. On top of that if you opt for rent, you may be eligible for tax-free HRA benefit as well.
Interest paid is your expense and if you don't pay the interest, you only need to pay certain percentage as tax and if you are paying interest, you are paying 100% or the entire amount as interest.
As an example if your tax slab is 30% and if you are paying 1 lakh as interest yearly. You could save tax of approximately 30,000 but if you are not paying any interest, you save 1 lakh completely.
2. It is an investment
Property is an investment only if you invest most part of it's pricing. If you prefer to contribute small part of the pricing of the property, banks would take up your investment benefits. Apart form that if you are investing few times your capacity to invest by taking a loan, you have no option left to diversify your investment.
Final Thoughts
Home loan has a snow ball effect and if you can prepay even 10,000 in the first year you save 23,762 in total EMI being paid over a period of rest of 19 years. Share your views and horror stories about loans in comments below for others to learn and not make the same mistake.