I often get queries from reader's about Punj Lloyd and each time I tell them why I hate this stock so much.
Technicals
Technically we see charts of Punj Lloyd for last 2 years and see how this stock has performed.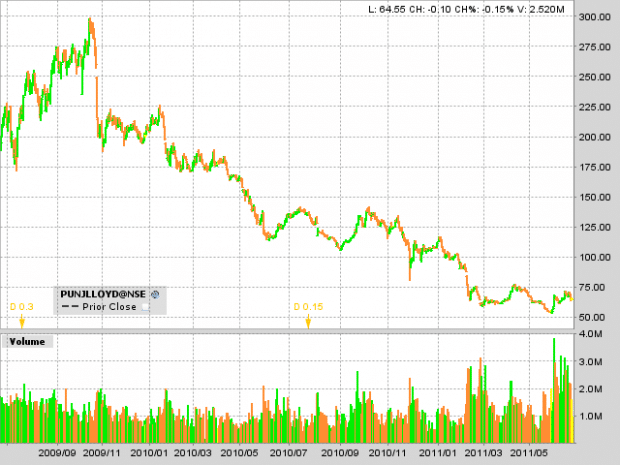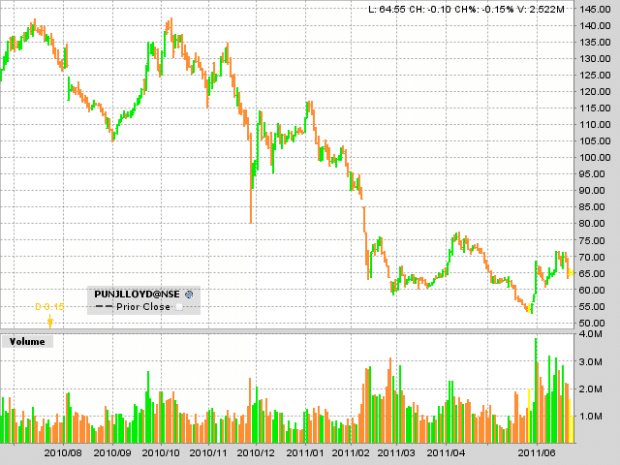 There is no point in having any technical analysis applied to this charts when you see an such long down trend.
Fundamentals
Many readers try judging a stock with good fundamentals of the company but as per IndiaEarnings Punj Lloyd has an EPS of 0.37 and PE of 174.46 but is trading at half its book value of 107.94.
For me fundamentals of the company has more to do with the company management than with mathematical numbers. As far as I remember Punj Lloyd IPO was somewhere in 2006 (don't quote me on this because this is not based on facts but based on my memory) and price range was around 500 if I remember correctly. It had one stock split of 5:1 and so if you had invested in Punj Lloyd at the time of IPO cost of your holding would have been roughly 100 Rs per share. They have given roughly dividend of 30 Paise each year which is pretty negligible.
So your 100 Rs invested in this company 5 years back would fetch you 65 Rs as of today. I am sure this tells the fundamentals of the company. Punj Lloyd is not able to turn their fortune in 5 years time frame.
Final Thoughts
Punj Lloyd is one of those worst stocks that are in Nifty and is even recommend on News channel many a times by analysts especially on Zee Business. Short covering and trading bounce in this kind of stock can always be seen but make sure you are not trapped into such stock for value investing.
Charts by Interactive Brokers Trader Workstation