This question has been asked by few of my readers in the last couple of days or so. Let me answer this question technically as well as fundamentally and see what could be a better strategy in the market moving forward.
Technically
I only see an intermediate support at around 7400 in 2 years chart of Nifty but no major support at the current levels for Nifty.
Looking at 9 months of daily charts of Nifty, I don't see any hint of time-wise or price wise correction is over yet. In the month of August, when Nifty was above 8300 looks to be a fakey setup.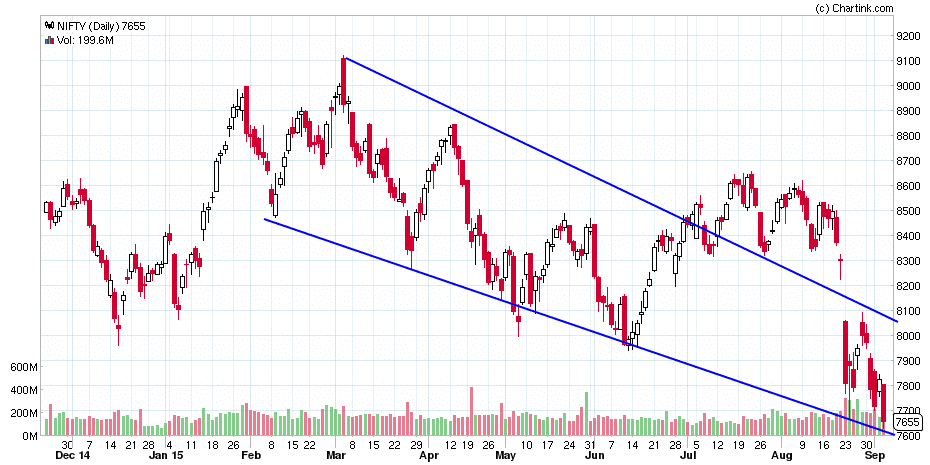 Charts by chartink.com
So I would like Nifty to remain around the same level for at-least 3 weeks or it has to dip further and consolidate to form a major support level.
Fundamentally
Indian markets are at a PE multiple of around 20 which has ever been persuading to foreign investors. They prefer market at around 15 PE multiple or there about. So ideally market could give a correction of around 15 to 20% more from here or it could be a time wise correction to justify higher PE multiple.
The Indian market is mainly driven by foreign investors. Indian fiscal is from April to March but many foreigners have the calendar and fiscal year same. They have their books close in December which is why the final quarter of the calendar year i.e October to December most of the time foreign investors take money back to books. The fresh strategy for FII is in the first quarter of the new calendar year. So January end to Mid February is high time to look for FII strategy in India.
Conclusion
In either case, SIP will be the best way to invest as of now because there is no such direction known where market would head.
It is most likely to head lower or provide a time-wise correction around the current level. The tax saving ELSS investment that you want to be done should also be started in SIP ideally now.
What are your views about the current market scenario?