I did share my views and experience with Religare, AnandRathi, Reliance Money, Indiabulls, HDFC Securities, Motilal Oswal, ICICIDirect and today I will share my views and experiences with ShareKhan.

We come to the final review in the series of Reviewing Major Stock Brokers and I did share my views and experience with
and today I will share my views and experiences with ShareKhan.
Positives
Brokerage – If you have an account with some other broking house they will offer you better brokerage rate. Brokerage depends on your ability to negotiate.
Very sound Online platform as well as the Windows application "Trade Tiger". You can do everything using the online system or Trade Tiger application.
Integrates well with your existing bank account and you do not need any extra bank account to maintain.
Mutual Funds / IPO all can be done online without any hassle.
Mutual Fund Fees is NIL. Yes you heard it right. There is no fees to transact in mutual funds online with ShareKhan.
If you have a portfolio of over 500k you can get a Relationship Manager which is as good as Motilal Oswal's Offline account facilities.
There is hardly any negatives that I am experiencing and this is one of the main reason to move all my equity based investment and trading into ShareKhan.
If you have more to share please do share them in comments. Your views not only help me with my decision to move everything to ShareKhan but also help other fellow readers.
Update 4th December 2016
In my December portfolio report, few readers noticed that for the first time I invested and shared the contract note of Zerodha as opposed to Sharekhan it is because ShareKhan on 15th of November had a horrible day.
I was blocked out of the market for a complete day.
I could not view my portfolio, could not place orders and could not trade for the full day.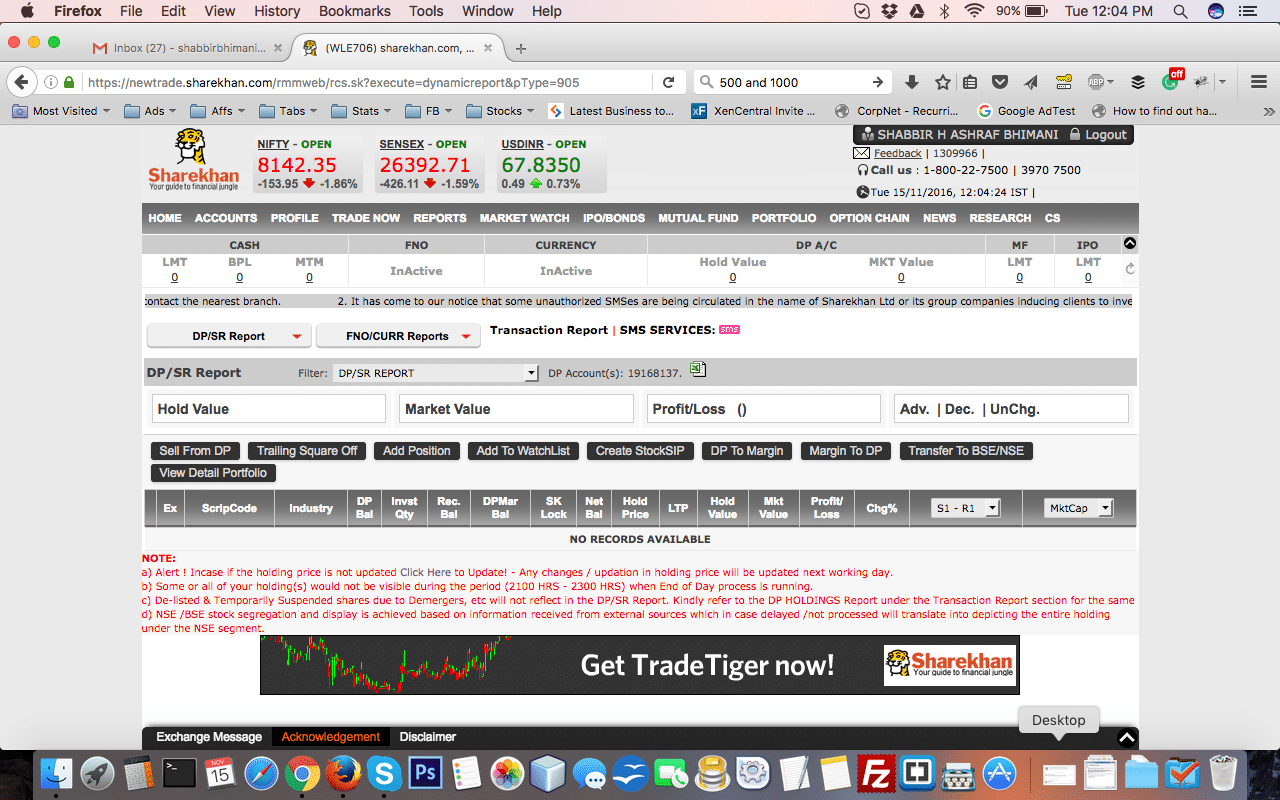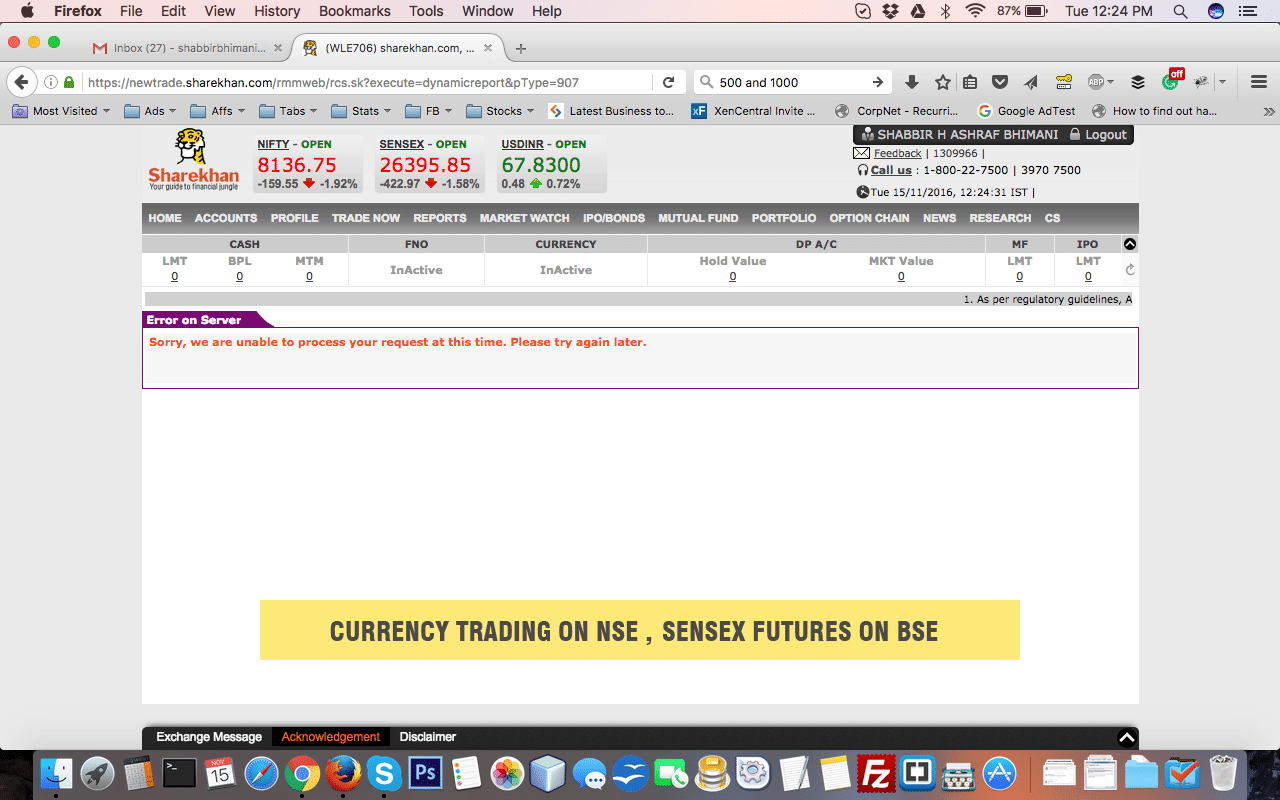 This not only happen to my account but it also happened with my wife's account as well.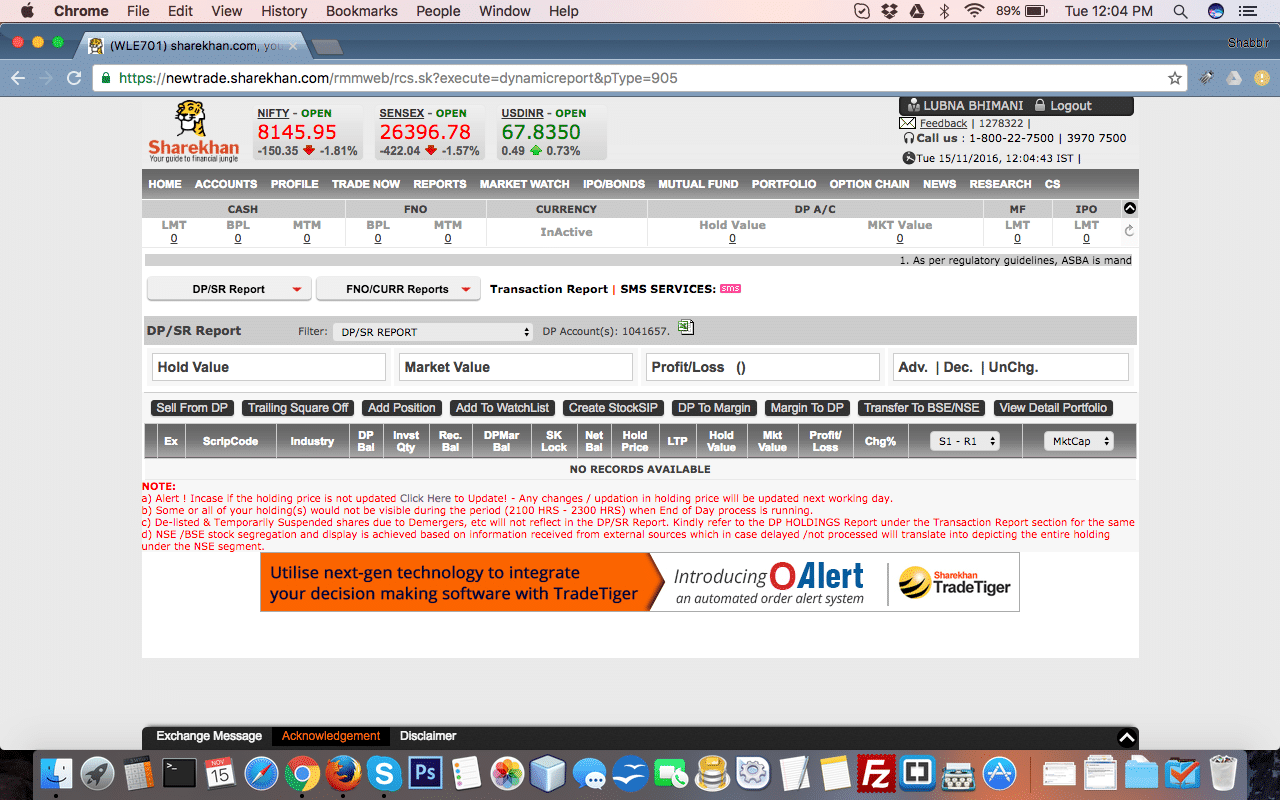 This happened not only on the web end but my relationship manager could not place orders and told me it is system issue and Mumbai has been notified about it.
I just saw my stock falling and getting at levels I always wanted to buy and tried and tried and tried but all in vain.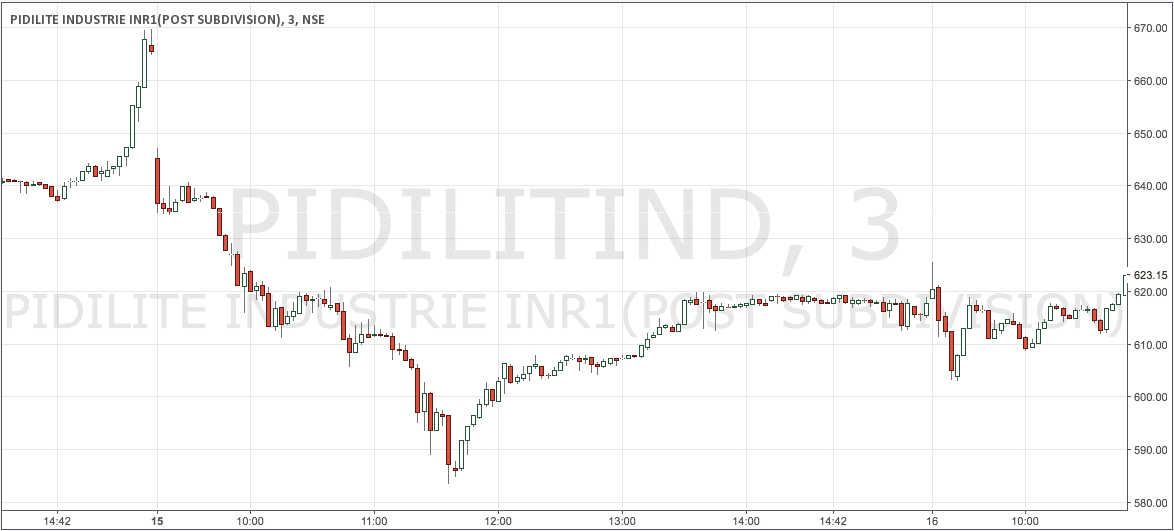 I even transferred funds but just could not do anything after that and the funds did not reflect into my account till next day.
Few of my friends who have ShareKhan account had a similar issue.
This happens on the back of when I have invest 15Lakh Rs in a year and they have earned handsome brokerage for my investment.
It was a day when Pidilite hit a low of 585ish and I wanted to place an order to buy as close as possible to my lower band of my buying range which was 620 to 580 for me.
After such a horrible experience and not being able to trade for a complete day, ShareKhan management did not bother to email about what happened.
This is when I decided to switch back to Zerodha.
Zerodha had similar hiccups in the past but for few hours and not for the complete day and are brave enough to accept they had issues.
When you are charging 30 times more brokerage (Yes ShareKhan brokerage is 30 times more than Zerodha), you expect much better technical services and cannot have days when you just are blocked out of the market.
I was willing to add more to my portfolio but imagine those who are stuck in positions and want to square off as soon as possible to minimize losses?