Only reason why stock prices fall in the market is there are more seller or sale orders over buyers or buy orders. 7 Reasons for having more sellers than buyers
There is only one reason why stock prices fall in the market which is there are more seller or sale orders over buyers or buy orders.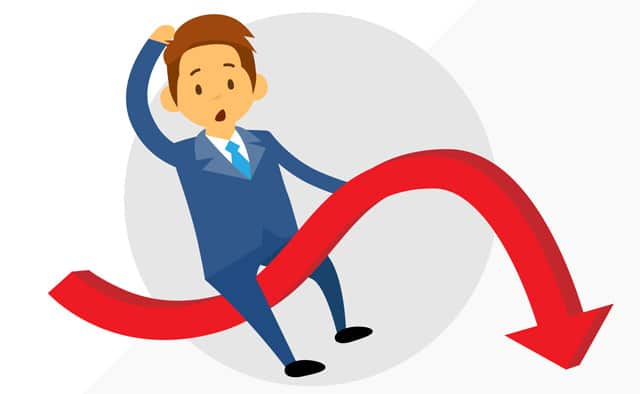 Let us first understand how trades are executed in an exchange in an oversimplified example.
Company ABC whose stock price is trading at Rs 105 which is the last traded price. Person A wants to purchase 1000 shares of ABC at Rs 100. There aren't sellers at Rs 100 for ABC, but sellers are at Rs 106 and 107 with order size of 200 and 300 respectively.
So the person A enters his buy order for company ABC 1000 shares at Rs 100.
There are no sellers at Rs 100. The order does not get executed and remains active in the exchange.
Another seller B wishes to sell his 2000 shares of ABC. He wishes to be selling them at a price of 100 or more.
So he enters the sell order of 2000 shares at Rs 100. At 107 his 300 shares are sold, the price drops and at 106 his other 200 shares are sold and then at 100 (Assuming no other buy orders between 106 and 100) other 1000 shares are sold.
Now the price of the stock becomes 100 which is the last traded price.
As there aren't any more buyers at 100, his orders get partially executed and remain till there are other buyers who are willing to buy ABC at 100 or Person B reduces his order price further to fetch more buyers.
From the above example we can easily see that stock price falls (from 105 to 100), because there are more sell orders than buy orders.
Price of 105 was reduced to 100 as there were more sell orders than buy orders.
7 Reasons For Having More Sellers Than Buyers
So now what could be the reasons for more sellers will be the same as why stock price fall which is.
Growth prospects – Share prices anticipate future growth and earnings and not the past. If the outlook is not positive and there are no growth prospects for the business, share prices can head downwards. Robust companies can see their share price fall, even if they are doing well currently because they may be unable to do well in the future.
Profit Booking – Large investor willing to book profit will punch large sell orders wiping out the buyers and put pressure on the price of the stock.
Short Sellers – There can be short sellers who assume that stock prices have risen too much for it to sustain and though they don't have shares to sell, they short sell and assume they can buy it at lower levels. There is a misconception that short selling can pull the market down but it can never pull the market down for an elongated period of time because short needs to be covered as well.
Promoters Sale – Apart from large investor, promoters can also sell their shares in the open market because they may need money for various reasons. Promoters selling shares can even turn the sentiments of the other investors negatively with more investors willing to sell.
Bad economical View – The complete economy could be in bad shape and that can impact the complete market as a whole and so share prices can fall.
Bad Sectorial View – There is a sectorial gloomy view and company may not be able to perform because of the bad outlook for a particular sector.
Bad company performance – The company is not able to live upto the market expectation. Market was expecting something extra ordinary that company could not deliver and that can turn the investors sentiments negative towards the company.
Conclusion
Nothing changes on a minute to minute basis in business for the change in share prices but it is the sentiments of the people involved in the trading ecosystem. So anything that moves the market sentiments negative can be a trigger for the share price to fall.