How to find the best mid-cap fund to invest in 2023 in minutes without using Excel files and using only online tools.
I am a lazy investor who doesn't like doing all the calculations in Excel if we have tools available. So I use two great tools for all my mutual fund requirements: Value Research Online's Fund selector and CRISIL's Mutual Fund Ranking.
Using the above tools has dual advantages.
I don't need to be doing all the calculations in Excel
In a few minutes, anyone can find the best mid-cap Fund to invest in in 2023.
Before we begin, let's define Mid-cap as a category from SEBI.
The top 100 market cap companies are large caps. The following 150 companies are based on the Market cap in the mid-cap universe. They are ranked from 101 to 250.
Top Mid-Cap Funds for 2023
From the 4-Star and 5-star rated mid-cap Funds by ValueResearchOnline, we will compare the performance of each Fund to its benchmark for the past 7 Yrs,5 Yrs,3 Yrs and one year.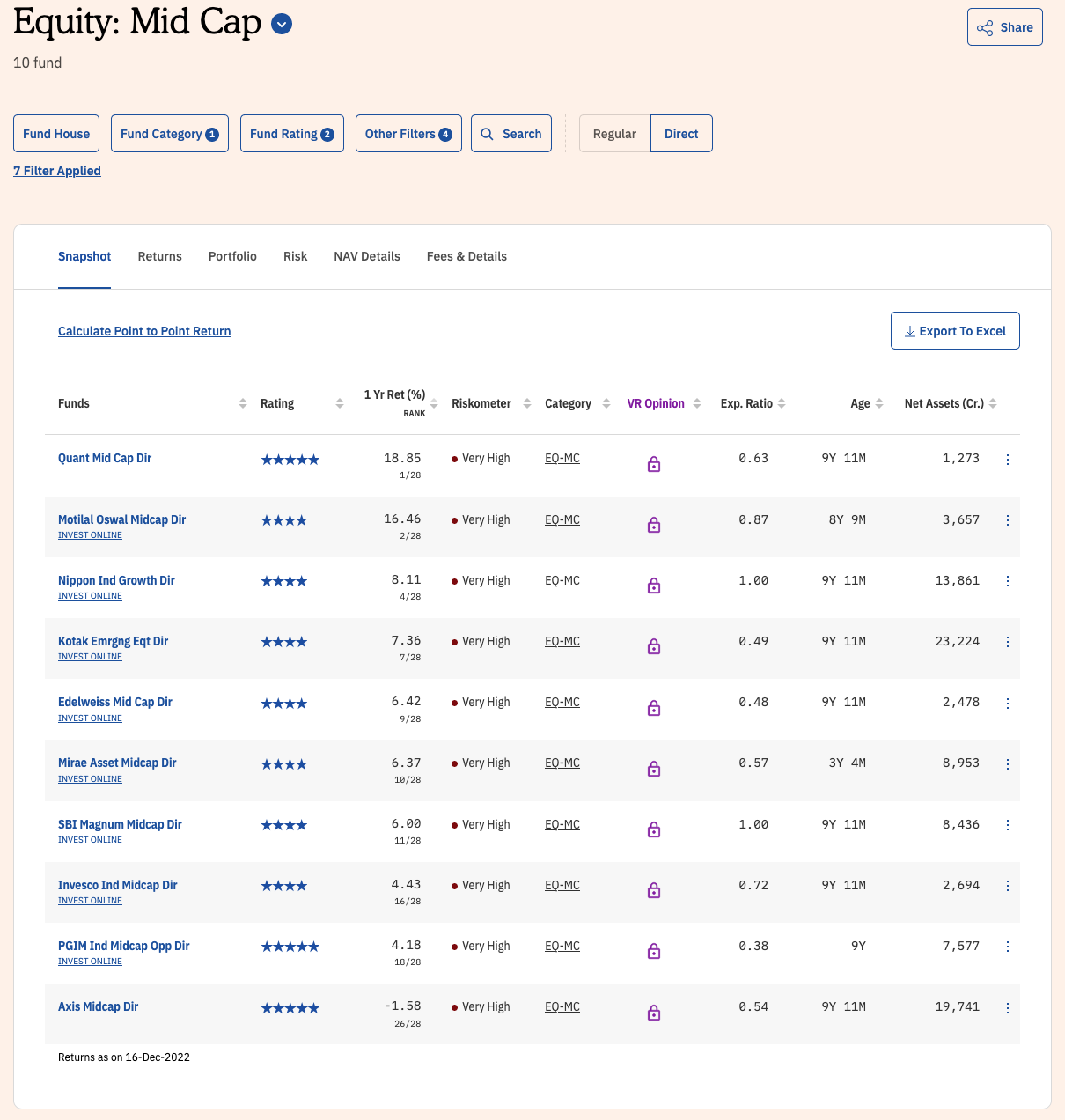 So now we see how each of the Fund has been doing. So, for example, the Quant Mid Cap Fund – Direct Plan has staggering returns in the past each time frame.

And We have similar pictures for PGIM as well as many other funds.
However, Axis Midcap Fund has underperformed, and Axis as a fund house has seen a deterioration in performance, and mainly I can attribute it to the front running case only. However, I did warn my readers to book out of Axis fund at that time only.
In the past year, the S&P BSE 150 mid-cap has given a return of 4.5 per cent, so any fund that has not outperformed in the past year is an avoid.
| Fund | Why Avoid |
| --- | --- |
| Quant Mid Cap | |
| Motilal Oswal Midcap | |
| Kotak Emerging Eqt | High AUM |
| Nippon Ind Growth | High AUM |
| Mirae Asset Midcap | Less history |
| SBI Magnum Midcap | Underperformed * |
| Edelweiss Mid Cap | |
| PGIM Ind Midcap Opp | |
| Invesco Ind Midcap | Underperformed * |
*Underperformance is in some timeframes
The Best Mid-Cap Funds for 2023
Now we are left with four funds
Quant Mid Cap
PGIM Ind Midcap Opp
Motilal Oswal Midcap
Edelweiss Mid Cap
Now we have to select these funds based on CRISIL ranking.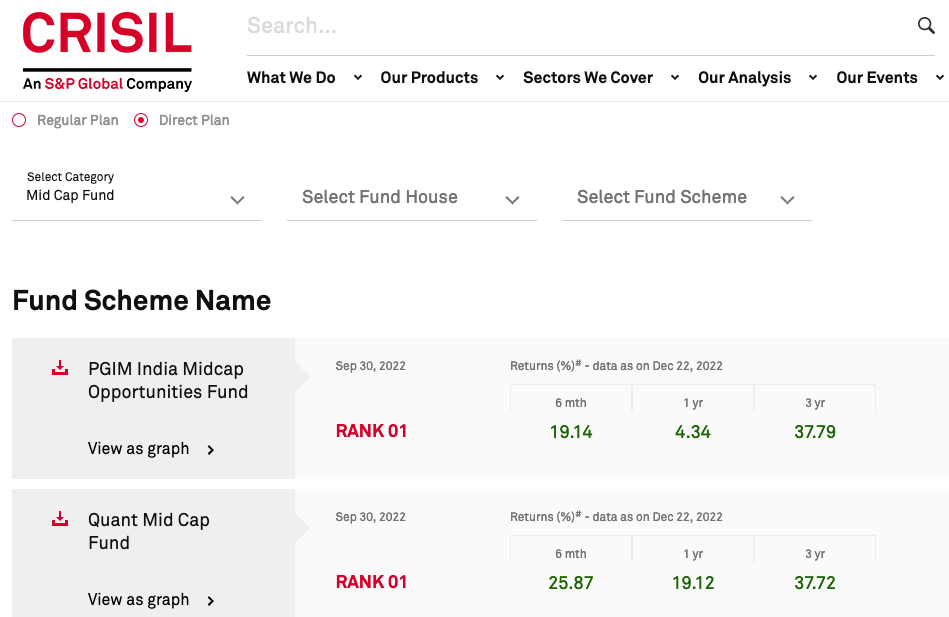 Quant Mid Cap Fund and PGIM Ind Midcap Opp are the best Funds by CRISIL.
We have those two funds in our selection of the best fund. Motilal Oswal and Edelweiss Mid Cap Fund are ranked two and three. So now the funds that we have are the best as per CRISIL.
So we aren't able to trickle down any further.
Let's look at Fund's portfolio section at Value Research Online.
| Fund | Equity % | PE | PB | Top 3 Sectors |
| --- | --- | --- | --- | --- |
| Quant Mid Cap | 99% | 17 | 1.7 | Fin, Auto, Services |
| PGIM Ind Midcap Opp | 93% | 29 | 3.9 | Fin, Cap Goods, Services |
| Motilal Oswal Midcap | 84% | 44 | 6.7 | Cap Goods, Constructions, Materials |
| Edelweiss Mid Cap | 97% | 28 | 3.9 | Fin, Cap Goods, Chem |
Now I will select a combination of two funds as the best mid-cap funds.
Quant Mid Cap and Motilal Oswal Midcap because that way, you have a bland of growth and value and handle the market corrections much better.
Further, we are well-diversified sectors of the midcap universe as well.
Final Thoughts
This review is neither a sponsored one nor an endorsement that you should invest only in the funds mentioned above.
I have shared the complete process to find the best-performing large-cap Fund for 2023. Feel free to apply your choice of criteria that gives you comfort while investing.
Make sure to invest in direct funds. And finally, don't invest in mutual funds because someone has recommended it to you, including me. Instead, always apply your investment logic to each of your investments.