How can retail investors find which is the best small-cap fund to invest in 2023? Let me share the process & come up with the best small-cap fund for 2023
How can retail investors know the best small-cap fund in 2023?
Let me share the complete process and answer to that question to help you find the best small-cap fund to invest in 2023 using ValueResearchOnline and CRISIL.
Before going to the list, first, let me define what small-cap funds are, according to SEBI.
The top 100 market cap companies are large caps. The following 150 companies are based on the Market cap in the mid-cap universe. They are ranked from 101 to 250. I also have the Best Mid Cap Fund to invest in 2023
Then the companies from 251 to 500 based on the market cap are small caps. They are making it 250 companies in the small-cap index. The definition helps us compare the fund's returns based on the benchmark.
Top Small Cap Funds For 2023
We will use the process to come to the best small-cap fund for 2023 from the 3, 4, and 5-star rated direct small-cap funds by ValueResearchOnline, and sort them based on 1-year return.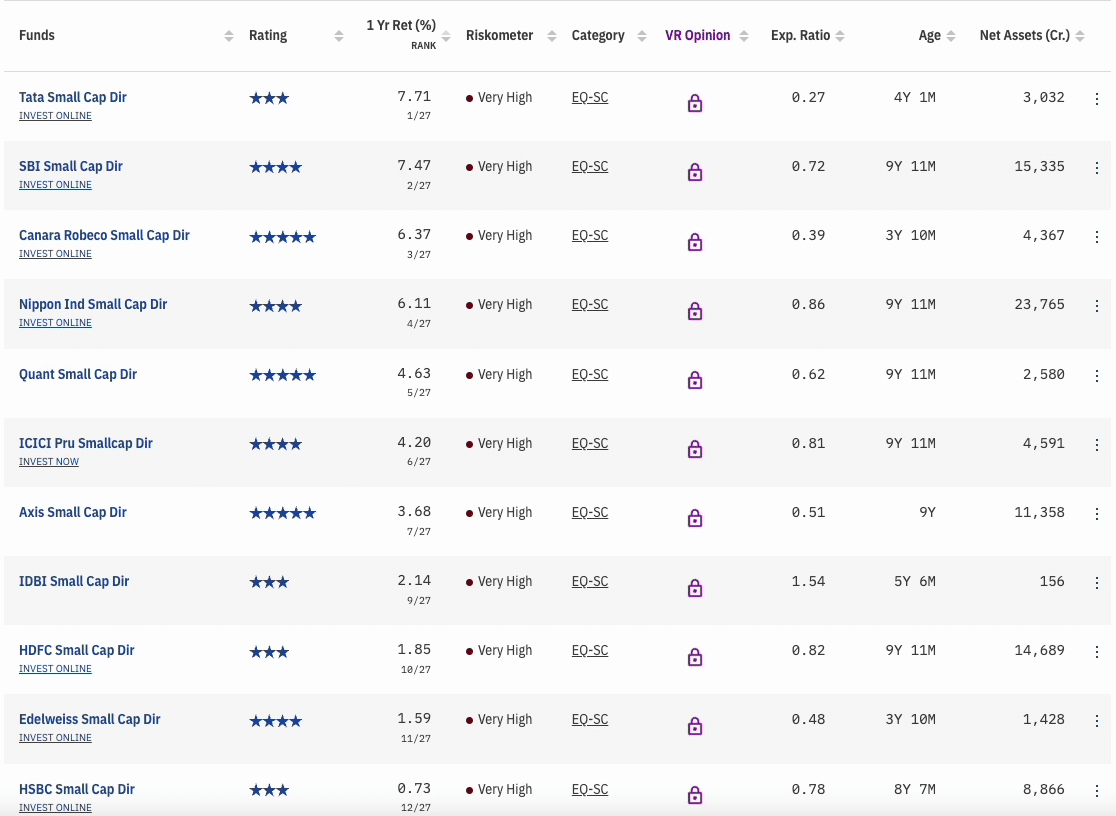 There are multiple funds with assets under management (AUMs) with more than ten thousand crores, including SBI small cap fund, Nippon India small cap fund, Axis small cap fund, HDFC small cap fund, etc. These funds are to be avoided as they have a vast AUM.
In a small-cap fund, if you have significant assets to manage, it can be tough to switch stocks and sectors. Similarly, too few assets can mean a higher expense ratio. Hence both large and small AUMs are to be avoided. So we will consider only AUM between 1000 to 10000 crores.
Let's go through each of the remaining funds to understand if a fund can outperform consistently or not.
The following three direct funds do not have a more extended performance history.

TATA small cap fund
Canara Robeco small cap fund
Invesco India small cap fund
So we avoid them as well.
Quant small-cap funds have a stellar performance and outperformance on a seven-year, five-year, three-year and one-year basis.

ICICI Prudential fund, DSP small fund caps, and HSBC small caps fund have similar outperformance. Kotak Mahindra, a small caps fund, is also outperforming, though with a negative return on a smaller time frame, but still, it is better than small-cap S&P BSE 250. So we are keeping these funds.
Best Small Cap Funds 2023
Now we have to select these funds based on CRISIL ranking.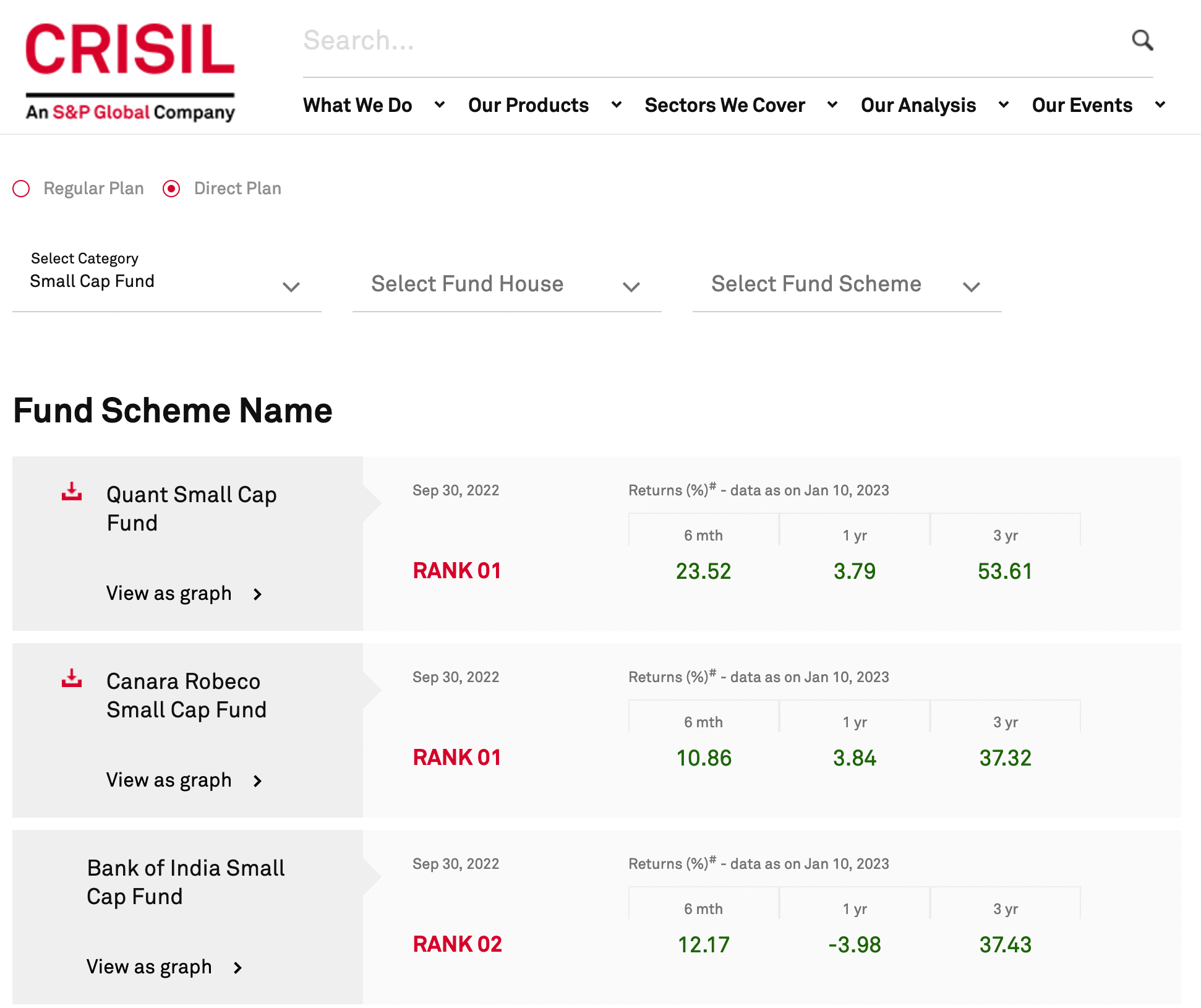 As per CRISIL, Quant and Canara Robeco, small-cap funds are ranked first. And we have Quant small cap fund in our list as well.
ICICI Prudential small cap fund is ranked a little lower on CRISIL but is ranked 02 and on our list.
Further drill down of this list is impossible, so now we will be seeing the portfolio of each of the funds in our inventory to avoid some of the funds.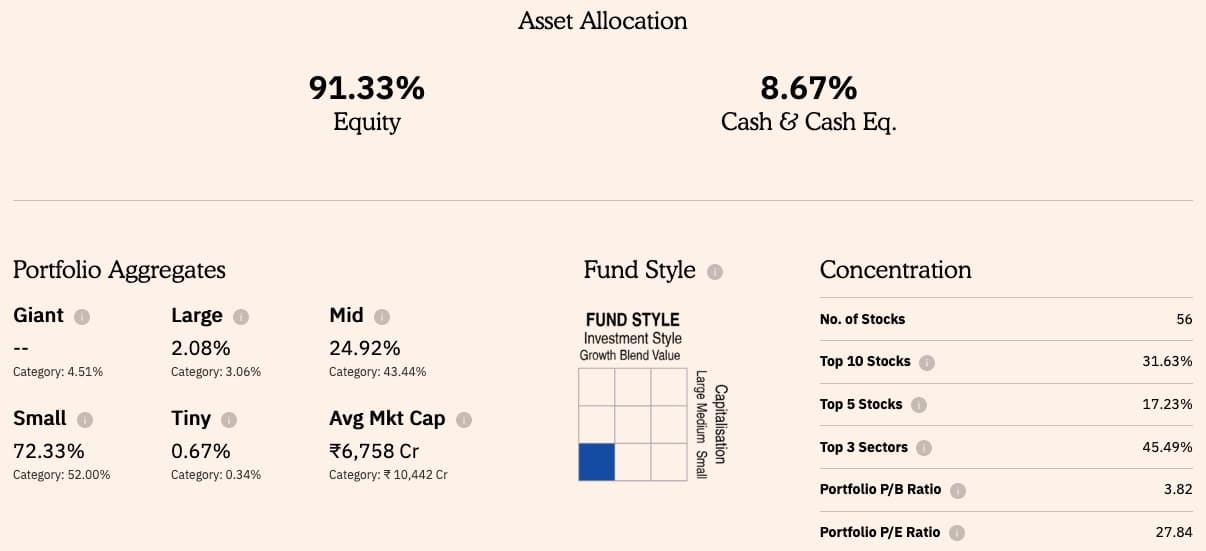 We see that only two funds, ICICI Prudential and DSP Small Cap Funds, that have a decent asset under management, and good consistent returns over time, invest predominantly in the small-cap companies.
Considering the expense ratio, we have ICICI Prudential as the best small-cap fund to invest in 2023. However, the DSP Small Cap fund is also good.
Final Thoughts
This review is neither a sponsored one nor an endorsement that you should invest only in the funds mentioned above.
I have shared the complete process to find the best-performing small-cap fund for 2023. Feel free to apply your choice of criteria that gives you comfort while investing.
Make sure to invest in direct funds. And finally, don't invest in mutual funds because someone has recommended it to you, including me. Instead, always apply your investment logic to each of your investments.