First let us look at the charts of Nifty and Sensex over last 1 year.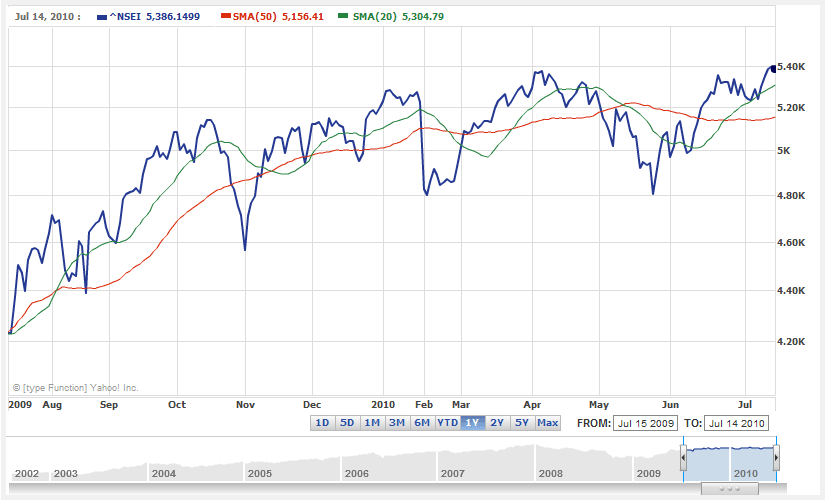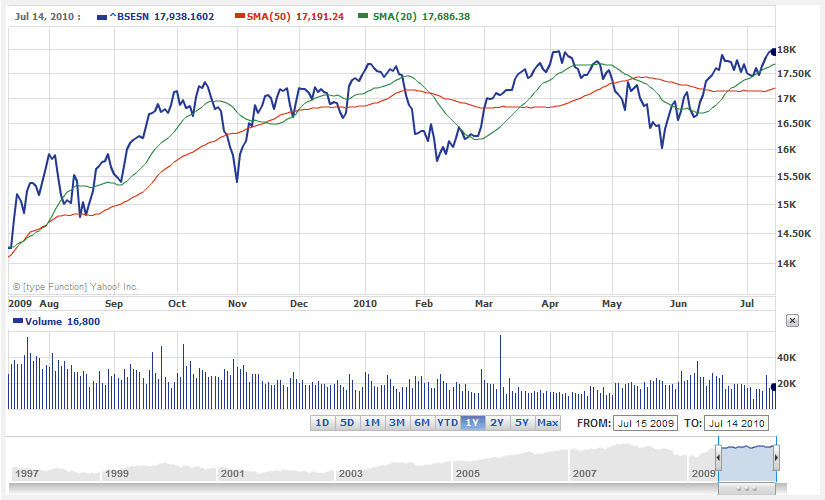 We can clearly see that Sensex and Nifty are in a very broad range for quite some time now especially in whole of 2010.
Now let us look at the chart of Midcap Index over last 1 year.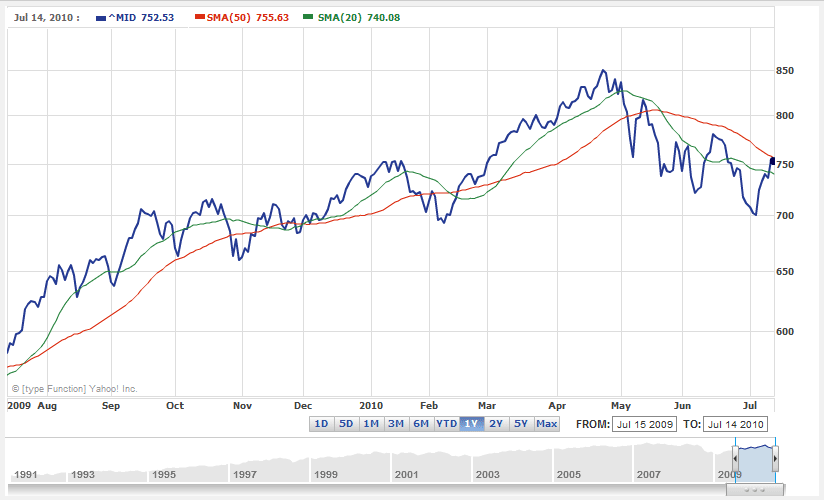 We can clearly see that there has been lot of activity in the Midcap segment of the market over the same period of time.
So it would be a good idea to have the list of best midcap funds that have performed well in the last one year.
Before I share the list of funds a line of thought about Midcap Funds.
Funds that invest in small to medium size companies are termed as Mid Cap Equity Funds but there is no standard definition for classifying a company as small or medium sized but as a general guidelines which is followed is market capitalization of up to Rs 500 crore are classified as small and between Rs 500 crore and Rs 1,000 crore are classified as medium sized.
Now using the above guidelines each mid cap fund manager invests in a different set of companies and so performance of Mid-Cap funds can vary considerably. So let me list the best performing Midcap Funds for last 1 year.
| Fund Name | Launch Date | 1 Year Return in % |
| --- | --- | --- |
| DSPBR Small and Mid Cap Reg | Oct-2006 | 78.07 |
| UTI Mid Cap | Apr-2004 | 74.66 |
| HDFC Mid-Cap Opportunities | Jun-2007 | 70.01 |
| Religare Mid Cap | Mar-2007 | 68.01 |
| IDFC Small & Midcap Equity | Feb-2008 | 65.33 |
| Kotak Mid-Cap | Jan-2005 | 64.40 |
| Sundaram BNP Paribas Select Midcap | Jul-2002 | 59.04 |
| L&T Midcap | Jul-2004 | 57.52 |
| Sahara Mid-Cap Fund | Dec-2004 | 56.87 |
| Birla Sun Life Mid Cap Plan A | Oct-2002 | 55.43 |
| HSBC Midcap Equity | May-2005 | 54.00 |
Small and medium sized companies have higher beta. This actually means that they move more than ever reliable big companies on either side up or down. So instead of getting into those funds right now it may be the right time to keep an eye on performing funds and accumulate them in declines.
Disclosure
I have investment in 2 of the oldest Midcap Fund aka Birla Sun Life Mid Cap and Sundaram BNP Paribas Select Midcap for quite some time now.
Over to you
Share your preferred Midcap Funds in comments below.
Data by ValueResearchOnline, Charts by Yahoo Finance