Year 2012 was full of surprises for the Indian investors. Looking at the weekly charts for Nifty in 2012 we clearly see it had something for every body be it trader or investor.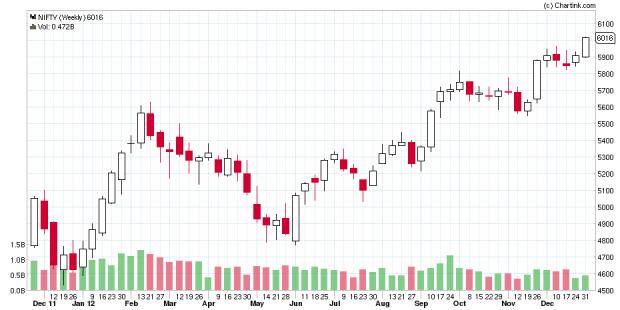 Nifty has shown good support in 2012 around 4500, 4800, 5000, 5200, 5550, 5850 and so it does look like 2013 will be a year where there will be lot of support for market and so if you are keen to invest your money in 2013, there are three things that you need to know.
Lesson #1 – Identify Your Investment Vehicles
Are you an investor who prefer investing in Mutual funds, or you prefer Investing in Gold / Gold ETF or investing in market directly by picking good stocks yourself or you prefer investing in properties and other asset class? Choose your investment vehicles and try to invest as early as possible to your best-suited investment vehicle. Identify your financial goals and take the help from your financial planner to sort out the funds from different assets that can help you to reach your goal. Not all the investments will give you equal profits and some might take a longer time. But, that is how the market performs.
Lesson #2 – Overcome Your Greed
Investments require a specific strategy. If you have surplus cash without any confined financial goals, you are free to experiment your funds through various channels. If the markets have performed in 2012, it does not mean similar things will happen in 2013 as well but chances of market doing good in 2013 are high but you should invest in market with stop losses at the support levels if you aren't sure when market can take a down turn.
Lesson #3 – Market Is Not To Get Rich Quick
No investments can make you richer overnight. Every financial instrument will take its own time to give back the returns. All you have to do is to understand the basic principles and start investing in the funds. Systematic approach and the right strategy can help you to milk the profits in the long run. Make sure your investments will cover up funds from small, mid and large caps so as to diversify the asset allocation. See why it is important to start investing early.
If you are a mutual fund investor it is right time to monitor the performance of your funds because if they have not out performed the market, its time to analyze them and get them rid of them and get into funds that are able to outperform the market in 2012.
Invest for better returns and not spectacular returns from market. Share your investment views of 2013 in comments below.