Very detail review of Jago Investor: Change your Relation with Money Book by Manish Chauhan where I explain what is covered in each chapter of the book.
Manish Chauhan of Jago Investor and I share few things in common and one of them is we both are from non-financial background and yet have fairly successful blog in finance niche and it is our interest in the niche that has driven us this far in an overly crowded space.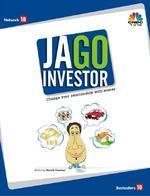 Manish has written a book on principle of personal finance. As I was reading his book, I found that it is one of those books that should be read by everybody who is new to managing his finance and trying to achieve financial goals. So I will do a very detail review about his book and explain what is covered in each chapter of the book but before I get into the details of the chapter let me share few lines about the book in general.
The 170 page book is written in a very simple and easy to understand language so anybody from non-finance background can grasp the concept of financial planning. The book focuses more on principles of personal finances and the financial mistakes a common man make and does not focus on where you should be managing your financials. So I think it is one of those book that can help you get started to understanding the basics of financial planning.
The book is divided into 7 chapters and each chapter elaborates one of the key aspects of finance management and wealth creation.
Chapter 1 talks about how starting your investment at an early age can make the real difference to your final target corpus amount along with facts and figures.
Chapter 2 deals with the misconceptions about insurance among common Indian investors and explains why insurance is INSURANCE and not an investment. You can also read my related article about Is Insurance an Investment Option?
Chapter 3 explains the importance of financial goal in your life and how you need to remind yourself about it and invest towards achieving it. He suggests writing your financial goals but being a tech junkie I prefer my desktop wallpaper to have my goals especially the financial goals. I did this when I was looking to buy a flat for me.
Chapter 4 explains how equity is less risky in longer term (10-15 years) and more risky in shorter term (2-3 years) and how debt is more risky in longer term and less risky in short term with examples. Apart from that the chapter also talks about ideal portfolio with balanced risk profile based on stage of life i.e. bachelor, married, kids and so on.
Chapter 5 focuses on changing your attitude towards managing finance better with a want to do attitude and re-iterates the same concept about having a financial goal and starting investments early.
Chapter 6 focuses on ways to simplify your financials and how you can UN-complicate your financials by consolidating your bill payment dates and reminders to avoid lot of hassles and late payment fees.
Chapter 7 explains the common issues among Indian investors who invest with different motto – like getting insurance only for the sake of saving tax or even buying a property when they could have delayed that buy or even smaller property would have been a better option.
This pretty much sums up the content of the book but I have also found few areas in the book, which I think should be improved upon. I think I need to share them as well.
Area of improvements
Chapter 4 does not talk about finance management for people who have loans and always assume debt free situation to start with, which is very rare. When I was doing job in 2008, I had lot of my friend in the IT industry but I found very few people were debt free. Some had personal loans for marriage and other occasions, some had car loans and rest had a home loan.
Chapter 5 could have been more about attitude in general towards finance management instead of re-iterating what has already been told in the opening chapters about financials goals and starting investments early.
Chapter 6 focuses on simplifying financials but on page 136 a he suggests a simple portfolio that states
1-2 Credit Cards (if one needs them).
I think (if one needs them) is not what I expect in a personal finance book. Credit cards are must in today's life style and so it is all about knowing how to use them efficiently and to your advantage. So I don't agree that you should have a card only if you need it but I think you should always have a credit card and learn how to use it efficiently.
My credit cards fetch me 10,000+ Rs worth of free gifts and cash back yearly. I will share an article on how I do it soon but as an example I would like to share here about my Citibank Cash Back Credit Card that pays me roughly 2 to 3 thousand Rupees as cash back each year but if I don't use that card for at least 20,000 each year I will be charged a fee of few hundreds (don't remember the exact amount now) for keeping that card with me. So if I know the terms I am fine managing that card well to my advantage.
Final Thoughts
I think it is a very good book for beginners in personal finance.
Update: The book is available at 25% discount rate. Grab your copy now at FlipKart.com.
Update: Manish has agreed to give one free copy of his book to my blog readers. To grab your free copy of the book share your views about this review in comments below and I will select one reader in the next 24-48 hours from the comments who get his/her free copy delivered at his/her doorstep.