Answer to User Question: I have 4 to 5 reputed company shares for last 7-8 years but it has not increased rather decreased with losses, but all preach for long term investment to get 15-20%?
I got a question from one of my readers on Ask Me Anything, The question is.
I have 4 to 5 reputed company shares for last 7-8 years but it has not increased rather decreased with losses, but all preach for long-term investment to get 15-20%?
If you want to ask me such questions, just drop me an email with your question here.
Maximum Indian retail investors are into such scenario. I have seen many such investors who have invested in blue-chip companies like Reliance Industries, SBI, Tata Steel, Bharti Airtel and are just waiting for the levels they invested to reach so they can come out of their investment and possibly from market as well.
When they invested, they had very little idea of where to invest and they invest based on recommendations on TV and thought whatever is being shared on TV is the thumb rule for the market. After testing those and getting disappointed, they possibly look for what they have done wrong. I don't blame the investors completely here but it is the problem of information overhaul where we have too much information available and what to grab and what to filter out is a very difficult choice.
So now let us look at why and how long-term investment being shared on TV becomes our manifesto and what is wrong in it and how to deal with.
There are so many case studies that proves that long-term investment really works well but then the question is; is it all you need to know about investment? Can it be that simple to invest and make those handsome returns from market?
The answer is No. It is just half knowledge and you know that half knowledge is very dangerous.
If you analyze any long-term investors investment and his returns, it is not only about remaining invested for a longer period. It was based on his study of the business and how it will flourish in the coming years and so investing in that stock and then continuing his investment for a long-term in that stock to cash in the growth of that business.
Can you just randomly buy any company where you don't understand the business or the fundamentals of the company and still believe it will fetch you 15 to 20% return in the next 10 years or so. I don't think so. If you cannot answer the question of why this business will flourish and how they will flourish in next 10 years, I don't think it is worth investing in that company fundamentally.
If such investment would have worked, everyone in India will be a crorepati and we may not need Kaun Banega Crorepati 😀 . Just long-term investment as an advice is foolishness, the statement Will be – Invest in the right stock at the right time & at right valuation for long-term.
So next time anybody tells you only about remaining invested in the market for a long time is a good solution think about it again. The investment is not all about being remaining investing in market but it is all about when you prefer to invest and at what levels.
Examples
Let us look at 2 stocks and see how things are bad if we just invest at any given point of time in last 8 years.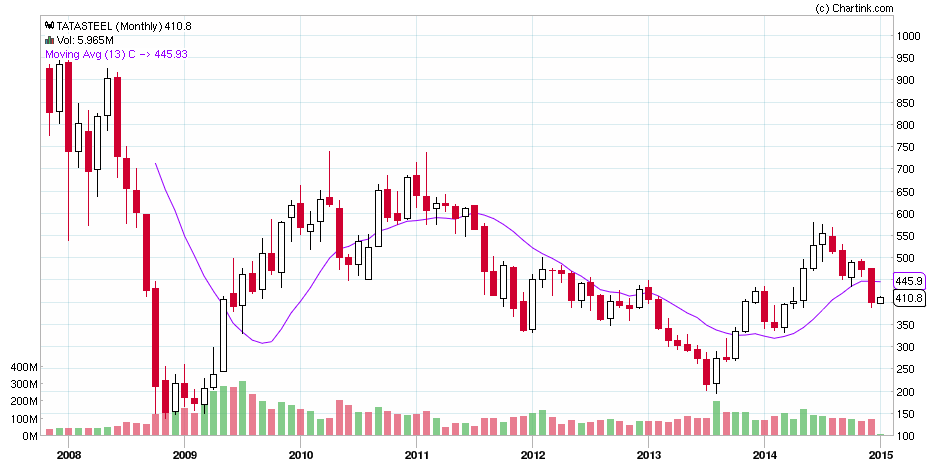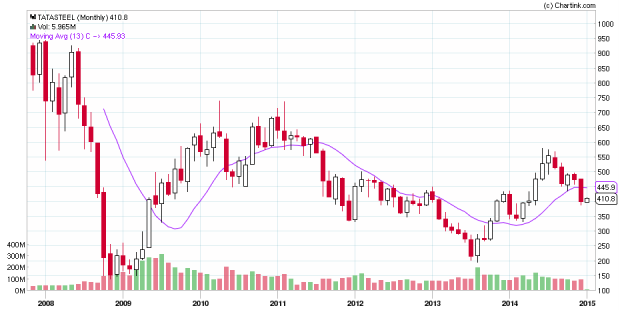 You pick any time in this stock and if you did not invest in this stock at around 200ish levels in 2009, you may not be making much out of your investment for the longer term.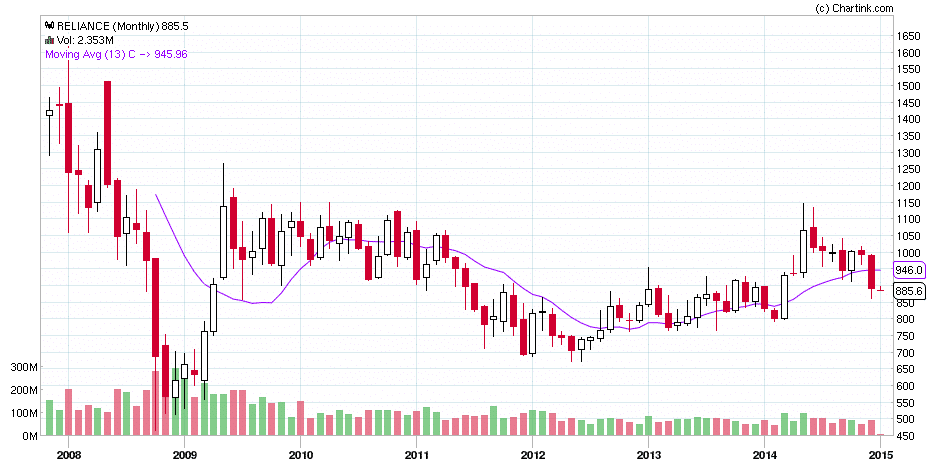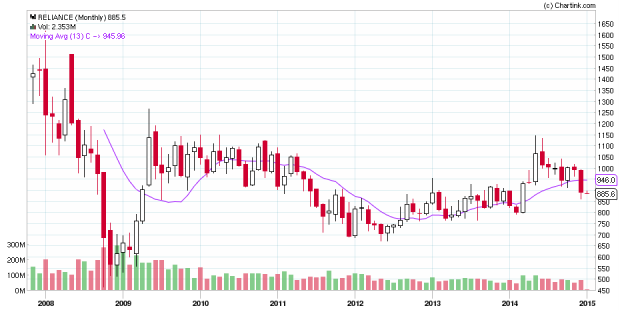 Similar things can be said about Reliance Industries now. Reliance Industries has not done anything in last 5 years and if you think it will do something in next 5, I doubt. Yes it is being worked on but I prefer investing when it has something more concrete that companies start executing. Same thing may even apply to DLF, ABB, ACC and the list can continue…
So what is the solution?
A lot has been told about what is wrong but then what should be done is the whole point of this article.
If you want to invest fundamentally, select the right business to invest for a long-term and understand how the business will be doing right things and what should be the timeline when business will turn things around.
So once you have identified the business, you have to also identify at what level you should be buying and then when things don't go as expected by market, it will punish the stock and so that is when you should be doing your picking. If you are not comfortable investing then, fundamental investing is not for you and so you may opt for investing technically.
You may think that Tata Steel is a good investment in 2009 because it went global buying the companies that it could not afford to buy it at that time and so it has to have all sorts of troubles. How the company will align itself to those troubles and come out of it is what should draw you to the investment in Tata Steel and the answer to the "how" is what should draw you to investing in the company for longer term.
Conclusion
If you think randomly choosing any stock to invest from market and just watching a TV analyst will fetch you 15 to 20%, you are totally wrong. Just the stock name to invest into for 10 years or so is not enough and you have to be picking it at the right time and at the right price as well.
Charts by chartink.com