I hardly could find any information or review about the portfolio management services online and so I was only left with doing the experimentation myself. In my recent review about stock brokers my top pick was ShareKhan and so I thought let us experiment a PMS with them and see.
Being from a non-finance background I always look for making more money in equity and so I thought of going for a portfolio management service or PMS. I hardly could find any information or review about the portfolio management services and so I was only left with doing the experimentation myself. In my recent review about stock brokers my top pick was ShareKhan and so I thought let us experiment a PMS with them and see.
The process started when I called up the ShareKhan customer care numbers and left the message that I am interested in doing a portfolio management service with ShareKhan and soon the sales team gave me a call. I verified that this call is directly from the ShareKhan team by asking some details about my account in Sharekhan and I was certain that I am talking directly with the Sharekhan in-house people and not to any sub-broker. You will soon realize why I mentioned this here.
I will share with you all my numbers and account statement as I think I should be as transparent as possible.
To start with Sharekhan offers 2 PMS products –
Fundamental PMS – Brokerage of 0.5% with 20% profit sharing after 15% profit hurdle is crossed and a 2.5% per annum AMC charges.
Technical PMS – Brokerage of 0.05% and flat 20% profit sharing.
Now looking at the fees I was certain that by no means I will opt for fundamental PMS. If I opt for fundamental PMS I need to pay AMC of 2.5% but will save 20% on the 15% profit. So doing the maths 15% profit on 5 lakh is 75,000. Now assume that if I make a profit of 15% then for technical PMS 20% of 75,000 is what they will charge me i.e. 15,000 and for fundamental PMS I will pay 14,375 (roughly as charges are deducted quarterly) AMC charges no matter what I gain. Market was at 5400 Nifty and I was not sure if the correction was on the cards and so I opted for a technical PMS where they assured me that charges are only on profit sharing and for losses they charge nothing and you loose just the small brokerage amount.
Apart from the fees fundamental PMS has high brokerage because it mainly deals in delivery based whereas technical PMS is more of a trading PMS. As I had the feeling of market correction I thought of trading PMS will be a better option than an investment based PMS.
So there was no doubt in my mind that I will opt for technical PMS and on July 21st 2010 my account started and as expected I started to see major issues and things told by sales people were all wrong.
Issue 1. Wrong Information
The sales person who visited my house (and including the customer care people who gave me a call from Mumbai after my interest in PMS) told me that I will be given a username and password to see my portfolio online. After everything is done I got a welcome email with only userid and no password. After calling every possible number I could I realized that this facility is not available for technical PMS account type and is only available for fundamental PMS.
I confirmed the same with the person who visited my house for account opening procedures and she confirmed that in training she was told that customers are given username and password for all PMS type. The more experienced guy explained to me everything on why username and password cannot be given for trading PMS and though I could not agree much to it I was left with no choice.
The only service they could provide me was to change my technical PMS to fundamental PMS if I insisted on having a login details but I was more than certain that I will never opt for fundamental PMS and so finally I settled without login details. Can you imaging I could not check what is happening to my money.
Issue No 2. No one knows the product in detail
The sales people who visited my house told me that I will be able to give my inputs as to which sector and stocks I am more inclined to but then as expected nothing like that happened and when I asked the answer was same again – this facility is not available for technical PMS and is only available for fundamental PMS.
The sales people even told me that I will be able to meet the fund manager in a month's time and I never expected that to happen but this made me to believe that my inputs may be taken. The only concern I had here is I wanted to avoid investing in companies dealing in alcohol and tobacco but I could not control that by any means.
Issue No 3. Lock-in Period
My account started on July 21st and in few days I had all sorts of issues and wanted to close my account the next day but I was told that this is not possible and you have to be with us for next 6 months (read: forced to be with us) as there is a lock-in period. I had idea about the lock-in period before hand but I think having an exit load is better option than a lock-in period. I was ready to pay anything at that time to close on my account but I just could not.
Issue No 4. No Clarity with Charges and Deductions
Sharekhan PMS web page clearly tells that ShareKhan books profit on quarterly basis but sales person I talked with emphasized that Sharekhan charges 20% whenever I withdraw my profit. When I told about the statement they have online is not matching with what they telling I got variety of answers. One was that this is new product (actually not true because technical PMS sub products are new but not technical PMS as a whole is new) and other was that it is after every 3 months from the inception of your fund you will be charged but the actual fact is they charge you fiscal quarterly i.e March, June, September & December
One more thing which I think I should mention is that you can only withdraw in multiples of 50% of 25k profit but they charge every quarter on total profit.
Issue No 5. Double Demat Account
With the kind of issues I had with my PMS account I found that for fundamental PMS you have to have a second demat account and you cannot use your existing trading account linked demat account.
Issue No 6. Performance of PMS
The 5 issues I mentioned above could have been easily digested by me provided I got good returns, but to my surprise I could do better than what they could do for me.
Let us take some actual numbers and deal in some maths.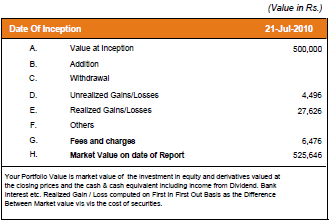 The above screenshot is from the official Sharekhan PMS report and you can also look at the complete report here.
I invested 5 lakh Rupees on 21st July 2010 and the on 30th September 2010 it is 525,646. So I got an absolute return of 5.13%.
Now let us compare the same with Nifty and Sensex returns.
| Indices/Performance | 21st July 2010 | 30 Sep 2010 | Gain |
| --- | --- | --- | --- |
| Nifty | 5400 | 6030 | More than 10% |
| Sensex | 18000 | 20050 | More than 10% |
Aren't the numbers speaking for themselves? A 50% less return than the index but yet let us see what I could have got if I invested in my preferred (or diversified) mutual funds.
| Mutual Fund/Performance | Nav on 21st July 2010 | Nav on 30 Sep 2010 | Gain |
| --- | --- | --- | --- |
| DSPBR Small and Midcap | 17.258 | 19.2 | 11.25275235 |
| Fidelity Equity | 33.968 | 37.639 | 10.80723033 |
| Canara Robeco Infrastructure | 22.5 | 24.42 | 8.533333333 |
| Sundaram BNP Paribas Select Small Cap | 146.9 | 164.0462 | 11.67202178 |
| Birla Midcap | 111.61 | 119.72 | 7.266373981 |
| Fidelity India Special Situation | 17.985 | 19.779 | 9.974979149 |
| HDFC Top 200 | 198.468 | 224.764 | 13.2494911 |
| Reliance Growth | 470.2571 | 509.5282 | 8.350985025 |
| Reliance Vision | 271.1358 | 298.7151 | 10.17176633 |
*Nav are taken from Historical Date from AMFIIndia for growth option
All of my preferred funds outperforms the PMS numbers by a big big margin and guess what; they charge you 20% of your profit for this crappy services and performance.
Drop a comment if you have any queries or questions and don't forget to share your views and feedback.
I hope this will help lot of fellow investors and blog readers.