Trading and investing are two different approaches to market. Knowing the thumb rule to each approach can make the difference between making or breaking in market.
There are numerous different ways to look at trading and investing and view point of trading vs investment can vary from person to person. I look at trading and investment lot different than many others and for me trading and investing are two different approaches to the market.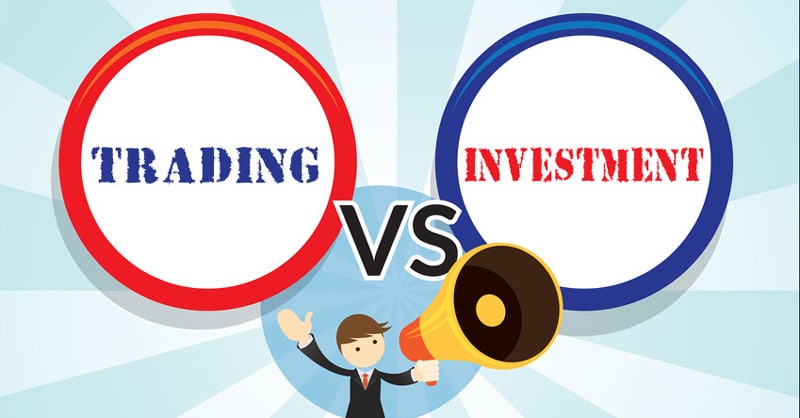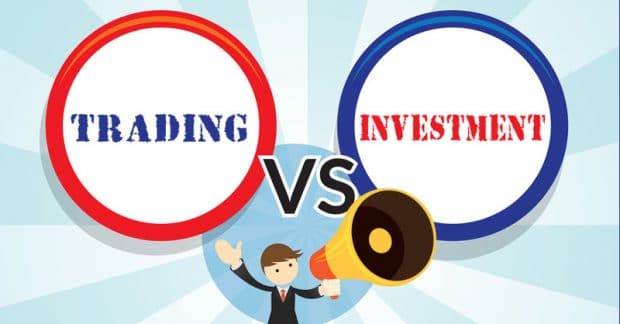 Definition
I will define trading and investments as follows:
Trading: More active participation in the market (long or short) and make profits in a short term. Trading can be based on various studies but I prefer to be trading based on few price action patterns like formation of W, higher top higher bottom and breakout pattern.
Investing: Investing on the other hand is being part of the business in the long term and benefit from the growth potential of the business. There is nothing in business that can change on a minute to minute basis when markets are open and so it is more of a trader's sentiment that plays the role in the daily market activity.
Comparison
| Trading | Investment |
| --- | --- |
| Market positions are taken based on sentiments of other traders. | Investing is more about investing in the business potential of the management. |
| There are numerous studies to predict market sentiments and I prefer to be using technical analysis to predict market sentiments. | Business evaluation can be done by understanding the business as well as various aspects of business. I prefer to use the following 7 point principle to fundamental analysis. |
The Thumb Rule
The one principle to trading and investing that everyone should follow is:
Never turn a trade into an investment and vice versa
Trade is mainly working on the principle that is to buy with certain patterns that are being formed in the charts which means there is certain interest in the stock for whatever reasons they are and so we follow the pattern, trade along and are out of it just before the patterns turns its heads on or what you have assumed just did not happen.
Investment on the other hand is investing in the business. They cannot be measured on a day to day basis and the earliest they can be evaluated is on a quarterly basis where companies declare results.
The process that you follow to evaluate a business will give you the confidence to remain invested in the business even if the share price of the stock goes down but if just converted your trade into investment or invested because someone recommended it to you, it will be really tough for you to remain invested in such a stock. Even if you happen to remain invested, it will not be very convincing investment and your aim will be to square off the position without capital loss.
The Thumb Rule Violators?
I have seen numerous positions of many of my blog readers, friends and relatives where they had a trading position and as the position became loss making, they just became long term investor in the same stock. People do so because:
Not able to book a loss – Booking loss is difficult and if you cannot book a loss, you should not be trading in the market. If you are stuck with trading turned investment positions here is a good way to book your losses and still be profitable in the market.
Ego of being always right – New to the market have an ego that they cannot be wrong and can be trapped in the position just because of their ego. Have seen people say what more worse can happen where they don't know that share price of a stock can actually become zero.
No provision of being wrong – Investor may not have an ego of being always right but then they don't have the provision of being wrong either. They don't have a stop loss in trading and have no idea that there can be positions that may not turn out the way they want it to be.
Conclusion
I invest in business and trade in chart patterns. Slowly as my portfolio is growing, I am making a move from a trader to an investor.