So many mutual funds, so little time. How one can identify the mutual funds that will perform better in future? A checklist to identify the best mutual funds
So many mutual funds, so little time. So how one can identify the mutual funds that will perform better in the future?
Like stock investment checklist, let me share the mutual fund investment checklist to identify the best performing mutual funds and avoid not so good funds.
Why some fund houses tend to do well?
Before we can pick the best performing mutual funds, we need an understanding of why some fund houses tend to perform well in more than one fund category whereas others couldn't.
You may have seen among the best-performing funds, DSP Blackrock or HDFC as fund house has top performing funds in most of those categories of funds but other fund houses aren't able to do the same.
The reason as I see it is, fund managers are employees of the fund houses and they are always being judged by the performance of their fund through a benchmark.
There are many stocks in the indices that just doesn't perform for many years but then these funds cannot move out of those stocks because fund managers are answerable if those stock may just perform.
The ideal example can be Reliance Industries. It hasn't performed from 2010 to 2017 but every mutual fund had it in the portfolio for a simple reason what if it starts performing?
This is not the story of one stock, and there can be numerous such examples of many stocks in the Sensex and Nifty. One more is Bharti Airtel.
Can't the fund manager be paid such good salaries foresee when it will perform? Often fund managers know it will underperform but they need to have it in the portfolio to play safe.
Consider a hypothetical scenario, a Sensex fund loses 20% when Sensex crashes by 30%. The fund is still considered an outperformer and fund manager will eligible for a bonus.
Now the same fund gains 10% with Sensex up by 20% and the fund is an underperformer. In such scenario, the fund manager may not only lose his bonus but may even lose his job.
In such a scenario, do you think fund managers will take that extra bit of risk at the cost of their career?
Never. Even you and I won't. So fund managers aren't to blame.
Outperformance is easy. Pick all the stock in the benchmark and invest in each of those stock at the same weightage of the benchmark. Identify one sector that has a tough time in the near term and allocates 1% less in that sector and allocates the same 1% more in a better performing sector. The fund will outperform the benchmark for sure.
Some fund houses may have guidelines to outperform the benchmark and so you will have fund managers who prefer to take the safer route.
So if you see some fund houses perform better over others, it means the fund manager has more liberty of performance over just an outperforming the indices.
How To Identify Best Equity Mutual Funds?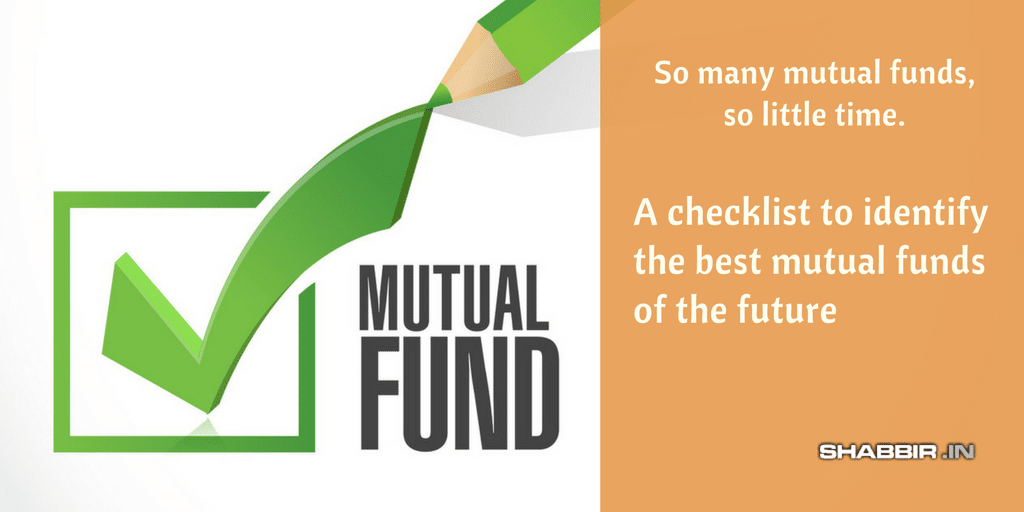 Now we know some fund houses will perform better over others. So let us see how we can identify the best equity-based mutual funds to invest in 2017.
1. Check returns when negative is market
When the market is booming, everything goes up and it may not be the right time to judge the fund's performance. Sensex up by 20% and fund up by 30% is not a good parameter for judgment. Look for returns over the time period when the benchmark hasn't done too much or are in negative territory.
The performance of an index fund from March 2015 to March 2017 can be a good indicator because Sensex and Nifty have done very little in this time frame. If you judge the fund based on last 1 year's performance, every fund may look good.
2. Never ignore the expense ratio
Generally expense ratio is not considered by Indian retail investors because they consider it to be negligible but in the long run, it is a huge sum of money even for a small amount invested.
Let us see how big.
A one-time investment of ₹10,000 in 25 years will become ₹264,619 at 14% per annum and will become ₹408,742 at 16% per annum.
Can you still ignore the 2% expense ratio even when investing for as low as ₹10,000?
3. Compare the turn around ratio
Turn around ratio is how often fund switches its investment in stocks. You don't want to be going for a fund that does too much churning of its investments on a regular basis.
I don't like to generalize like a turn around ratio below a certain level is good and rest is bad but what I mean is for the funds compare the turn around ratio with its peers.
As an example ICICI Prudential Midcap Fund has a turn around ratio of 60% where as HDFC Mid-Cap Opportunities Fund has a turn around ratio of 26%.
4. Avoid theme based or sectorial funds
Theme based funds should be avoided for a long term investing but can be a choice of investment for few years.
The reason to avoid is, even if the fund manager knows the crash in the sector is imminent, there is very little that the fund manager can do about it because they are limited to invest only in one sector.
5. Avoid NFOs
Never invest in an NFO. I know we shouldn't say never but unless there is a uniqueness offered by an NFO (which is next to impossible in 2017), they can be safely avoided.
Here is a detailed article where I have shared why everyone should always avoid an NFO?
6. Benchmark Adherance
Always check for the stocks the fund has invested in and make sure they stick to their benchmark and guidelines.
A large cap fund may be tempted to buy small cap stocks when large cap stocks aren't doing well to improve fund performance and vice versa or a sectoral fund invests outside of their sector or domestic fund buys international stocks.
Any fund not adherence to the guidelines is surely an avoid.