There are many ways you can invest in mutual funds online. I will share the one that I use myself as well as other methods of investing in mutual funds online.
So let's begin.
1. Independent websites – There are many independent websites that offer online investing services for many mutual fund AMCs. FundsIndia.com is one such good website I have heard about but I don't have any personal experience investing through them.
2. Mutual Fund Websites – You can invest in mutual funds through each mutual fund's website as well but I personally never prefer doing that because I don't prefer registering with each mutual fund separately.
3. Using your online broker interface – Online stock broking sites like icicidirect.com, sharekhan.com … etc. offer online services for investment in mutual funds. I personally use both the above websites and so I will create very detailed steps to investing in mutual funds with them.
ICICIDirect
Numbers in the image represent the step. Click on Image to enlarge.


Step 1: Click on Trade & Invest
Step 2: Select Mutual Funds
Step 3: Click Purchase
Step 4, 5: Select Fund house from the list of AMC's and select the fund category.
Step 6: Click go and you will see list of Funds for the selected AMC.
Select the fund you want to invest into and Click on purchase. You will see the screen as shown below where you can enter the amount you want to invest and then proceed to confirmation screen to confirm your order.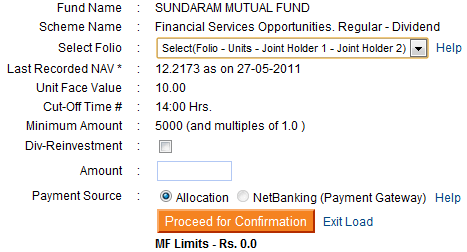 ShareKhan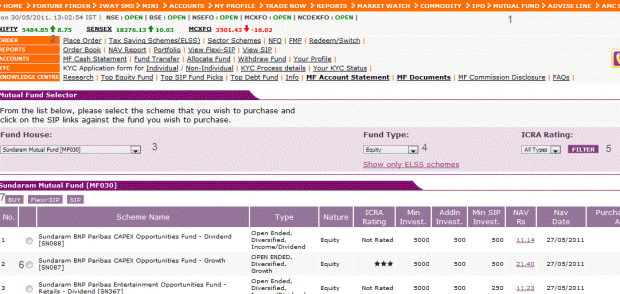 Step 1: Click Mutual Funds
Step 2: Click Place Order
Step 3, 4: Select Fund house and select the fund type from the drop down box.
Step 5: Click filter to see the list of funds from your selection criteria
Step 6, 7: Select the fund of your choice and hit the buy button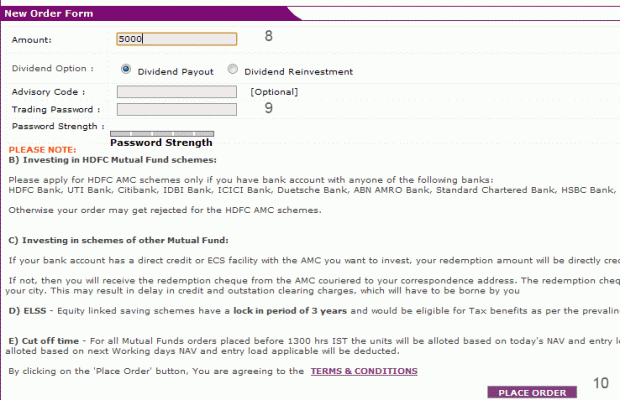 Enter the amount you want to invest along with your trading password to place your order. Remember once you Click place Order button you will see a confirmation screen where you should confirm your order.
Final Conclusion
I prefer using Sharekhan because they have no fees for placing a mutual fund order online but ICICIDirect do charge a nominal fee for placing an order through their website.