How to overcome the fear of loosing money, fear of selecting the wrong stock at the wrong price and at the wrong time, fear of past blunders
There are many kinds of fear in the market and they can be of various sizes, types and forms. The fear of the unknown that can happen in the market is quite natural and you should always be afraid of the market.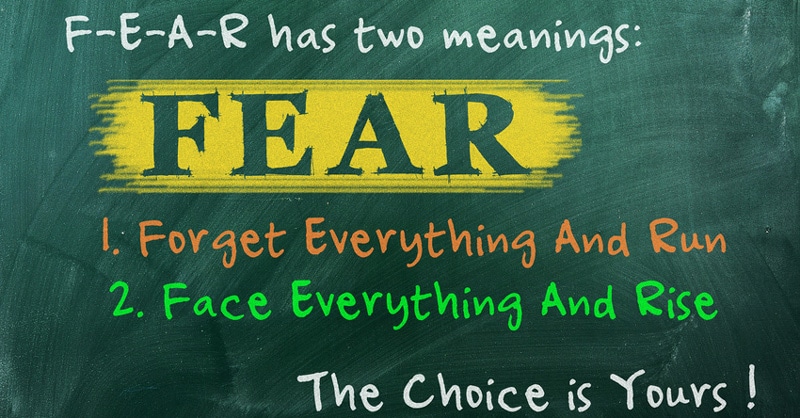 Let me share with you how you can overcome the fear of.
Loosing money?
Selecting the wrong stock?
Entering at the wrong price in a stock?
Entering at the wrong time in a stock?
Repeating Past Blunders?
Overcome fear of loosing money?
Initially I was afraid of loosing money but as I made profits, I am no longer scared of loosing money in the market. It has come with experience and profits.
Initially you cannot have only profits in the market and so the way I did it was, I started to build a corpus that I was ready to lose. I added extra money that I made from my business invested in market without the fear of loosing it. Let's say I got a work from a client and it paid me extra $100 (I normally work for US Clients). I used the 6k Rs to invest in market and was fine loosing it assuming it was never paid to me.
You should be putting that money in the market that you are ready to lose and this way you are not afraid of losing it anymore because you cannot be afraid of loosing what you have assumed to be lost.
Enter the market with the worst possible option that can happen and aim for the best. The worst that can happen in market is you loose everything you invested in market assuming you are not trading in futures or options with margin money where you can loose a lot more than you invested.
If you are prepared to lose, you can always take the fear of losing out of the equation. Once you're not afraid to losses, you will always be in profitable in the market. Believe me, you will be.
Overcome the fear of selecting the wrong stock?
If the selection of your stock is not based on other people's recommendations, the fear of selecting the wrong stock will be out of your equation.
On top of that if you know
Why you are trading in a stock?
What are the reasons for the target and stop loss?
You will not be afraid to trade in any given stock in the market.
Overcome the fear of entering at the wrong price in a stock?
To overcome the fear of entering in a stock at the wrong price, always have ROI (Return on Investment) in mind.
When you enter in a stock at the price it is being traded, you should have a stop loss for the stock as well as the target price.
Calculate your ROI for the trade. If you are entering a stock at Rs 101 with a stop loss at Ra 95, you're risking 6 Rs for this trade and so your reward should at least be 1.5 times your risk or 9 Rs. The target for the stock becomes 110 Rs.
If your risk reward ratio is less than 1.5 times, you can have issues in overall profitability with your trades. Can always cut your positions early at 108 or so depending on the price movements but then if there is major resistance is before your 1.5 times ROI value, its better to avoid the trade because you are possibly entering into the trade at the wrong price aka 103, 105 with deeper stop loss levels of 95 and lesser target price of 110 which is resistance for this stock.
Overcome the fear of entering at the wrong time in a stock?
Trading has no time parameter and time is only for the investors.
If you are buying or selling in the market based on target and stop loss, you take the time equation out of your trades and trade only based on price.
You hit the target or the stop loss and it can be on the same day or in few days depending on the catalyst (news, results …) for the chart pattern.
Once you are investing in a business, the time you remain invested is important because it is the time that can help businesses turn things around and possibly become profitable or scale up a business.
Overcome fear of repeating past blunders?
Profits and educating about the profits is the only way to overcome the fear of past blunders. I know you will not be able to make profits straight away, but then just holding on to your loses will not help either.
Booking losses is not as difficult as it may sound if you follow this and as you make profits, you can come out of your past blunders.
Over to you
What kind of fear you have for market? Do you have any other type of market fear? Share them in comments and I will be more than happy to address it.