The answer is NO Public Provident Fund or PPF is not a smart choice of investment option for any investor whatsoever.
The reason being PPF has a lock-in period of at least 6 years (which has been proposed to increase to 8 years in Feb 2015) which means you have to keep your money invested for atleast 6 years before you can withdraw a dime. Apart from lock in periods, PPF investments are for 15 to 20 years which means you can partly withdraw after 6 years (or 8 years) but you can fully withdraw only after 15 years. Equity investments and ELSS funds has given better returns for such an elongated period of time.
Let us understand this with an example.
In the second half of month of January of 2008 is when market tumbled after making an all time new high. Let us assume that you were invested in an ELSS fund on 10th of January i.e. just before the market crash and at all time high. Perfectly wrong timing and still create a portfolio of investment of 100,000 (80C Tax saving limit at that time was 100,000 only) in any randomly selected 5 ELSS funds that existed at that time.
Still we are just into 7 years of performance of the funds and this is what it the performance of those investments looks like.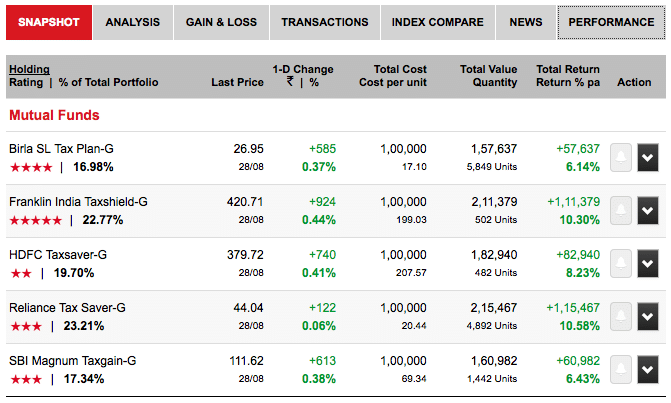 You can see that 2 funds has given a return of just above 6% and the other 2 has given a return of above 10% as well and one is around 8%.
Note: I have selected growth fund because we can understand the average returns from the funds and compare them to PPF. I prefer to invest the dividend payout option.
Even a randomly selected ELSS fund invested at the perfectly wrong time has 60% chance of performing better than PPF in just 7 years. Experiment in ValueResearchOnline portfolio section by adding randomly an ELSS fund when you actually invested in PPF and see what your returns be now.