The best strategy for saving tax is to invest with minimum locked in period and save maximum tax with minimum possible to zero investment.
Every year I have been sharing the tax saving options that I opt for. I always focus on very very simple principle for saving tax.
Get the investment back in minimum possible time.
Save maximum tax with minimum possible investment.
So let us see what tax saving options we can avail and see what best fits the above criteria.
Looking at the above chart, we see that ELSS is the only option that has minimum locking period of 3 years for saving tax. The 5-year locking period tax saving options either has taxable returns or is an ULIP (More about ULIPs here). So the only investment option that suits my style of tax saving is ELSS (Equity Linked Savings Scheme)
Now we have seen that ELSS as best time criteria investment option. Now let us see how it is one of the best amount criteria option as well. It will also explain the * that you see in the above table.
Full Tax Saving Without Investing Full Amount
The limit under Section 80C for saving tax is Rs 100,000. It means if you invest anything upto Rs 100,000, you don't need to pay any tax on the amount invested. So if you invest the full amount of Rs 100,000 and if you tax slab is 10%, you save Rs 10,000+ (+ is for CESS and other amount along with tax) but if you are in tax slab of 20% or 30%, you save Rs 20,000+ or Rs 30,000+ respectively.
So now we will see how we can save full tax and still don't invest the full amount. Opt for "Dividend Option Payout" when investing in the ELSS fund that has a good track record of paying dividend each year but has not payed dividend yet.
Let us put the some actual numbers and funds. Last year I suggested and opted for HDFC Tax Saver Dividend Fund. I was not very comfortable investing and so had to wait really long to get that final investment done. It was on 28th March 2013 i.e. after the yearly dividend being paid out on 14th March.

But for the sake of our an investing example of lesser amount for full tax benefit, we take the NAV of 8th March. So on 8th March 2013 if
| | |
| --- | --- |
| I invested in HDFC Tax Saver Fund for | 70,000 |
| The nav of HDFC TAX SAVER – DIV PLAN was | 54.037 |
| Number of Units received would have been | 1,295.4087 |
A Dividend of 6 Rs was announced on 14th March 2013 and so I could have got back Rs. 7772.45 as Tax Free Dividend. So the net investment would have been 70,000 – 7772.45 = 62227.55. So with the investment of 62227.55, you get the Tax benefit of 70,000.
Note: I only need to invest 70,000 because I have two kids where the tuition fees paid helps me save tax under section 80C. If you are paying PF, your contribution to the PF becomes part of section 80C for saving tax.
Note: I missed the dividend last year but I am expecting dividend for the investment in next few weeks.
The Absolute Returns
The way I look at my ELSS investment is not always based on returns but still lets look at return on such investment.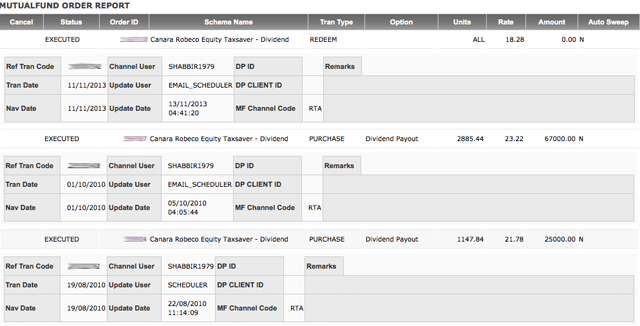 | | | |
| --- | --- | --- |
| Invested in October 2010 | 92,000 | – |
| Received Dividend on 21 January 2011 | – | 8,066.56 |
| Received Dividend on 18 March 2011 | – | 4,033.28 |
| Received Dividend on 9 March 2012 | – | 4,033.28 |
| Received Dividend on 8 March 2013 | – | 6,049.92 |
| Withdrawn in November 2013 | – | 73,728.36 |
| Totals | 92,000 | 95,911.40 |
Not even average returns and just managed to break even in positively. Now put the same into the perspective of tax saving. No I am not talking about the tax I saved in 2010 which is normal for any tax saving investment options but the tax I will be saving this year.
I made a loss of roughly 18,000 on my investment of 92,000, so a counter gain of 18,000 from trading in market will not be taxed.
The tax I will be saving this year without any further investment but just switching funds. 😀 I have withdrawn 78,000 in November from Canara Robeco Fund and may invest in few days time in Edelweiss ELSS.
My Top 3 ELSS Funds for 2014
I don't feel comfortable investing with 3 year as locking period when Nifty is hovering around 6000. I have been waiting for couple of months now for a crash but I am not seeing the crack that I expect. Nifty at around 5500 has a good reason for me to invest but not at 10% higher than my comfortable level.
As of now the preferred fund is Edelweiss ELSS then ICICI Prudential Tax Plan Reg and then Franklin India Taxshield but as we approach March 31st, the preference can change based on how the market unfolds.
Edelweiss ELSS
ICICI Prudential Tax Plan Reg
Franklin India Taxshield
Final Thoughts
Do you think this article will be helpful to your friend? Why not share it with them and help them out.