This is review of the book I have just completed reading How to be Your Own Financial Planner in 10 Steps: Master Your Financial Life 2 by Manish Chauhan of JagoInvestor.
This is review of the book I have just completed reading How to be Your Own Financial Planner in 10 Steps: Master Your Financial Life 2 by Manish Chauhan of JagoInvestor. I have also reviewed his Jago Investor book on Personal Finance.
I like reading books by Manish Chauhan because of the simplicity of putting things together and this 150+ page book is no different. It is written in very simple and easy to understand language so anybody from non-finance background can grasp the concept of how to be your own financial planner.
The Review
The book focuses on the introductory aspects of how to plan your own personal finance and so I think this book is for people who are just starting with the financial planning and don't want to be paying fees to financial planners to help them get started.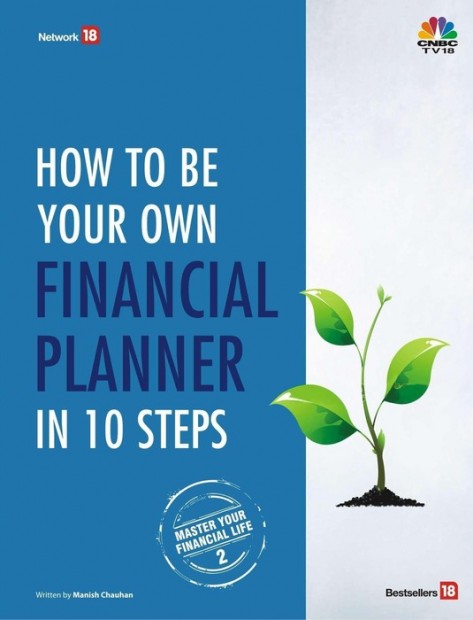 As the title of the book suggest, the book is divided into 10 chapters as 10 steps with 1 bonus chapter.
Chapter 1: Optimize Life Insurance Policies → This chapter focuses on making your insurance policy portfolio and then gives you a comparison chart with return on your policy compared to dumping your existing policy and then opt for term insurance and invest the rest in some fixed deposits and PPF. If you want to be reading about why every financial blogger says something bad about investing in Insurance, you can read
Chapter 2: Optimize an Clean Up Other investments → Second chapter of the book focuses on cleaning up your bank account, credit cards, mutual funds, and stocks. After reading this chapter I realized that I just manage too many credit cards and bank accounts. I have planned to close on the ICICI Bank account as I had that account solely for ICICIDirect and I am not using it any more for long time.
Chapter 3: Health Insurance → Third chapter deals with health insurance aspect of life and what you should be looking into your health insurance provider. I think this is something that I have been avoiding for quite some time now but I think it is right time that I plan for health insurance ASAP. The calculation shown in the book suggest it is better to opt for health insurance early and definitely before the age of 45 and so though I have some time now but will do it ASAP.
Chapter 4: Emergency Fund Planning →Chapter 4 focuses on needs for emergency funds as well as where you should and should not park your money for emergencies and what should be your ideal amount in crisis situations.
Chapter 5: Short/Long Term Goal Planning →Talks about your future financial goals and how to go about achieving them. Manish has explained things with example like if you would like open a restaurant after n years and what should be your plan or planning for a down payment for your house. According to me this chapter is too concise and should be more elaborated with how to plan for various expenses like planning for your marriage or planning for buying a car etc.
Chapter 6: Start Your Retirement Planning → As the name of the chapter suggests this chapter deals with how to plan your retirements and have charts to help you plan your retirement based on your expenses currently and what they will be later. Depending on your requirements for funds, suggests where you should be investing as well.
Chapter 7: Estate Planning → No this is not about planning Real Estate Investment but it is about planning smooth and hassle free transfer of one's assets, properties and also liabilities into family members as you want. This chapter explains about importance of nomination, Wills as well as clarifies lot of misconception among retail investors about nominations and wills. This chapter covers almost every basic aspect of nominations and will.
Chapter 8: Be ready with a Great Credit Report and Score → Credit score is being used these days for Credit card and loan approval and so it makes much sense to be having a good credit score but then this chapter focus more on what is credit score and not about how you can get a very good credit score. This chapter gave me the idea about how to get a great credit score topic that I will soon be writing.
Chapter 9: Debt Repayment → Debt repayment is one of the bigger aspect of financial planning and financial freedom and only 10 page on Debt Repayment is something that according to me does not cover most aspects of debt repayment. Points like high interest debt compared to short-term debts as well as moving your debt from high interest like credit card loan, personal loan to low interest like making it a home loan or secured loan.
Chapter 10: Organize your Financial Life → Talks more about bookkeeping for your financial products and how to organize your financial documents.
Bonus Chapter: How to Be Ready for the future → This chapter focus on helping you choose better financial products which I think should have been part of the main chapters.
Final Thoughts
This book is more about introduction to personal finance and is ideal for those who are starting to managing their personal finances.
Update: The book is available at 34% discount rate. Grab your copy now at FlipKart.com.
Update: Manish has agreed to give one free copy of his book to my blog readers. To grab your free copy of the book share your views about this review in comments below and I will select one reader in the next 24-48 hours from the comments who get his/her free copy delivered at his/her doorstep.