Stocks and mutual fund positions added to wealth building portfolio in April 2016 and plans for the upcoming month along with portfolio performance and lessons learned.
A report I share each month of the progress to my wealth building portfolio of stocks and mutual fund position added with reasons and contract notes to remain fully transparent. I also share important lessons I learn along with the plans for the upcoming month.
Note: This is not my complete investment in market and I have other investment prior to January 2016. After January 2016 all my investments are shared here.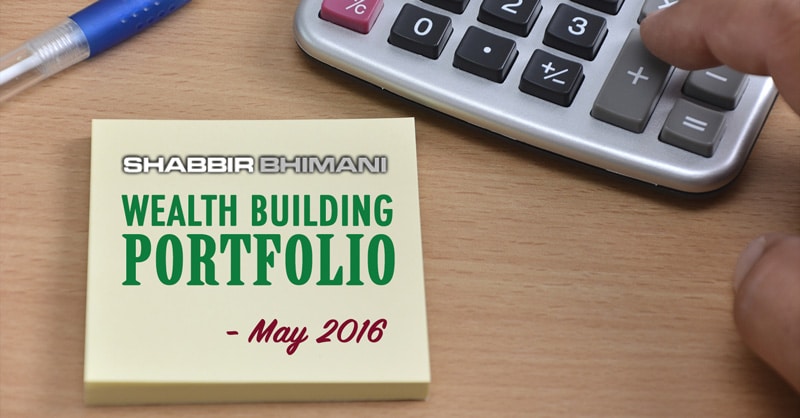 April has been a month where I could execute what I had planned. I intended to invest early and did manage it quite.
Infosys
Infosys has been a constant performer in the portfolio and I always prefer accumulating more each month.
I had plans to accumulate before the results and manage to add good position in Infosys on 1st April (contract notes here) itself and then on 7th April (contract notes here) when the market was in bad shape on those days.
Major IT players TCS, Wipro and HCL Tech all had disappointing results season and it is only Infosys that came up with better than expected results and also gave good guidance for the coming quarters.
It will always be a wise decision to accumulate more Infosys but then at a lower price. At 1200+ it is quite adequately priced. I would prefer to accumulate if I see a decline in Infosys on the back of correction in the market.
Tata Steel
Investment in tata steel in Feb at around 230 level has been the best performing investment in our portfolio.
People are really bearish about metal sector but then metal stocks are just roaring and this is what market is all about. I added more position to Tata Steel before the sale process of the Chorus getting started on 11th April and when the market was in really bad shape. Manage to enter into it at around 325ish levels (Contract notes here).
Larsen & Toubro
We started accumulating Larsen & Toubro in March and accumulate more as we move along and did exactly the same.