Stocks and mutual fund positions added to wealth building portfolio in May 2016 and plans for the upcoming month along with portfolio performance and lessons learned.
A report I share each month of the progress to my wealth building portfolio of stocks and mutual fund position added with reasons and contract notes to remain fully transparent. I also share important lessons I learn along with the plans for the upcoming month.
Note: This is not my complete investment in market and I have other investment prior to January 2016. After January 2016 all my investments are shared here.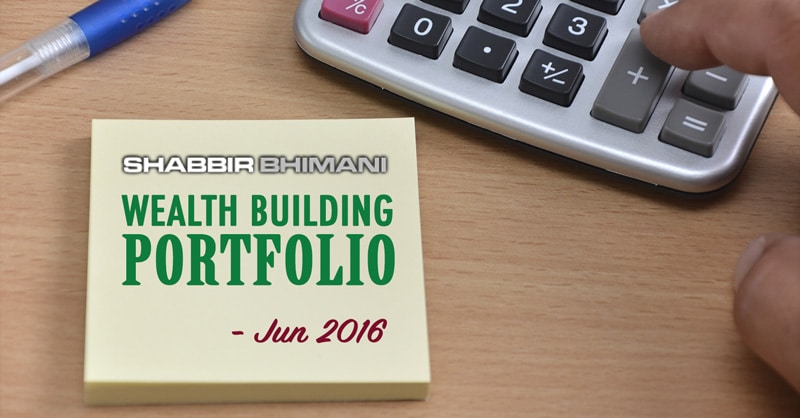 May has been a month where I could sense the market will run away and things turn out as I anticipated. Invested lot more than 50k in May.
Jubilant Foodworks Ltd
Jubilant Foodworks Ltd or JFL is a new entry in our portfolio and as suggested in my May Report, looks quite ok to me at around as close as possible to 1000ish levels for the long term.
We all know about Domino's Pizza. JFL has exclusive rights for India, Nepal, Bangladesh and Sri Lanka for Domino's Pizza brand.
Apart from Domino's, JFL has quick service restaurant Dunkin' Donuts in India. Dunkin' Donuts is world's leading baked goods & coffee chain, selling more than 1 billion cups of coffee a year and more than 3 million customers per day.
Fundamentals of Jubilant Foodworks Ltd
I look at the 7 point fundamental analysis for any company and here is the analysis of each point of my analysis for Jubilant Foodworks Ltd.
Unique business and there is no competitor to Dominos in India apart from Pizza hut. Again Pizza hut is dine in and Dominos has preference of home delivery.
There are no government policies that control such products.
Simple business which is to have more and more Domino's and Dunkin' Donuts outlets. Major focus for JFL is on Domino's.
The company has a good track record for sure and is in business since 1995.
The company was not paying dividends but then they have started paying dividend in 2015 and they did the same this year as well.
Very aggressive management. They have been opening multiple new Domino's stores in new cities every month.
There is no debt (not even a single rupee) in the company. Profit margins were good in 2011 but as they are opening new stores very aggressively for the last 4 years, they are seeing a hit on profit margins.
There are a couple of points to consider as well.
Very high valuations and PE. It is currently trading at a PE multiple of 60+ and it was trading at a PE multiple of 100 when it was around it's all time high.
Lot of pressure on margins as the company is opening more and more store and each store becomes profitable after 3 years of its operations. Employee expenses and rent expenses.
Once you have very low debt levels in a company, you may not be unable to grab it very cheaply.
Technicals of Jubilant Foodworks
JFL on monthly and weekly charts has a very good support in the price band of 900 to 1000ish levels.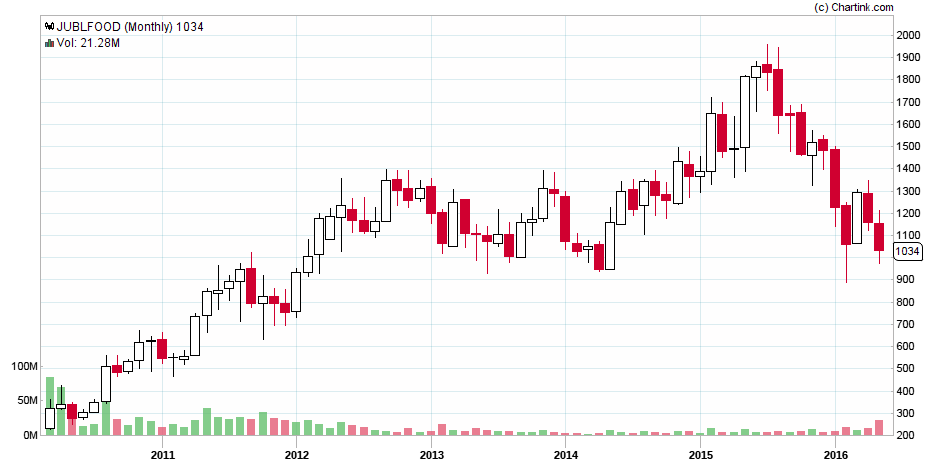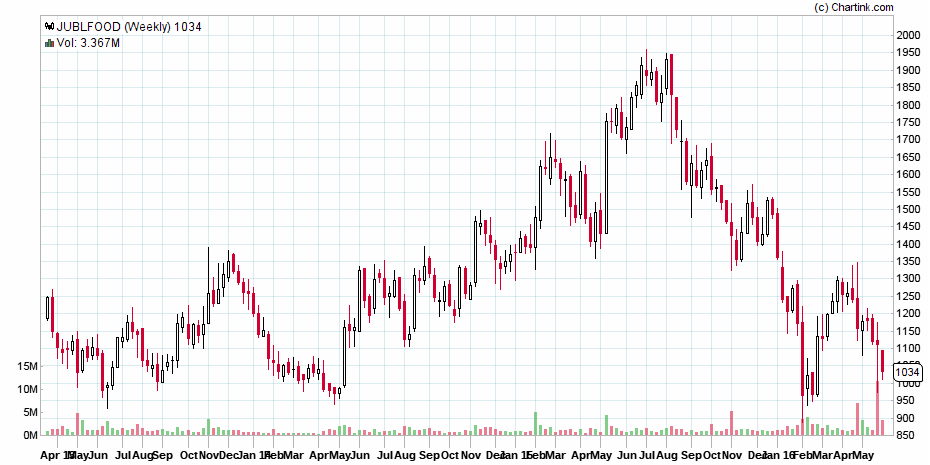 Support was when company EPS was pointing upward but I really doubt this support now when we see pressure on EPS in the coming next few quarters.
Charts by chartink.com
Future of Jubilant Foodworks
Indians will not stop eating pizza and more restaurants mean there will be lot more profit as those stores slowly over time becomes profitable. Zero debt means the company is doing really well to cut the cost.
Management sold its stake at around 1280 in May 2016 clearly indicating that the stock will not fly away from current levels.
The company has never gone below 800 levels in the last 5 years, I don't see that being breached with the results that has been posted by the company on May 28 2016. You never know about the future results.
The company has never traded below 45 PE in the last 5 years and so EPS at 17.44, 800ish level looks really good fundamentally as well.
My Position in JFL
Tata steel and Larsen and Toubro ran away in a very short span of time and did not allow us the time to accumulate more. But I expect JFL will not have sharp run up for next couple of years and so this will allow us to accumulate.
I don't focus too much on EPS but what matter to me is ever growing sales and so I will accumulate 10 to 15 units on an average per month for the next couple of years. I already have purchased 25 shares in May. Contract notes here.
Tata Steel
I wanted to invest more in JFL but saw the cracks in Tata Steel and so added 50 more of Tata Steel on 6th May 2016. Contract notes here.
I was done for the month, but then I saw Tata Steel come up with very good results (loss is reducing at a very fast pace) and yet the stock was down close to 1%. Did not see any reasons for it apart from the fact that market expected the stake sale to be progressing more than it has. I don't think stake sale will take some shape in the next quarter either.
Added 100 more to the portfolio. Contract notes here.
Portfolio update
Performance of the portfolio we have built so far.
Stocks
Infosys 74,919 (60)

Invested: 69,929
Profit: +4,990

Jubilant FoodWorks 25,841 (25)

Invested: 29,496
Loss: -3,655

Larsen & Toubro 29,471 (20)

Invested: 24,814
Profit: +4,657

Tata Steel 1,33,740 (400)

Invested: 1,12,006
Profit: +21,734

Zydus Wellness 38,632 (50)

Invested: 43,423
Dividend: 325
Loss: -4,466

Total Stocks: 3,02,604

Invested: 2,79,668
Dividend: 325
Profit: +23,261
Mutual Funds
Birla SL Tax Plan-D: 1,04,842

Invested: 1,05,000
Dividend: 8581
Profit +8,323
Overall
Portfolio: 4,07,445

Invested: 3,84,668
Dividend: 8,906
Profit: +31,584
Lessons learned
Larsen & Toubro
I was not comfortable with my position in Larsen & Toubro because I thought I just hurried in taking my position and could have managed a better entry point but it was the stock of the month and now I am thinking why I only had 20 L&T.
I will keep a very keen eye on L&T where I will use dips (market corrections or profit booking in stock) to accumulate more L&T.
Plan Ahead
I have been watching Zydus Wellness and I think will add some position in Zydus Wellness in June for sure.
Apart from Zydus Wellness, I think I will wait for market correction for entry in Infosys and L&T as well.
Over to you
As always I'd love to respond to any questions or comments that you may have. Thanks!