Detail portfolio reports for the whole of 2016. Lessons learned from some of my blunders in 2016 and plans for 2017 to build a better performing portfolio.
We are in 2017 and in beginning of 2016, I started building the open portfolio to help my readers understand how I evaluate businesses and learn how I do it and why I did what I did.
A report for the complete year of 2016. To learn from some of my blunders of 2016 and plan for 2017 to build a better performing portfolio in 2017.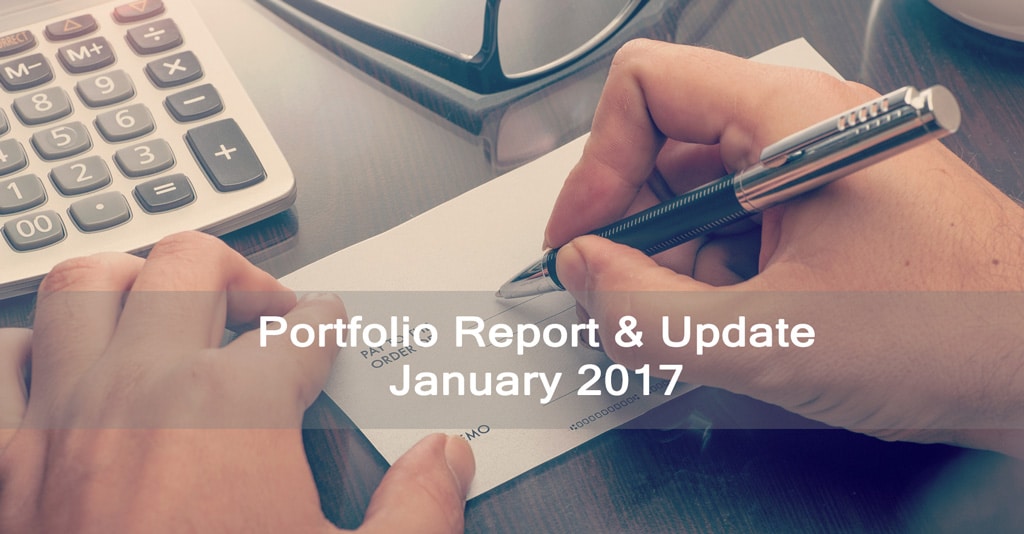 Disclaimer: This is not my complete portfolio in the market and I may have open trading positions as well as some previous investments prior to Jan 2016 and other riskier small and micro cap investments.
In 2016, I started with an objective to invest 50k per month but it has turned out that I invested more than double of what I intended mainly because I liquidated some of my old investments to add them to my open portfolio.
There is a pattern that I followed when investing. When the market was going down in the first quarter of 2016 I was more in large caps stocks like Infosys, Tata Steel and Larsen & Toubro but as Nifty moved closer to 9000, I was moving away from large caps.
Infosys
Most Indian IT companies focus on providing services to banking and finance sector which makes them yet another business and growth looking sluggish, I was out of Infosys.
Tata Steel
I was really bullish on the metal sector in 2016 and Tata steel was a unique play for a sell-off its loss-making Europe unit. It was one of my better-performing picks in 2016 and the price doubled from where I started accumulating. I was out of it because of political uncertainty in Europe.
Larsen & Toubro
The offload in Larsen & Toubro was mainly because my position was very small in the stock and I could not add more before it just shot up. On top of that, I avoid group companies and high debt companies and Larsen & Toubro has both.
Zydus Wellness
I am bullish in Zydus Wellness and has added position even in December 2016. Contract notes here. Have plans to add more position around 840 levels in 2017 if I can.
Jubilant Foodworks Ltd
I am confident about Jubilant Foodworks business model because I always love to see sales going up but the market expects profit to even increase when they give valuations of almost 100PE. Profits aren't growing despite sales and so this stock has corrected from ₹1960 levels to ₹760.
Is definitely in my radar to add more but being a trader I don't prefer averaging down. I did not do averaging even in Zydus Wellness when it was trading under 700 in 2016.
Britannia Industries
A rock solid performer for me in 2016 and has corrected goodish bit due to demonetization but I am running short of funds because there are so many stocks to invest with so little money. Love to add more position in Britannia Industries in 2017.
Jubilant Life Sciences
One of the best entry that I managed in 2016 and hope to repeat more similar positions in 2017.
Pidilite Industries
Blunder of taking up very large position in Pidilite Industries and then holding it.
A very good lesson which is you should never hold on to your mistakes in the market. I wanted to take a position of 200 units and placed an order of 2000 units in a rush. I should have corrected my mistake the very next day but I didn't and so is paying the price.
A learning experience of a lifetime where the mistake is neither in stock selection nor investing at the wrong time or price but the process was to accumulate in the fall that started at 780. A mistake that I will definitely avoid in any stocks in 2017 and beyond.
Ashok Leyland
I am very bullish on auto sector for the next decade because there are so many issues in the auto sector like pollution, parking spaces etc which can lead to new innovations like electric cars, Uber and ola cars instead of owned cars and more.
Such innovations can lead to disruptions in the industry and those companies who will keep up the pace in the auto sector can do wonders. My view is Ashok Leyland can take advantage of such innovation and will add more aggressively to my position in Ashok Leyland in 2017.
Birla Sun Life Tax Plan
A large cap tax saving fund when the market was really falling till March 2016.
DSPBR Tax Saver
In the second half of 2016, it was all midcap and so opted for a midcap tax saving fund. December provided a good opportunity and so instead of adding 30k invested 45k. Contract notes here.
Portfolio Update
Increase in investment from ₹14,63,886 to ₹15,51,729. An increase of ₹87,843 in the month of December. The performance of the portfolio built so far is as follows:
Profits Realized
Infosys:

780

(60)

Average Buy: 1165
Average Sold: 1178

Tata Steel:

9,200

(400)

Average Buy: 280
Average Sold: 303

Larsen & Toubro:

2,080

(20)

Average Buy: 1241
Average Sold: 1345
Total Profit Realized: 12,060
Dividends
Zydus Wellness:

325

Larsen & Toubro:

365

Jubilant FoodWorks:

250

Britannia Inds.:

900

Birla SL Tax Plan:

8,581

DSPBR Tax Saver:

1,460
Total Dividend Received: 11,881
Stocks
Stocks I am holding in my portfolio along with the link to why I have invested in them.
Ashok Leyland 80,100 (1000) [Why]

Invested: 79,245
Profit: +855

Britannia Inds. 1,29,884 (45) [Why]

Invested: 1,18,731
Profit+Dividend: +12,053

Jubilant FoodWorks 85,345 (100) [Why]

I

nvested: 1,09,503
Loss+Dividends: -23,908

Jubilant Life Sciences 1,89,660 (300) [Why]

I

nvested: 1,34,636
Profit: +55,024

Pidilite Industries 5,89,800 (1000) [Why]

Invested: 7,18,864
Loss: -1,29,064

Zydus Wellness 2,16,538 (250) [Why]

Invested: 2,04,690
Profit+Dividends: +12,172

Total Stocks: 12,91,326

Invested: 13,65,670
Loss: -72,869
Mutual Funds
Birla SL Tax Plan-D: 1,07,305

Invested: 1,05,000
Profit+Dividend: +10,786

DSPBR Tax Saver-D: 99,575

Invested: 1,05,000
Loss+Dividend:-3,965

Total Mutual Funds: 2,06,880

Invested: 2,10,000
Profit+Dividend: +6,821
Overall
Portfolio: 14,98,206

Capital Invested: 15,51,729 (Total Investment in stocks & mutual funds less dividends receieved and realized profits)
Unrealized Loss: -66,048
Dividend: +11,881
Realized Profit: +12,060
Plans for 2017
Market can remain sluggish for some part of 2017 due to demonetization, fed rate hikes and Donald Trump reforms in US which can be a great opportunity to build long term portfolio.
2016 has ended with a bad performance of the portfolio due to Pidilite Industries and will need to be worked out in 2017.
We have only 6 stocks in current holding but have stocks in the pipeline that I will love to my add them to my portfolio in 2017.
Over to you
If you have any questions or comments share them in comments below and I love to respond to them.