This is the first of the series of reports that I will share each month of the progress to wealth building portfolio including stocks purchased and why along with contract notes.
This is the first of the series of reports that I will share each month of the progress to wealth building portfolio including stocks purchased and why along with contract notes.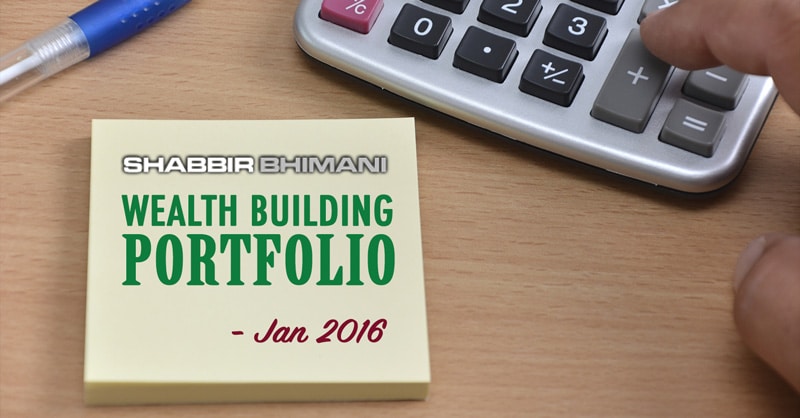 I will share all the stocks and equity mutual funds that I research each month and will mention why each of those has made it to my wealth building list. I will break down my investment in each of those stocks or mutual fund along with contract notes. I will try to outline the important lessons I learned along with what I plan for the near future.
I wanted a complete fresh start if I could and so I wanted to avoid my list of forever stocks to start with. In the current market scenario, I wanted to focus on a company that majorly concentrate on Indian demand and offer products to Indians.
So I my preferred choice of sector was FMCG. Started my research for companies that are peers to Nestle India on NSE website.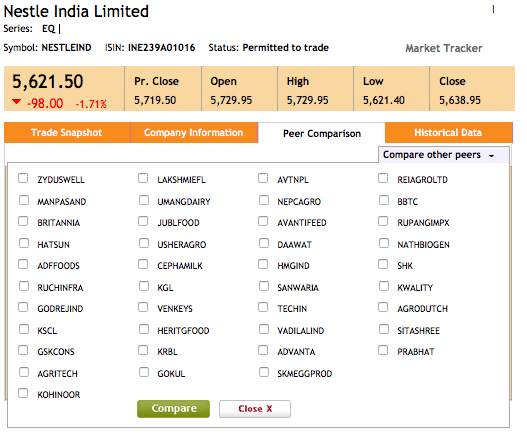 This is where I found some of the great companies like Britannia, GSK and other such major brands but as expected they were available at quite a premium (PE multiple of more than 50). As I researched more found Zydus Wellness that formed the first company in my list of wealth building stock.
Fundamentals of Zydus Wellness
I look at the 7 point fundamental Analysis for any company and here is the analysis of each point of my analysis for Zydus Wellness.
The company has a unique business with products catering to Indian audience like Everyuth, Sugar Free, Nutralite, Actilife.
There are no government policies that control such products.
I understand the business model that means it is not a group of company with variety business in a variety of verticals.
The company has a good track record for sure and is in business since 1988.
The company has been paying a good dividend consistently for more than a decade (thought dividend yield is slightly lower).
Very capable management where I saw their annual presentation of Jul 2010 AGM where they had a target of being a 500 Cr company and they have pretty much achieved it.
Financially the company is fairly good and there is zero debt in their balance sheet. Once you have very low debt levels in a company, you may be unable to grab it very cheaply. It is now trading at a PE multiple of 30. The company has a very good consolidated sales in the last 5 years with a very good profit margin suggesting they operate in a very niche segment with unique products to price them well enough.
There are a couple of negatives to think about as well.
The company has been growing sales on a consolidated basis from 336 crores in March 2011 to 453 in March 2015 but standalone basis the sales reported being down.
The company has a very low trade volume of under 5,000 shares being traded on various days.
Technicals of Zydus Wellness
I saw a perfect W (One of my favourite patterns) was being formed on the Weekly chart of Zydus Wellness. At times people have reported that chart patterns I have in my eBook are from 2011 and old and I have very few patterns in the eBook as well. The fact is, I only use those patterns or rather I have now started to even avoid Bollinger Band pattern as well. My blog is not about knowing the patterns but apply one that works. W pattern and higher top higher bottom are my top choice of patterns for me.
Coming back to Zydus Wellness here is the weekly chart of it for the last 3 years.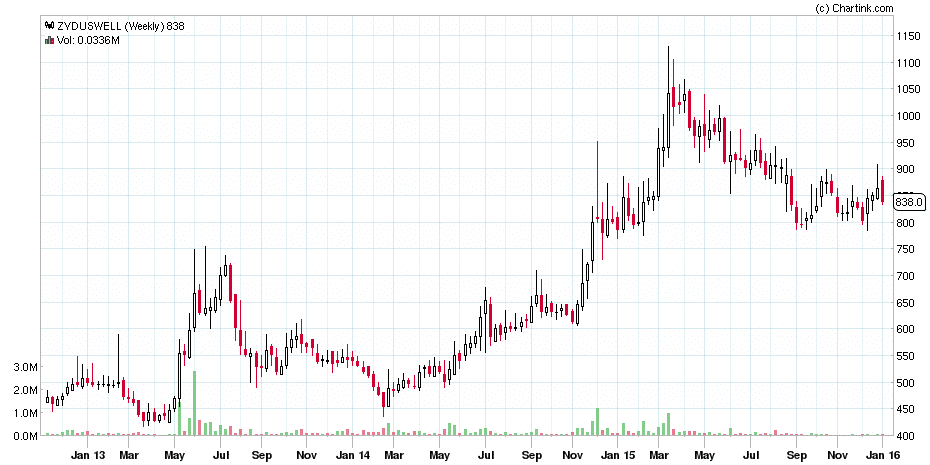 So there will be a very strong support for this stock at around 800ish levels. On top of that 800 and 850 has been a zone where this stock has spent quite a few weeks (Remember it is a weekly chart where each candle is a week). From mid Nov 2014 to March 2015 and then from Sep 2015 till now.
Clearly an indication that 800 is a major support and 900 a breakout level. We will be using the anticipated breakout pattern in this stock because fundamentals of this company are awesome and I want to allow my readers to take a position at a price similar to my levels.
Future of Zydus Wellness
Sugar free sweetener is still not seen the kind of penetration that it needs to which can provide a vast scope for the company in the future. The kind of lifestyle that we have, we will have to move to sugar free products for sure.
Apart from sugar free products range, other wide range of products like Nutralite an alternative to butter is pretty much going to be a necessity.
My Position in Zydus Wellness
I purchased only 50 shares of Zydus wellness at around 865 levels on 6th Jan 2016. Contract notes here. I have only committed 10% of my total amount I want to invest in this stock and if time and price allows me, will commit more in the future.
The reason I added only 10% position is that I did not see markets getting away from when I took my position. I purchased this stock on 6th of Jan 2015 at a price level of 865 and Jan 7th was when Sensex was down by almost 500 points.
Stop Loss
My stop loss in Zydus Wellness as of now (may change if I see different pattern being formed) will be 450 but if you would like to apply a smaller stop loss or is not comfortable executing 450 as stop loss, you can have a stop loss at 800 or 600 if you want.
The reason I have a stop loss even fundamentally is because if the company have plans that are not inline with driving growth for next 3 to 5 years but may be after that like in a decade or so we can execute the stop and come out of it or could mean we don't add more position to it. A random example could be that company takes up a huge loan for some acquisition that may drive their numbers crazy for coming 5 years.
What's Next?
Infosys
Once you have a list of forever stock, it becomes really difficult to keep finding fresh stocks. As I was looking for Zydus Wellness I had some backups from my list of forever stocks and one of them is Infosys.
My Position in Infosys
I really like Infosys but I purchased only 5 shares of Infosys at around 1095 levels on 22nd Dec 2015. Contract notes here. I have only committed 1% of my total amount I want to invest in this stock now because of results coming up in January.
Fundamentally I Invest in stock after the news has done its price movements but technically I would love to trade for a run-up to the news pattern.
The purchase of Infosys was prior to Zydus Wellness only because it was forming a W pattern on the weekly chart in the week I purchased Infosys. So wanted to wait for the technicals to align to fundamentals for me to commit 10% of total I want to invest in a stock.
Tata Steel
Tata steel is one of the stock I would like to invest shortly and as of now I am seeing a bottom formation is on. If it can confirm the formation of bottom, I will just try to commit some money into it very soon. As of now, I have not initiated any open position in this stock.
Over to you
As always I'd love to respond to any questions or comments that you may have. Thanks!