Why I added all my mutual fund position for tax saving in Feb 2017 to my portfolio and also share why this is the last and final portfolio report update.
A report I share each month on the progress of my portfolio of stocks and mutual funds with reasons of each and every stock that I own along with contract notes of trades executed in the current month and share plan for the coming month.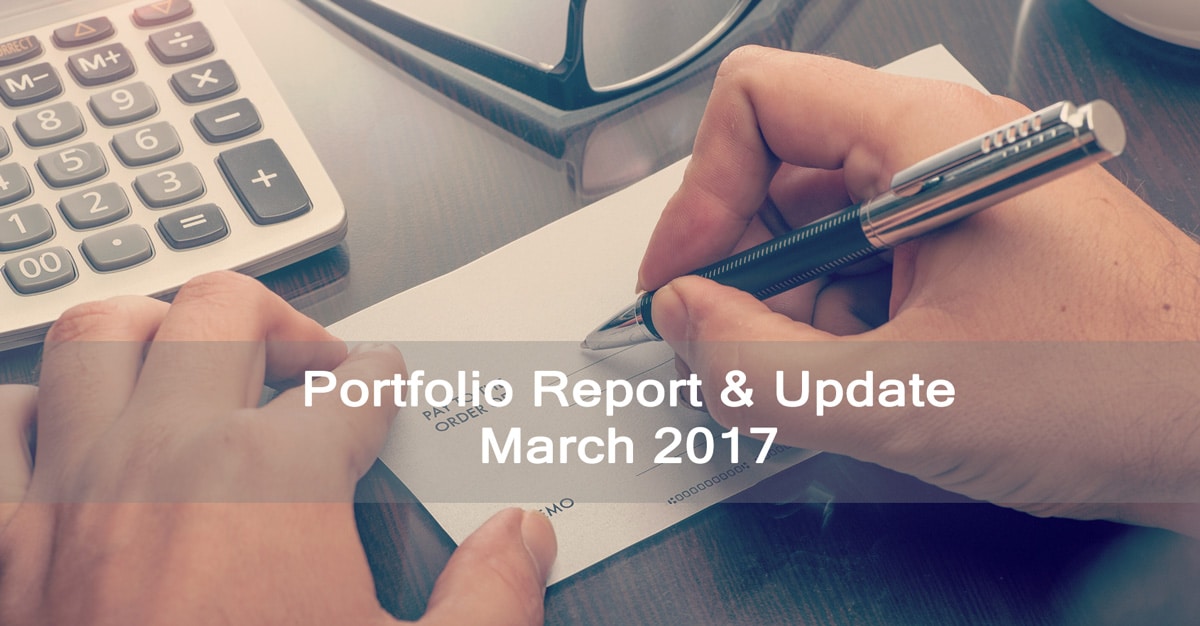 Note: This is not my complete portfolio in the market and I may have open trading positions as well as some previous investments prior to Jan 2016 and other riskier small and micro cap investments.
The market is very resilient to correct and this is mainly because of very strong fund flow into the market from the domestic investors through mutual funds. DSP BlackRock Micro Cap Fund (which is the best small cap fund of 2017) has stopped accepting fresh money from Feb 20 2017 with reasons given that new investors can impact the returns of the existing investors. The fund's asset under management has grown 15 times in last 4 years from managing 300 Crores to 4500 crores now.
DSPBR Tax Saver
DSP BlackRock Tax Saver Fund is my choice of fund to invest in 2017 and I completed my final tax saving investment of ₹45k in this fund on 22nd Feb 2017 (Contract notes here).
I only added a position in my tax saving scheme because I think this is the perfect time to complete your investment in mutual funds because I don't foresee market (especially indices) going down more than 5% from here due to very high domestic fund flow.
Very low chance of downside and so is the best time to be investing in mutual funds. I can be wrong and will love to be wrong for more value buying.
Why This is Last Portfolio Report & Update?
I have been told that if you wish to speak publicly about stocks, you need to be a Sebi approved research analyst. Here is a SEBI circular I am referring to.
Everything I share on my blog is for educational purpose for my readers and the process I use to select stocks. The idea is never to share the stock tips but the process of selection of the right stocks. Yet I do share about stocks and the readers can invest in exact same stocks instead of working out their own research.
SEBI's guidelines are not to share information in public domain anything that related to specific stock unless you are registered with them as a research analyst.
So I decided to be a research analyst just for the sake of being able to publish monthly reports for my readers. Needed an NISM certificate.

The fees are very nominal and the process is simple. Need an NISM certification and produce few legal documents and IT return documents.
But the main catch is in the terms of being a research analyst.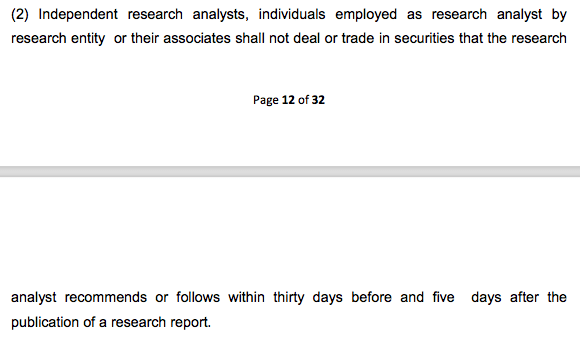 So if I am a research analyst, I cannot trade or recommend a stock that I have invested in.
So becoming a research analyst just for the sake being able to share my investments openly is not a viable solution. I don't trade in these stocks for sure but I invest in them on a regular basis.
On top of it, becoming a research analyst is not the whole point of my blog either. It contradicts my blog's vision where I don't want to recommend stocks to people because I don't tell them what they should be doing but rather the aim of this blog is to educate them and let them understand what they should be doing for themselves.
Give a man a fish; he eats for a day. Teach a man to fish and he eats for a lifetime. I prefer teaching my readers how to fish, how to spot, understand and profit from the market so you, too, can eat for a lifetime.
This is when I had to take the call of stopping monthly portfolio reports I share. Still, I can always share my contract notes openly because sharing this contracts notes does not mean I am recommending the stock but it is letting people know what I am doing. So I have decided to share only my contract notes here.
Portfolio Update
Capital investment increased from ₹16,32,676 to ₹16,74,972 an increase of ₹42,296 in the month of February. The performance of the portfolio built so far is as follows:
Profits Realized
Infosys:

780

(60)

Average Buy: 1165
Average Sold: 1178

Tata Steel:

9,200

(400)

Average Buy: 280
Average Sold: 303

Larsen & Toubro:

2,080

(20)

Average Buy: 1241
Average Sold: 1345
Total Profit Realized: 12,060
Dividends
Zydus Wellness:

325

Larsen & Toubro:

365

Jubilant FoodWorks:

250

Britannia Inds.:

900

Birla SL Tax Plan:

8,581

DSPBR Tax Saver:

4,166
Total Dividend Received: 14,585
Stocks
Stocks I am holding in my portfolio along with the link to why I have invested in them.
Ashok Leyland 1,81,300 (2000) [Why]

Invested: 1,60,192
Profit: +21,108

Britannia Inds. 1,45,323 (45) [Why]

Invested: 1,18,731
Profit+Dividend: +27,492

Jubilant FoodWorks 1,01,075 (100) [Why]

I

nvested: 1,09,503
Loss+Dividends: -8,178

Jubilant Life Sciences 2,15,940 (300) [Why]

I

nvested: 1,34,636
Profit: +81,304

Pidilite Industries 6,82,150 (1000) [Why]

Invested: 7,18,864
Loss: -36,714

Zydus Wellness 2,13,538 (250) [Why]

Invested: 2,04,690
Profit+Dividends: +9,172

Total Stocks: 15,39,326

Invested: 14,46,617
Profit+Dividends: +94,184
Mutual Funds
Birla SL Tax Plan-D: 1,14,901

Invested: 1,05,000
Profit+Dividend: +15,786

DSPBR Tax Saver-D: 1,51,718

Invested: 1,50,000
Profit+Dividend:+5,882

Total Mutual Funds: 2,66,619

Invested: 2,55,000
Profit+Dividend: +24,264
Overall
Total Portfolio Valuation: 18,05,945

Capital Invested: 16,74,972 (Total Investment in stocks & mutual funds less dividends receieved and realized profits)
Unrealized Profit: +1,18,448
Dividend: +14,585
Realized Profit: +12,060
Key Highlights
Few key points worth mentioning
Has not incurred a loss in any of my positions and don't expect any major losses either in Jubilant Foodworks or Pidilite Industries.
The overall portfolio has crossed 18L which means it is not a small portfolio anymore.
The unrealized profits is more than 1L and total profits is 1.45L.
The overall annualized return from the portfolio is close to 15% despite a significant unrealized loss from Pidilite Industries. Without the loss from Pidilite, the performance of the portfolio is well above 25%.
The income from dividend has started to pick up considerably and expect a fat dividend coming my way in March from Birla SL Tax Saving fund.
Has not booked any profits for the past few months and I continue to let my profits ride even when it was quite tempting to book a profit of 1L in Jubilant LifeScience.
Couple of stocks has doubled (well almost) in 15 months. Tata Steel from my initial purchase of under ₹225 and Jubilant LifeScience from my purchase level of ₹445.
Booking profits (though very small) in Infosys was a very wise decision because I anticipated growth issue in IT stocks.
When I mention about good returns, I should also mention Zydus Wellness which has not performed as well as I anticipated but it is not a loss making position.
Over to you
If you have any questions or comments share them in comments below and I love to respond to them.