Stocks and mutual fund positions added in September 2016 to my portfolio and plans for October 2016 and detail analysis of why I invested in Pidilite Industries so heavily
A report I share each month on the progress of my open portfolio of stocks and mutual funds with reasons of each and every stock that I own along with contract notes of trades executed in the current month and share important lessons I learn and plan for the coming month.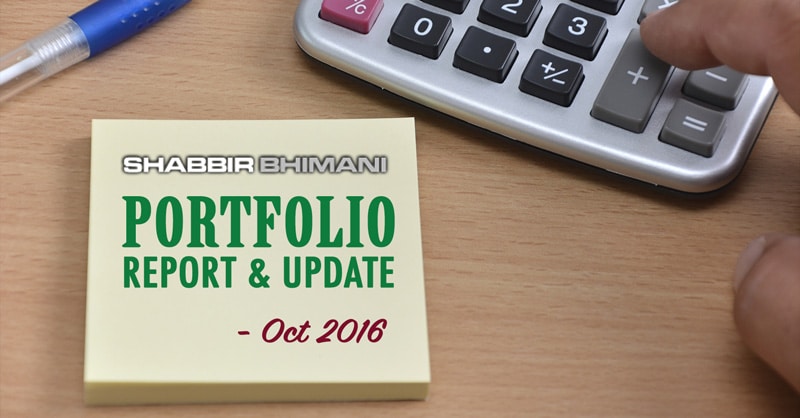 Note: This is not my complete portfolio in the market and I may have open trading positions as well as some previous investments prior to Jan 2016 and other more riskier small and micro cap investments.
I had no intentions to invest heavily in the month of September but made a big blunder when executing a trade and it has become one of the highest investment ever I have done till date.
Though indices have not done much in the month of September, midcaps yet again has done wonders and so is the performance of my portfolio.
Pidilite Industries
Pidilite Industries is a new stock added to my open portfolio in September and though I only wanted to invest 1.4L in it, somehow in the closing hours of the trade, I placed an order of 2000 units instead of 200 units. Contract notes here.
Next day I had to book a brokerage loss on 1000 units on the trade and came out of it but decided to hold 1000 units in my open portfolio.
Fundamentals of Pidilite Industries
I follow my fundamental analysis principles for investing in any stock and Pidilite Industries is no different.
Unique business and market leader in adhesive (Fevicol and Dr Fixit) business.
There are no government policies that control the profits of such business.
Simple business which is to have more products for end customers that suit India's growing need.
The company has its operations for decades but the best part is in the annual report on page 26 for the last 10 years they have
managed CAGR (compounded annual growth rate) of 16.35%. As a business person I envy that
number because you can have awesome business for year or two and then flat growth but a decade of growth at such a rate is awesome.
The company has good dividend history.
Very experienced management with right blends of
aggressiveness to keep growing market share with the right kind of
products and marketing. Dr Fixit can become a must ingredient for every constructions need.
There is no debt in the company and has an awesome return of capital employed.
There are a couple of points to consider as well.
Very high valuations and PE. It is currently trading at a PE multiple of 45+ which means lot may have been already factored into the price.
Trading at 11+ times its book value.
No debt, a market leader and unique blend of products will never be available at cheaper valuations but I preferred pidilite in such market uncertainty because from March 2015 to February 2016 when Nifty hit a high of 9119 and low of 6825, the stock had given only sideways movement with a peak of ₹640 and low of ₹520.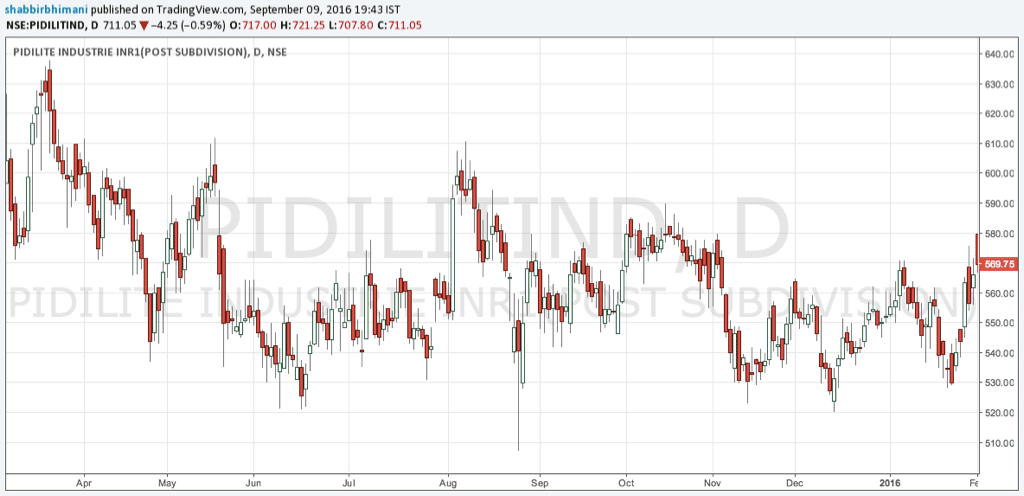 All charts by TradingView
Which means the stock has a very good resistance to fall and there is a lot of buying interest at lower levels even in the falling market.
Technicals of Pidilite Industries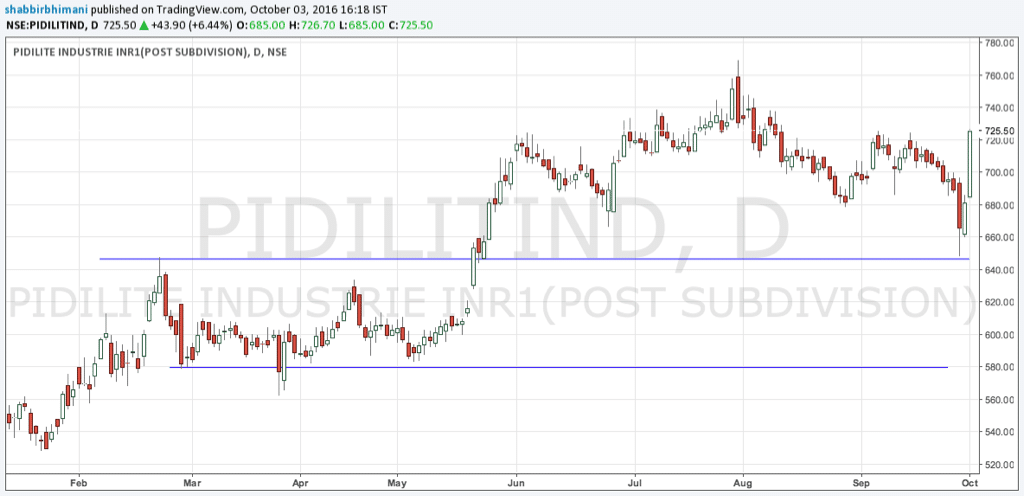 Top blue line around ₹650 shows breakout levels which is an intermediate support for the stock and 580 shows a very strong support for this stock and so ideally a close below 580 can be used as a stop loss but me being an aggressive investor will keep a stop loss of 520 which is even stronger support for this stock on a weekly chart.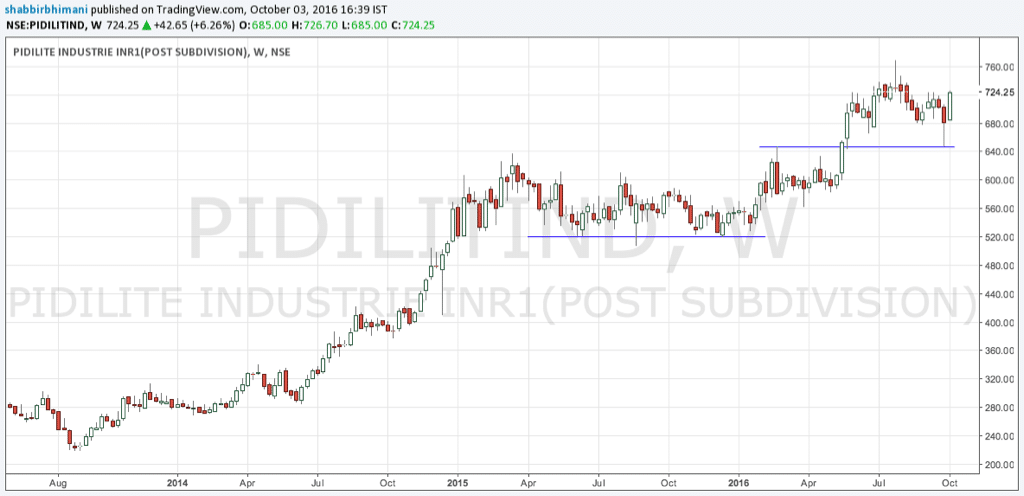 Portfolio Update
Increase in investment from ₹6,34,231 to ₹13,53,094. An increase of ₹7,18,863 in the month of September. Let us now see the performance of the portfolio built so far.
Profits Realized
Infosys:

780

(60)

Average Buy: 1165
Average Sold: 1178

Tata Steel:

9,200

(400)

Average Buy: 280
Average Sold: 303
Total Profit Realized: 9,980
Dividends
Zydus Wellness:

325

Larsen & Toubro:

365

Jubilant FoodWorks:

250

Britannia Inds.:

900

Birla SL Tax Plan:

8,581
Total Dividend Received: 10,421
Stocks
Stocks that I hold in my portfolio along with the link to why I have invested in them.
Britannia Inds. 1,56,850 (45) [Why]

Invested: 1,18,731
Profit+Dividend: +39,019

Jubilant FoodWorks 97,450 (100) [Why]

I

nvested: 1,09,503
Loss+Dividends: -11,803

Jubilant Life Sciences 1,96,290 (300) [Why]

I

nvested: 1,34,636
Profit:+61,654

Larsen & Toubro 29,414 (20) [Why]

I

nvested: 24,814
Profit+Dividends +4,965

Pidilite Industries 7,24,250 (1000)

Invested: 7,18,864
Profit: +5,386

Zydus Wellness 1,80,050 (200) [Why]

Invested: 1,61,847
Profit+Dividen: +18,528

Total Stocks: 13,84,304

Invested: 12,68,396
Profit: +1,17,748
Mutual Funds
Birla SL Tax Plan-D: 1,14,414

Invested: 1,05,000
Profit+Dividend: +17,896
Overall
Portfolio: 14,98,718

Capital Invested: 13,53,094
Unrealized Profit: +1,25,223
Dividend: +10,421
Realized Profit: +9,980
Lessons Learned
I have learnt one of the biggest lesson of my investing career which is – Never invest when you have kids running around you because you are bound to make a trade which is not what you intended to do. Invest with a clear mind as to what you want to be doing otherwise market can punish you badly otherwise.
If I was not holding 1000 units of Pidilite Industries, I may have purchased it close to 680 for sure and that may have been lot more profitable that what it is now.
Plans Ahead
Have very little investment in L&T and I wanted to invest in L&T at around 1400 levels as well but then I could not because Pidilite has sucked up all my cash to invest any paise further. Not sure if I can get L&T again at those levels but will surely keep an eye on it.
Tax Saving in the month of October for sure and I have already DSPBR Tax Saver fund and you will soon see my investment in it.
I was prepared for correction in September, but I don't see any correction in October and yet have no plans to book any profits whatsoever as of now.
Over to you
If you have any questions or comments share them in comments below and I love to respond to them.