Answering all Bitcoins questions – What is Bitcoin, blockchain, and mining? How miners make money? How to trade in Bitcoins in India and is it legal in India?
Bitcoin was launched in 2009 by a person or a group operating under the name Satoshi Nakamoto, but it is pretty unknown who Nakamoto was and where they have been since the launch of Bitcoin.
Mike Hearn was one of Bitcoin's core developers. Still, there is some mystery about it, but that is beyond the scope of this article. What is essential is in January of 2016, on his blog, he outlined why Bitcoin has failed and why he has cashed out all of his coins. Though he could have managed better pricing for his currency, it is what it is.
After he left the Bitcoin community, the price of BTC saw a sharp rise. The price increase has been more than ten times since then.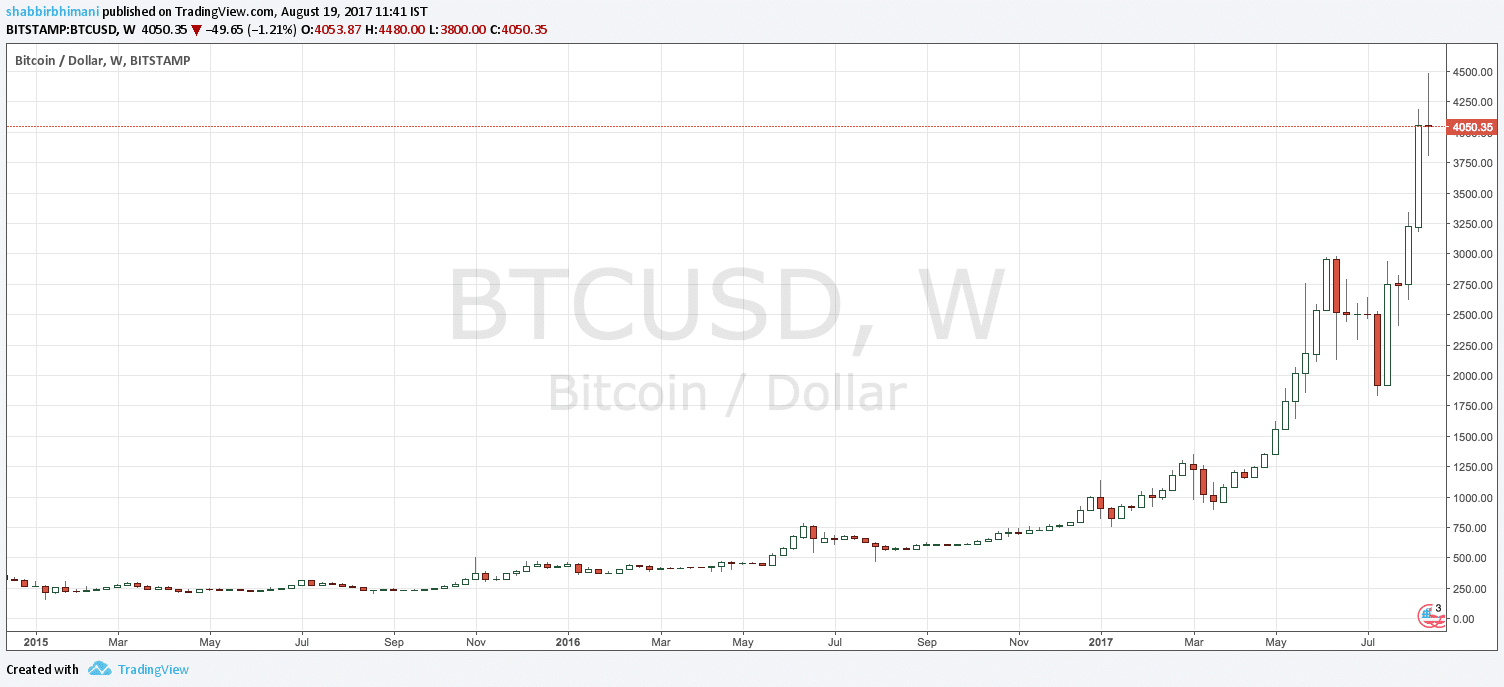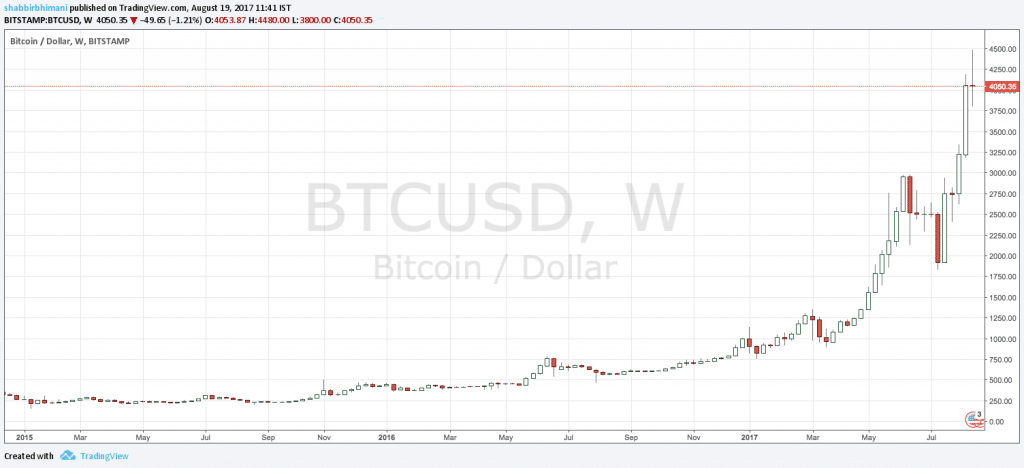 I was following Bitcoin closely before Jan of 2016, but after reading his view, I stopped following it.
Optimists may see it as an opportunity with great demand and significantly less supply. However, pessimists don't understand the reason for the market.
Though I am optimistic about investing in equities, I am pessimistic about bitcoins. I am a pessimist because I don't keep 2000 rupee notes in a locker as an investment, so why should I keep another such currency like Bitcoins in my account as an investment?
Money itself can't be an investment. Either it is traded, or it is used for an exchange with a purpose. For example, I may not keep USD (assuming I am allowed to) from 64 to 70. So why should BTC be kept that way?
Currency isn't for investing till now, and it can change in the future, but I am not yet convinced.
I started gathering information once again when it showed some signs of correction and was hovering around the $2000 mark, but it doubled before the blip of an eye. The other reason for me to be a pessimist in BTC is the speed at which it is gaining value. (Angur Khatte hain)
What is a Bitcoin?
Bitcoin is a digital encrypted currency commonly known as Cryptocurrency, which isn't tied to any bank or government, allowing people to spend money anonymously.
Though people can transact and earn coins, people can also generate coins through mining which isn't technically digging coins like gold mining. Still, it means providing your computer's computation power to authorize and verify other users' transactions.
Bitcoin and Cryptocurrency transactions are anonymous, but when you convert them into real currency, you may need to verify your identity with the exchanges. Often people avoid converting it to real currency and prefer transacting online, where Bitcoin is accepted as a payment method.
What is Blockchain?
In a very simple term, blockchain is a digital account statement that records the transactions in chronological order for Bitcoin or any cryptocurrency. It is available publicly for the cryptocurrency network.
Each data block contains transaction details chained to the next block using a cryptographic signature, creating a series of blockchains in chronological order.
Understanding it from a banking perspective is similar to an account statement. Still, it isn't only an account statement for a particular account but the complete banking system as a whole and is available in an encrypted format.
A computer program can verify and authorise the transaction details in a blockchain.
What is mining?
Bitcoin is decentralized and isn't linked to any bank or government, so it needs a process that can validate and confirm the payment.
Mining is a process of validating, authorising and confirming a transaction from the information available in a blockchain.
Anyone can participate in the process of mining by running a computer program. In addition to running on the traditional computer, Bitcoin mining hardware is available that can process transactions much more efficiently than a regular computer.
The significant expense to mining is the uninterrupted power supply and a high bandwidth Internet connection.
How do miners make money?
Mining is a process where the computer needs to solve the complex encryption problem associated with each unverified transaction in the blockchain.
Each miner competes to solve the puzzle first, and one who correctly solves it first is rewarded for it with the needed bitcoins to successfully validate the transaction.
Initially, the reward for mining was 50 bitcoins. The calculations are such that the reward reduces as more and more bitcoins are mined. It was reduced to 25 on 28th November 2012. On June 9, 2016, the last reward decreased from 25 to 12.5. Though the reward of bitcoins has reduced, the real value has increased due to the increase in the price of bitcoins since June 2016, and it is the main reason for the popularity of Bitcoin mining now.
As of Aug 19th, 2017, the reward to mine a single transaction successfully is over three lakhs INR.

How to Trade in Bitcoin in India?
There are numerous Bitcoin exchanges in India and you can see the major Bitcoin exchanges in India at BTCRates.in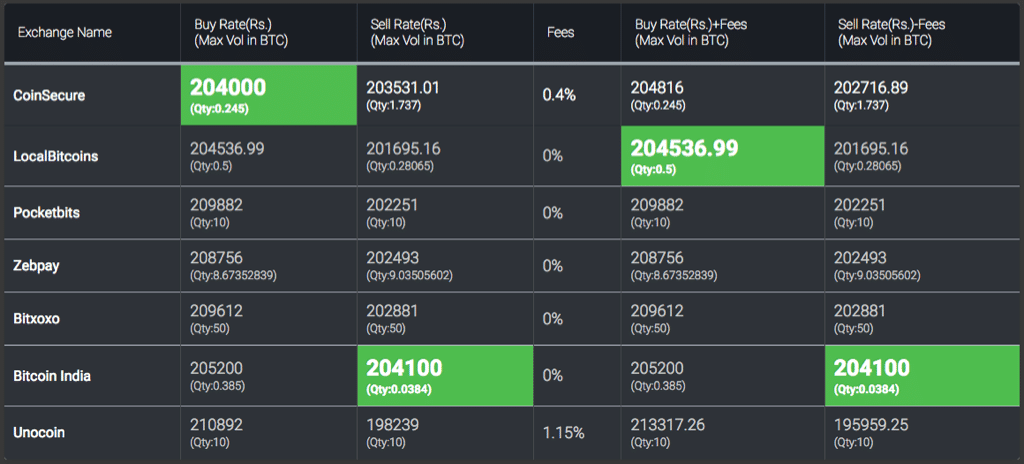 Note1: I don't trade or invest in BTC nor recommend it to others and so you have to use your due diligence before trading with any of these exchanges.
Note2: There is no governing body to validate these exchanges, which means any exchange can vanish from the Internet on any given day.
So if you plan to trade in Bitcoin, do with the money you are ready to lose.
Is Bitcoin Trading Legal in India?
Japan and Russia have legalized the use of Bitcoins, but India is yet to officially accept cryptocurrency. RBI had cautioned Bitcoin and cryptocurrency traders, but it hasn't banned Bitcoins or made it illegal in India.
Here is an article on Business Today on bitcoins' legality.
There are Bitcoin exchanges in India, which means it isn't illegal, but you have to keep your eyes and ears open as and when any new rule or amendment comes from RBI.
Final Thoughts
Being in the technology field and tracking Cryptocurrencies and Bitcoin for some time now, I believe it is undoubtedly in a euphoric phase creating a bubble.
Blockchain can hold a certain amount of transaction data. There is more demand than supply for bitcoins, constantly driving the higher per dollar value. The reason for the higher demand is purely for the stocking of Bitcoins, as there is assumed to be a limited supply of it in the future. The flip side of it is, more than 300,000 transaction happens per day on the Bitcoin network. So more and more bitcoins are being rewarded to the miners.
When Bitcoin investors liquidate their investments, you never know what may happen. The worst part is you will never know when they start liquidating and move to something else.
The best aspect of Bitcoin is blockchain technology. It is the technology of the future, and other cryptocurrencies are being developed using the technology and eradicating the issues that are seen in Bitcoin currently, and Indian banks are making a move to blockchain technology.