What's the difference between exchange-traded funds or ETFs and mutual funds? Which is the right one for investor investing for the short, medium and long term?
Exchange-traded funds, or ETFs, are very similar to mutual funds because both are benchmarked against the same underlying indices. Though both looks similar in nature there are many differences.
ETFs trade on the exchanges throughout the day with change in price based on the buyer and seller in them and similar to stock whereas mutual funds only update their net asset value or NAV at the end of the day.
ETFs has very lower operating expense ratio when compared to mutual funds and this is because ETFs has very low operating cost. The expense ratio of Invesco India Nifty ETF is as low as 0.1%. Compare that to a large cap fund and it will be above to 2%.
ETFs have no minimum investment requirement or entry and exit load like mutual funds. Like stocks, you only pay the brokerage when trading in ETFs.
Taxation for investors is same but it is different internally. If an investor redeems mutual fund and if a mutual fund is not liquid enough for redemption, they will need to sell the holdings which can incur a short term capital gain tax that mutual fund may need to pay. Such tax is avoided in ETFs
Mutual Funds Point of View
Looking at the above points it may sound like ETFs are the clear winner but let us consider those points from mutual funds point of view as well.
Even if ETFs are traded, investment is not about tracking the performance of the fund on a real time basis.
Expense ratio of ETFs are very low when compared to mutual funds but mutual funds returns are higher than ETFs by lot more than the expense ratio as well.
ETFs have no minimum requirement but mutual funds minimum requirement is 500 for SIP and 5000 as one-time investment which is not high either.
Internal tax calculation is more from a hypothetical point of view because mutual funds do remain liquid to the extent they receive redemption.
So the biggest advantage of investing in ETF is you can use the intraday volatility to invest at a much better price when compared to mutual funds which are available only at the close NAV price.
Comparision
So let us create a sample portfolio in ValueResearchOnline to compare a mutual funds with ETFs.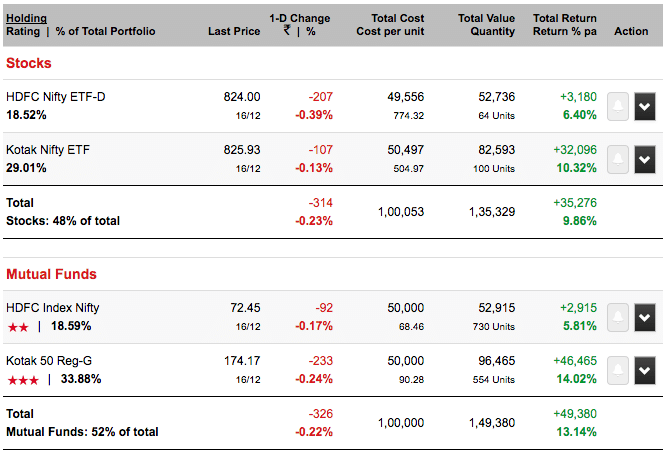 HDFC Index Nifty Fund and HDFC Nifty ETF purchase date are 16Dec2015. Kotak 40 Regular Growth Fund and Kotak Nifty ETF purchase date are 15Dec2011.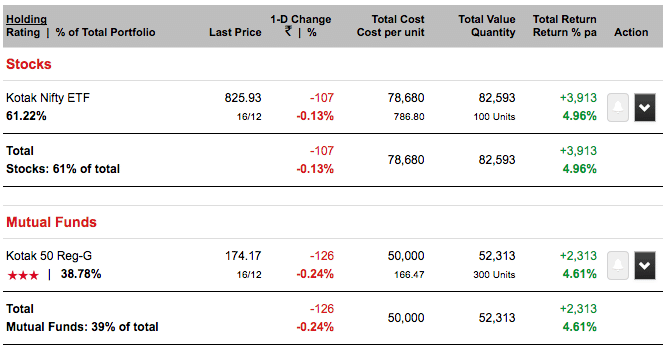 Kotak 40 Regular Growth Fund and Kotak Nifty ETF purchase date as 16Dec2015.
Observations
My observations are based on small set of data but here is what my observations are:
Purely Nifty or Index fund will underperform the ETF due to expense ratio difference.
Large cap fund which invests in Nifty stocks as well as other large cap companies will underperform the ETF in the shorter time duration.
Large cap funds which invests in Nifty stocks as well as other large cap companies will outperform ETF in the long run.
Investing for the short term for an year or so ETF may be a better but for the long term, mutual funds can outperform even when compared to regular plan over direct plan.