Stocks and mutual fund positions added in July 2016 to my portfolio which crosses 5Lakhs and plans for the August and beyond along with portfolio performance.
A report I share each month of the progress to my wealth building portfolio of stocks and mutual fund position added with reasons and contract notes. I also share important lessons I learn along with the plans for the coming month.
Note: This is not my complete portfolio and I have other investment in more volatile and high beta stocks that should be an avoid for others.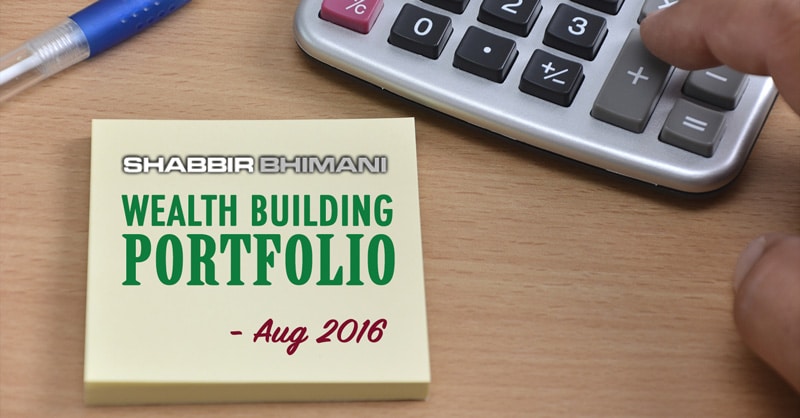 I expected a correction in the month of July but it was a month of surprises for me. Liquidity can do wonders and this up swing in the market has been uni direction.
Market is rewarding good numbers as well as bad numbers but management is optimistic and is punishing bad numbers and management is pessimistic about growth.
Nothing has changed from Feb 2016 to Jul 2016 for Nifty to see the levels of 6800 and 8600.
Stocks Commentary
Infosys
Booked very meagre profits in June in Infosys but it turned out to be the right decision and not because share price is down but growth outlook is weak. Don't want to be investing in Indian IT companies where valuations are lingering around 20+ PE with weak growth outlook.
If they are available at cheaper valuations, will consider them again but as of now they are history for me.
Tata Steel
Booked good profits in Tata Steel in the month of June but the stock did move almost 25% from where I booked profits though I did not expect such an up move.
The switch from Tata Steel to Britannia also was the correct decision and no matter how the stock price of Tata Steel moves, it is a complete no for investments unless we have political stability in UK and clarity over the Tata's UK plant.
Jubilant Foodworks
No more addition of Jubilant Foodworks at 1200+ levels. I expect subdued results of Jubilant Foodworks and if it corrects, I will add at around 1050ish levels but not very far from 1050 level as stock is already trading at a very high PE multiple.
Britannia Industries
Britannia Industries at around 2900 levels is not for accumulation and I prefer to wait for market correction and accumulate under 2700. Can change 2700 to slightly higher after analyzing the quarterly results on 8th August.
Zydus Wellness
Added 25 more of Zydus Wellness in July (Contract notes here) and it is the only stock in our portfolio that is available at prices I am comfortable accumulating. Can accumulate further in August if I don't find better opportunity in Britannia Industries after the results.
Portfolio Update
Increased our portfolio investment from ₹4,41,146 to ₹4,61,150 An increase of ₹20,004 in the month of July. Let us now see the performance of the portfolio we have built so far.
Profits Realized
Infosys:

780

(60)

Average Buy: 1165
Average Sold: 1178

Tata Steel:

9,200

(400)

Average Buy: 280
Average Sold: 303
Total Profit Realized: 9,980
Dividends
Zydus Wellness:

325

Birla SL Tax Plan:

8,581
Total Dividend Received: 8,906
Stocks
Britannia Inds 1,32,021 (45)

Invested: 1,18,731
Profit:

+13,290

Jubilant FoodWorks 1,22,390 (100)

Invested: 1,09,503
Profit:

+12,887

Larsen & Toubro 31,177 (20)

Invested: 24,814
Profit:

+6,363

Zydus Wellness 1,18,852 (150)

Invested: 1,21,989
Loss:

-2,811

Total: 4,04,440

Invested: 3,75,036
Profit:

+29,729
Mutual Fund
Birla SL Tax Plan-D 1,11,981

Invested: 1,05,000
Profit+Dividen:

+15,462
Overall
Portfolio: 5,16,421

Capital Invested: 4,61,150
Unrealized Profit:

36,385

Realized Profit:

9,980

Dividend:

8,906
Plans for August and Beyond
In July portfolio crossed a major milestone 5 lakhs and in August I hope the total invested capital will cross the 5 lakh as well.
The return in the portfolio has been very good so far but such good returns cannot keep on and on. I expect correction in August but have no plans to book profits but will reduce the aggressiveness in investing going forward.
From January to June, instead of investing 50k per month the average has been almost 65k mainly because of better investing opportunity but I will slow down considerably in the second half of the year and will try to keep money in the sidelines to take advantage of corrections in the broader market.
Apart from being in the sideline, will start investing in tax saving mutual funds but those are plans after August as of now.
Over to you
As always I'd love to respond to any questions or comments that you may have. Thanks!