On TV if you see many analyst suggest Stop Loss and Resistance price. I would teach you on How to Calculate Stop Loss and Target Levels.
On TV if you see many analyst suggest Stop Loss and Resistance price and I got an email from a blog member Srinivas where he asked.
… I would like to know how to calculate the stop loss and Target price of any stock. I have seen in TV, analyst are telling buy XYZ stock on X rate, Stop loss is Y, n Target is Z.
Is there any calculation behind these?
There is definite calculation behind it but its not mathematical calculation but its based on charts and patterns.
Say the Stock XYZ is currently priced at 100. Now the stop loss for the stock would be something less than 100 where the Stock XYZ traded in large volumes and spent some time before coming to 100. Say when the stock was between 82 to 88 it spent 10 trading sessions and was trading on averagely good volume and then broke out and so the stop would be anything between 82 and 88.
Now the target for the price would be based on more previous history as to how much in percentage terms it moves each time it breaks out and so if it broke out of 90 and history shows it moves 20% previously when it broke out of range before hitting resistance then it would be 108 ( 90 + 20% of 90 ) the target for the stock.
Now lets take a real time example.
DISH TV is in a range of 42 – 48 for quite some time. So once it crosses 50 it should hit 57 easily because 57 is point from where it fell off previously indicating resistance.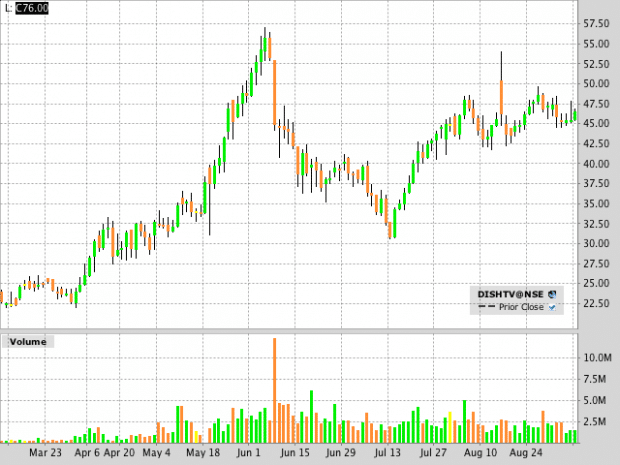 Again If we take the example of Nifty you would see that it is not able to cross 4700 currently and it is spending time between 4500 and 4600 and so once there is a substantial breakout above 4700 and remains above it for some trading session then the stop loss would be anything between 4600 and 4500.