How to Calculate Support and Resistance Levels as well as stop losses for the stock based on chart patterns taking example of MIC Electronics India limited.
Vamsi asked question about MIC Electronics Limited and though I have suggested him thought emails what all levels to look for I think this stock offers lot knowledge about how to calculate supports and resistance for the stock. I don't track the stock myself and so I will not talk about fundamentals of the company but will suggest everything based on charts and technical.
Let us look at the stock charts for past 1 year.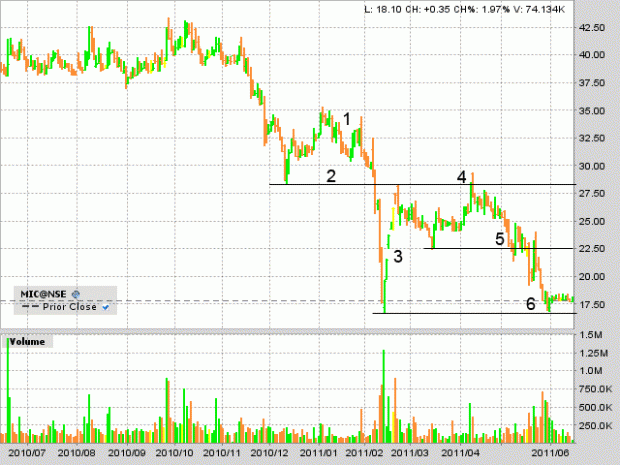 As you can see some numbers and horizontal lines in the above image. Let me explain each number.
Stock was purchased at around 33 in the month of January. It was clearly not the right time to buy this stock because of clear break down in the stock charts forming lower bottoms from 40 to 36 to 32 and finally to 28.
If purchased at around 33 in January, we should have a strict stop loss at the last support levels of 28. I would have taken this position if and only if I am fine risking my 5 Rs per share because this is very high risk trade because you are trying to get into a stock which is falling for last few days. Few days after the purchase, stop loss is hit but the fall is very sharp. Either use the stop loss in the fall or wait for a bounce after the fall to exit the position.
Point 3 clearly shows that we have a strong bounce after the fall and I prefer to use the bounce to execute my stop losses. A point to note here is the bounce can never take the stock pass 28 which was a support and is now acting as a strong resistance. See Why Support Becomes Resistance When Broken
28 is a strong resistance and this is confirmed once again with the formation of double top. Stock opens above 28 on a day but could not close above 28 clearly suggesting it as strong resistance.
Many a times we want to see if the resistance is taken out or not but this has to be done again with a new stop loss. 22.5 should be the second stop loss from that point because you could see the stock bouncing from that level.
As we did miss everything now we have no option but to have the stop loss of 16.5 and hold on to the stock.
I hope this helps other fellow traders understand the market technically.
Final Thoughts
Technically this stock is showing complete breakdown for the last 7+ months and so I would be very sceptical about the company and will only be only looking to come out of my position if either it cracks 16.5 or reaches near 27 odd levels.