Reader's Question:
Why some stocks like RCOM can rise more than 30% but stocks like Vakrangee or Manpasand Beverages stop trading after 5% change in price?
What is Circuit Filters or Circuit Limit?
Circuit Filters are placed by exchanges for stocks to avoid wild swing in the prices and prevent increase or decrease in the price of the stock beyond a limit. It helps in controlling volatility to an extent for the given trading day.
How Stock Hits Circuit Limit?
There are two circuit limits for a stock – upper circuit limit and lower circuit limit.
Upper circuit limit is reached when there are all buy orders but no sell orders for a stock. Even if there are sellers, they are far and few in between and outnumbered by the number of buy orders. There are pending buy orders at the upper limit price and no one can punch in sell orders above the limit price, so all the sell orders are executed immediately at the upper limit price giving an impression there aren't any sellers.
Similarly for any stock to reach the lower circuit limit there have to be all sellers and no buyer for the stock. Even if there are buyers, they are far and few in between and outnumbered by the number of sell orders and the pending sell orders make sure all the buy orders are executed immediately at the lower limit price giving an impression there aren't any buyers.
Read: What Makes Stock Price Go Up or Down?
Are Circuits doing any Good?
Down circuits are seen as a disadvantage for the investor because the stock price is going down each trading day hitting the lower circuit and the investor is stuck because his sell order isn't being executed and he is not able to exit the position.
It may seem so but if there would have been no circuit, the stock would have any way gone down to the point where you may be able to sell the day circuit doesn't hit.
What I mean is, say you are holding Manpasand Beverages.
From ₹450 Levels, it has been hitting lower circuits and you aren't able to sell the stock. As of 8th June 2018, it is around ₹160 levels.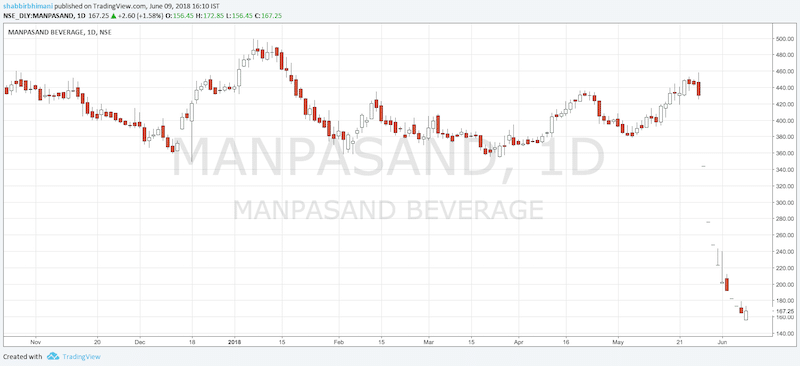 Because of circuit filters, it took few days for the stock to reach ₹200. If there wouldn't have been circuits, it may reach ₹200 the same day or even much below those levels where you may end up selling.
The only thing you may be saved from without the circuit limits is few days of wait time.
Remember Satyam had no circuit limits because it was in futures and options and so the stock hit a rock bottom in a single digit of ₹6 from ₹200 odd levels.
The advantages of such circuits are, good companies with good management can come up with clarifications and things can stabilize after a couple of days of circuit limit.
Here is the chart of Welspun India where one of it's biggest customer reported quality of its cotton. It hit circuits and management worked towards solving the issue. Stock recovers to the almost pre-circuit levels.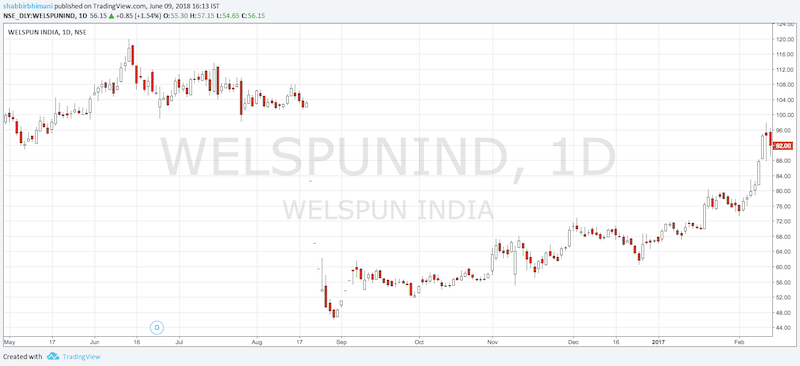 How to know the Circuit Filters for a stock?
The best way to know the circuit limit for any stock on any given day is to visit the BSE website and look for the applied circuit filters for the day.
Here is the circuit limit of Zydus Wellness.

Some stocks will have 20% circuit limit, some 10%, and others 5% as well. Like for example, Pidilite is a large company and so has a 10% circuit limit.

If the stock has circuit limit of 20% but if for a couple of days it hits the 20% limit mark, then the limit is revised to 10% for the next few trading sessions. If the stock continues to hit the 10% mark for each of the trading sessions, it is further reduced to 5% thereafter.
Under the ASM (additional surveillance measures), BSE has revised the circuit limits of many stocks to be at 5% by default and has also put restrictions on margin trading in them.
Why Some Stocks have no Circuit Filters?
Finally answering the reader's question. Any stock which is part of the futures and options segment has no circuit filters. They have a temporary freeze for few minutes at the 10% limit but in few minutes the limit is released and the stock is allowed to trade higher or lower depending on the upper or lower circuit limit respectively. Further at each such 5% higher or 5% lower level there is a temporary freeze again and is released in few minutes to resume trading.
Futures and options contracts allow short selling of stocks. So it is assumed that the derivatives will kick in are balance out the price fluctuation and the real price discovery for these stocks will eventually happen.
Apart from derivatives, stocks that is listed today doesn't have any circuit filters for the day. A higher than usual demand or supply for the stock is expected on the listing day of an IPO. So they are allowed to have the volatility without any circuit limit for a day.
All others stocks have the circuit filters.
So stocks like Reliance Communication can rise more than 20% for a day because it has derivative contracts.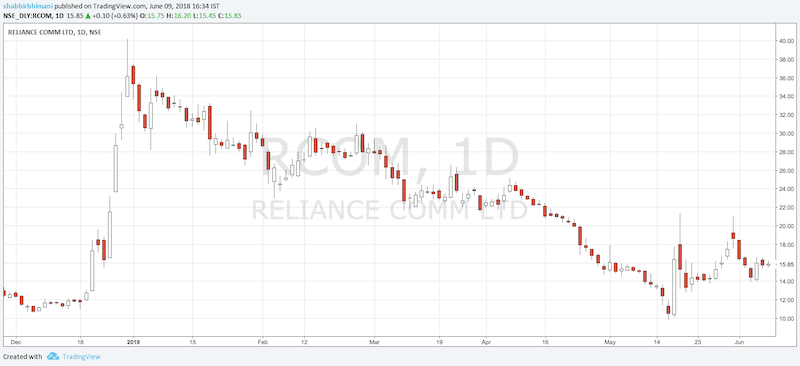 No circuit limit applies to the stock and only temporary freeze happens for few minutes at the specified limit. This is the only reason why we see stock can rise more than 30% in price.