Stock's price may move in such a manner that they should be avoided purely for the trading purpose (you may consider investments) and such a price range is termed as no trade zone.
Different traders may have different no trade zone. I follow price action strategy for trading with support as stop loss. So no trade zone is primarily based on where I see support levels to use as a stop.
Let me explain this with example my no trade zone and how to identify such no trade zones. I have 3 types of no trade zones:
1. Very Tight Range
A stock is trading in a very range for quite some time and has no news or triggers lined up for either break out of the range or break down means a no trade zone for me.
The best example can be Reliance Industries between 2010 to 2016 where it was majorly in a very tight range of 800 to 1000 without any news to trigger either a breakout or a breakdown from that range.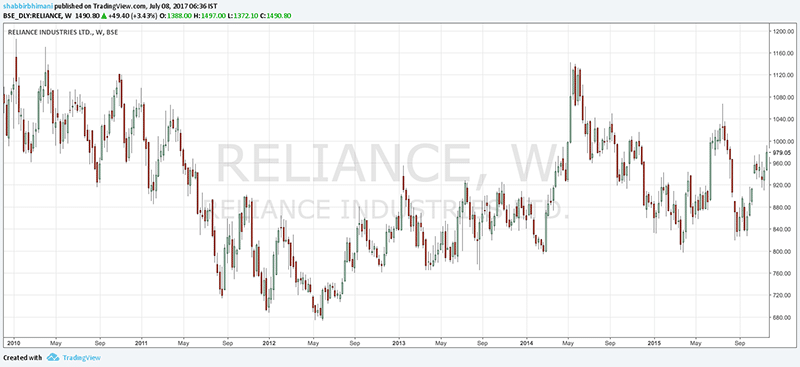 Now we know what happened when it just broke above that tight range.
Reliance Industries is an example of the past and Zydus Wellness is currently in the range of 800 to 900 levels for almost a year now. This is a no trade zone (I have an investment in it though). A lot of time may be used by stock in between the range which isn't what traders are looking for. They need more volatility and higher beta.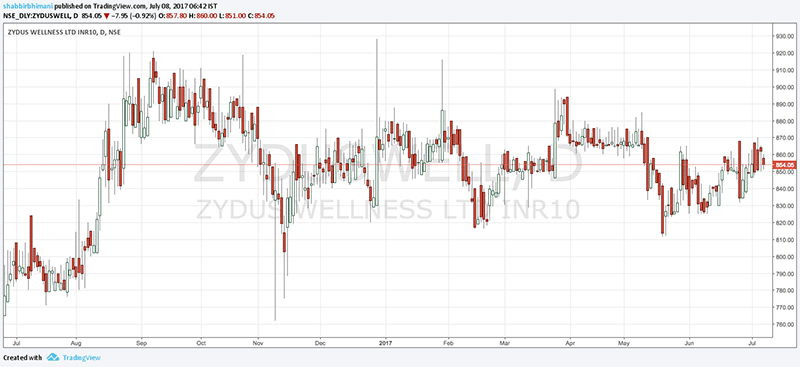 It can be a good consolidation phase for the company and so one may consider investing if fundamentals of the company are in line but then such long consolidation patterns are an avoid for traders and so for me, the stock is in no trade zone.
Others traders may want to trade in such a tight range where they go long on the lower end of the range or vice versa.
2. Major Resistance Prior to Target
In absolute terms, I prefer to have a stop loss which is half of my target.
So if I am buying a stock at ₹200 with a stop loss of ₹190 then in absolute terms I am ready to lose ₹10 per share which means my target for the stock will be ₹220.
The stock is in no trade zone if there is major resistance between ₹200 and ₹220 and it needs to cross that resistance to hit my target.
Often major resistance comes between the target because of a very tight range. Taking the example of Zydus Wellness at around ₹850, the stop loss of ₹800 means I am ready to loose ₹50. So the target will be twice the stop loss which is ₹950 and is beyond the major resistance of 900.
3. Higher Risk With Steep Support
My stop loss is always based on the support levels. So if I am buying a stock at ₹200 the stop loss calculation is based on the support levels and if the support level is way below like say ₹150, I may not take the risk of having such a deep stop loss.
So again the stock again is in no trade zone for me.
Such stop-loss happens when there is a sharp swing in the price of a stock without intermediate supports being formed in the middle. Such no trade zone means you are not chasing the momentum in a particular stock and it is better to avoid them. Often it is better to avoid such high-flying stocks for investment as well.