Stocks added in Jan 2016 to my portfolio and plans for Feb 2016 with details of why I added Ashok Leyland heavily and how to capitalize the shocks Mr. Trump can give to Indian equity market.
A report I share each month on the progress of my portfolio of stocks and mutual funds with reasons of each and every stock that I own along with contract notes of trades executed in the current month and share plan for the coming month.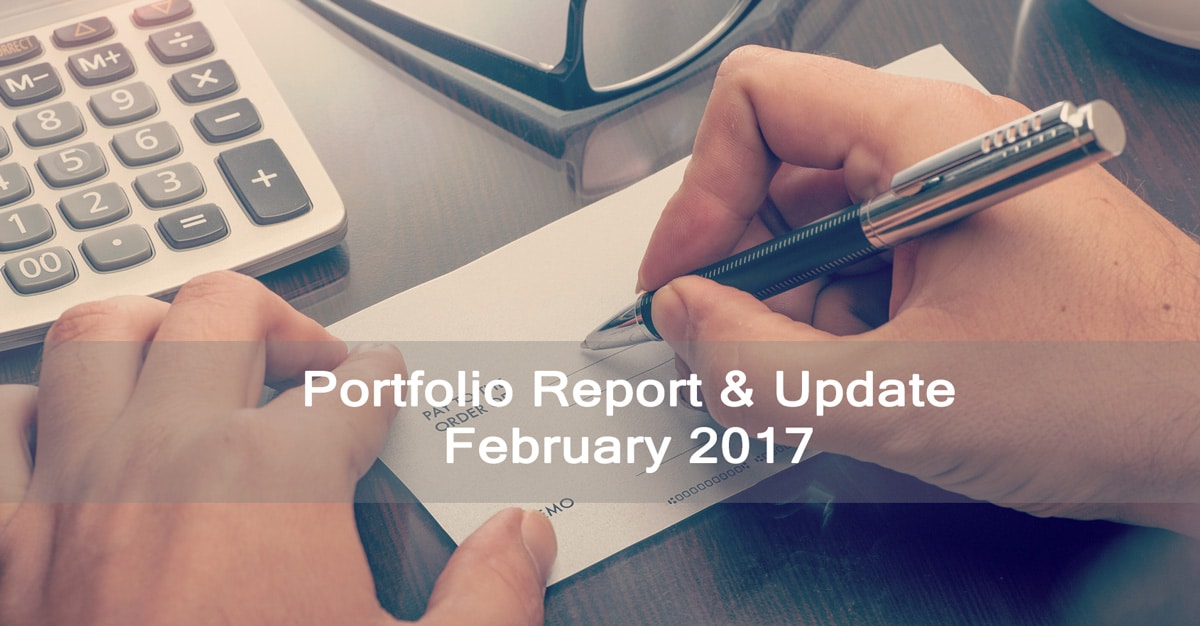 Note: This is not my complete portfolio in the market and I may have open trading positions as well as some previous investments prior to Jan 2016 and other riskier small and micro cap investments.
The major part of demonetization is behind us and the quarterly results that I have seen till now look good as well. Still, I have a keen eye on the upcoming results of companies in my portfolio and will add positions only when I get a clear picture of the impact of demonetization.
Ashok Leyland
Ashok Leyland is my first investment of 2017. Added a position just after I saw the December sales number for the company which had very less impact of demonetization.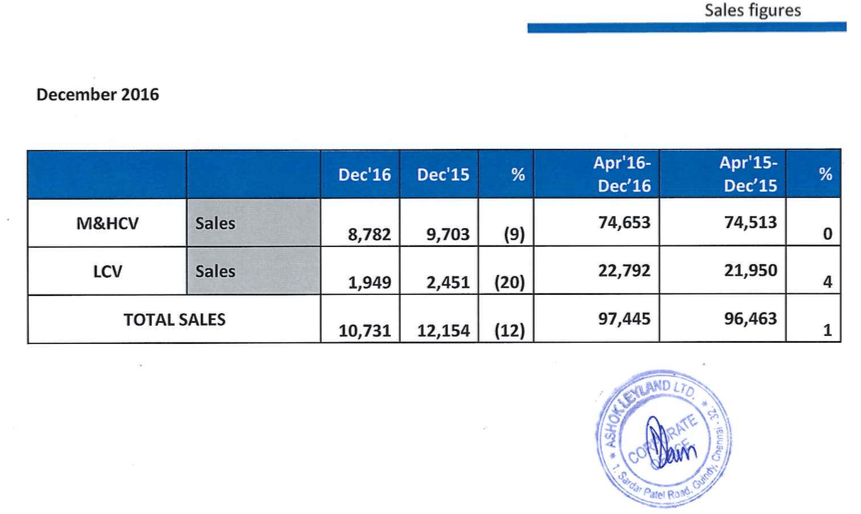 You can check out the same report on the BSE website.
Technically the stock has also formed a solid bottom around the ₹75ish level.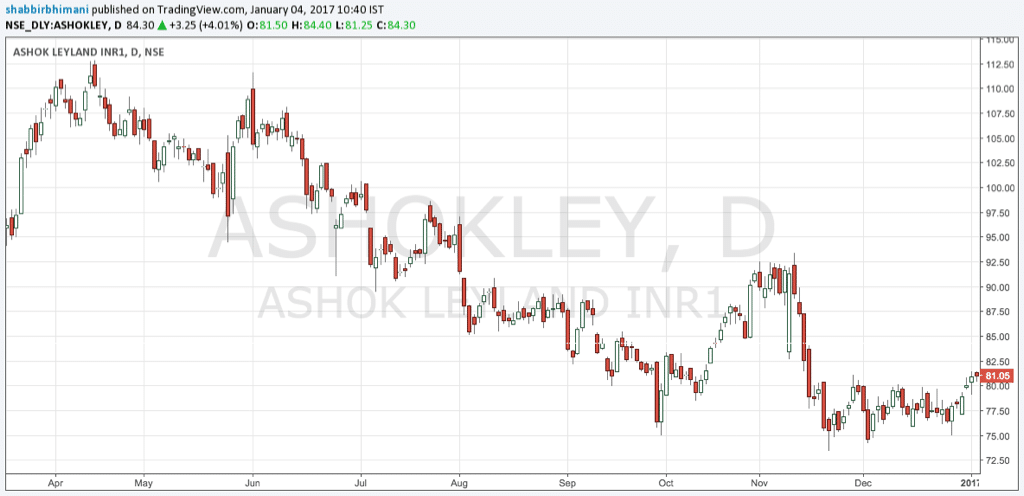 Charts by TradingView
My position was based on December sales number and good bottom being formed. Contract notes of Zerodha attached.
Later I analyzed quarterly results and my views are result was awesome. I focus on sales growth which can lead to other numbers and figures falling in place in the long run. The market did not take numbers that positively but positive management commentary took the stock price higher. Will wait for a significant correction to add more position.
Pidilite Industries
In my last month's report I expected a recovery and that is exactly what happened. Though I did not expect such a sharp recovery but it made my portfolio look much better. Still, I want to see quarterly results which are coming out today (1st Feb 2017) along with the budget.
Britannia Industries
I am upbeat on Britannia Industries but still, prefer to wait till 13th Feb 2017 for quarterly results to get a clear picture of the impact of demonetization.
Jubilant Foodworks
Jubilant Foodworks is one of those stocks which has not performed as I would like to but again this is a company that is expanding in sales but at the cost of margins which is not taken positively by the market and rightly so for a stock trading at 50+ PE.
I will look at the quarterly results on 6th Feb 2017 and want to analyze the impact of demonetization and then decide next line of action for this stock.
Portfolio Update
Capital investment increased from ₹15,51,729 to ₹16,32,676, an increase of ₹80,947 in the month of January. The performance of the portfolio built so far is as follows:
Profits Realized
Infosys:

780

(60)

Average Buy: 1165
Average Sold: 1178

Tata Steel:

9,200

(400)

Average Buy: 280
Average Sold: 303

Larsen & Toubro:

2,080

(20)

Average Buy: 1241
Average Sold: 1345
Total Profit Realized: 12,060
Dividends
Zydus Wellness:

325

Larsen & Toubro:

365

Jubilant FoodWorks:

250

Britannia Inds.:

900

Birla SL Tax Plan:

8,581

DSPBR Tax Saver:

1,460
Total Dividend Received: 11,881
Stocks
Stocks I am holding in my portfolio along with the link to why I have invested in them.
Ashok Leyland 1,81,500 (2000) [Why]

Invested: 1,60,192
Profit: +21,308

Britannia Inds. 1,40,870 (45) [Why]

Invested: 1,18,731
Profit+Dividend: +23,039

Jubilant FoodWorks 87,615 (100) [Why]

I

nvested: 1,09,503
Loss+Dividends: -21,638

Jubilant Life Sciences 2,01,420 (300) [Why]

I

nvested: 1,34,636
Profit: +66,784

Pidilite Industries 6,73,500 (1000) [Why]

Invested: 7,18,864
Loss: -45,364

Zydus Wellness 2,16,800 (250) [Why]

Invested: 2,04,690
Profit+Dividends: +12,435

Total Stocks: 15,01,705

Invested: 14,46,617
Profit+Dividends: +56,564
Mutual Funds
Birla SL Tax Plan-D: 1,12,305

Invested: 1,05,000
Profit+Dividend: +15,786

DSPBR Tax Saver-D: 1,07,498

Invested: 1,05,000
Profit+Dividend:+3,958

Total Mutual Funds: 2,19,803

Invested: 2,10,000
Profit+Dividend: +19,744
Overall
Total Portfolio Valuation: 17,21,509

Capital Invested: 16,32,676 (Total Investment in stocks & mutual funds less dividends receieved and realized profits)
Unrealized Profit: +88,833
Dividend: +11,881
Realized Profit: +12,060
Big sigh of relief as my stock portfolio and overall portfolio both turned positive.
Plans Ahead
The large part of demonetization is behind us but Mr. Donald Trump and FED can give some shocks to Indian equity market.
I am very hopeful the shocks will come sooner than later and I would like to capitalize such opportunities.
Also, will have an eye on the outcome of budget and see if I can spot any good investment opportunity.
Over to you
If you have any questions or comments share them in comments below and I love to respond to them.