Stocks and mutual fund positions added to wealth building portfolio in March 2016 and plans for the upcoming month along with portfolio performance and lessons learned.
A report I share each month of the progress to my wealth building portfolio of stocks and mutual fund position added with reasons and contract notes to remain fully transparent. I also share important lessons I learn along with the plans for the upcoming month.
Note: This is not my complete investment in market and I have other investment prior to January 2016. After January 2016 all my investments are shared here.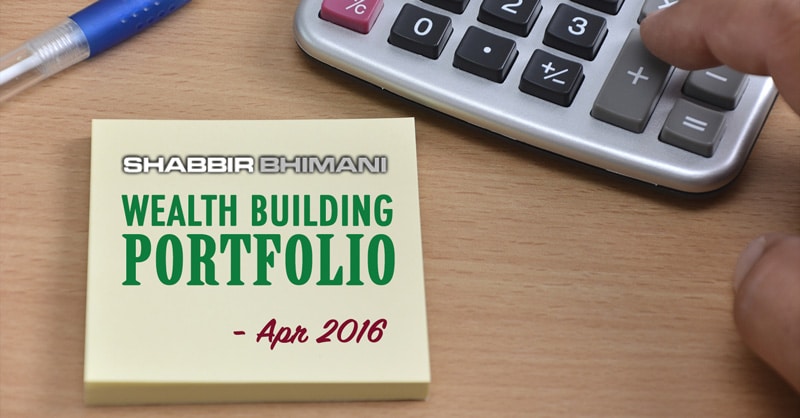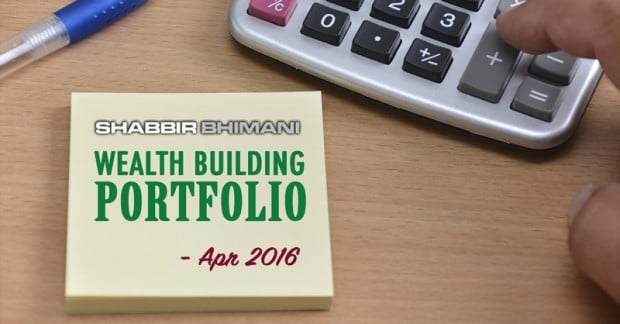 In March, I invested majorly in Birla Sun Life Tax Plan and added some more to my Infosys accumulation strategy and invested fresh in Larsen and Toubro.
Tax Saving ELSS
In February (report here) I preferred investing in Tata Steel over tax saving fund but the same can't be done in March and so I invested almost 85,000 in Birla Sun Life Tax Plan (dividend payout). 9th March order details here and 22nd March order details here.
I have been trying to come out of the habit of investing in the last moment in the Tax saving funds and I did not anticipate such a sharp runup in equity market and expected better entry for my mutual fund investment.
I did invest 85k in ELSS fund but then roughly 78k was withdrawn that I invested on March 28 2013 and recieved 9,000+ as a dividend from the same fund. Effectively I invested nothing new in March for saving tax but just switched funds.
Apart from that from my investment of 85k in March, I recieved 6500 as dividend back and the February investment of 20k in the same fund also gave me back 1665 Rs back as a dividend. So received total of 8581 as dividend on my investment of 105k. I always prefer less investment and get more tax savings.
Infosys
Infosys has been a constant performer in our portfolio and I always prefer accumulating. I did wait for the correction in the stock and I saw a very sharp fall in the price on 22Mar2016 but then it recovered too sharply as well.
I anticipated a breakout above 1200 and so just purchased Infosys in the last minutes of trades on 22Mar2016 itself. Added 10 shares of Infosys. Contract notes here.
Again the fundamentals and technicals of Infosys are shared in my February 2016 portfolio update.
Tata Steel
Investment in tata steel in Feb at around 230 level has been the best performing investment in our portfolio.
Tata Steel at an average price of 235 and it is currently trading at 320+ levels which means 35% increase. I would have preferred that kind of return even in couple of years of time as well and we have got this in a couple of months. Can't expect more.
As of now, just let it be as it is. Not thinking about booking profits either and would, prefer to accumulate more in the correction.
Zydus Wellness
The view on Zydus Wellness has not change and is same that we had in February. Prefer wait and watch.
Received a dividend of 6.5 Rs per share or 325 Rs for our investment.
Larsen & Toubro
A new stock enters our wealth building portfolio for investment in March for the following reason.
1. Efficient Management
Fundamentally this is one of the best company in the infrastructure space and the best thing I like about L&T is their management which is always looking to invest and is keen on buying growth.
Remember they tried taking over Satyam when it was jolting down to get into IT Space and management was not ready to buy it at any price and they just ultimately traded from it.
So management is looking for other venues to buy growth with the cash reserves. This is something that Reliance Industries has been lagging.
2. Infrastructure sector
According to me, infrastructure sector should be the next leader because Pharma has been in focus of government and is banning lot of medicines and so such high valuations for the companies will need correction. FMCG is too richly valued and will need lot of guts to outperform. Companies like Nestle after such a large correction are still trading at 90 times its PE.
So my take is IT, metals and infrastructure will be the outperformer for the next decade.
The only thing that I don't like about L&T is they are not purely an infrastructure player and are quite diversified but then it is being worked on and they are making things simple with splitting the business under different companies soon.
3. Ratios and Numbers
L&T is available under 25 times its current years earnings. The sales growth for this company has been from 52 thousand crores to 92 thousand crores from Mar 2011 to mar 2015 on a consolidated basis. That's more than double and you cannot expect anything more.
The company has debt under good control with debt to equity ratio is just 0.33.
In the current market correction, it is now available at under 3 times it books whereas it used to be trading at 5 times its book.
Dividend yield of more than 1% suggests company has good cash flow.
4. Technical Analysis
Stock formed one of the best chart pattern on the daily chart. 1016 is the new 52 week low for the stock. 1050 has been tested multiple times with strong support being formed just above the 1000 levels.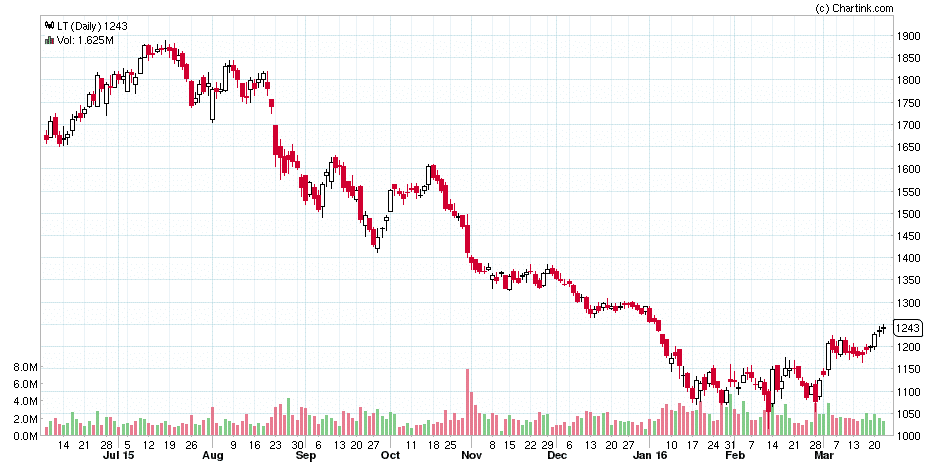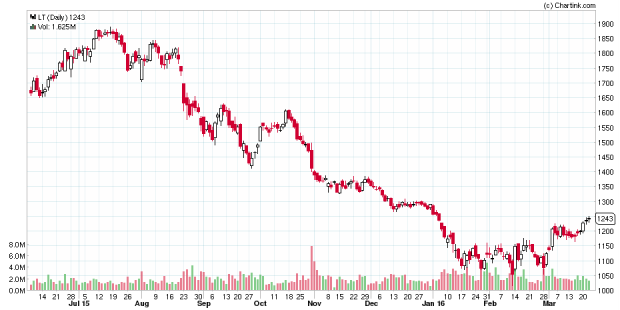 So I expect a good solid base being formed for L&T here for the next few quarters and perform really well from here.
My stop loss for this investment will be 700 which is a very long term support for this company and though I don't expect 1000 to be broken either.
The strategy in L&T will be the same that we follow for Infosys. Accumulate on any given day when we see good correction in the stock. I purchased L&T the same day as Infosys and you can see it in the contract notes here.
Portfolio update
Performance of the portfolio we have built so far.
Stocks
Infosys: 48,732

Invested: 46,028
Profit: +2,704

Larsen & Toubro: 12,167

Invested:12,419
Loss: -252

Tata Steel: 63,940

Invested: 46,822
Profit: +17,118

Zydus Wellness: 36,495

Invested: 43,423
Dividend: 325
Loss: -6,603

Total Stocks: 1,61,334

Invested: 1,48,692
Dividend: 325
Profit: +12,967
Mutual Funds
Birla SL Tax Plan-D: 99,886

Invested: 1,05,000
Dividend: 8581
Profit: +3,367
Overall
Portfolio: 2,61,120

Invested: 2,53,692
Dividend: 8,906
Profit: +16,334
Lessons learned
Zydus Wellness
It was wait and watch in the last month and I continue to hold the same view.
Tax Saving
I need to be more organized in my tax saving investment and so I would prefer to be investing this amount in the next fiscal sooner than march if possible.
I expect correction in the market when the result season kick off and so actually I did very little investment in the month of March and will possibly invest more heavily in mid april.
Also if you look at the stocks, I invested almost 148,692 in 3 months and so on an average we are at the 50k mark per month. We have additional 105k in mutual funds but then 88k is withdrawn from my earlier ELSS investment and 8k received as dividend and so only 10k is additionally invested in mutual funds for me.
What's next?
I plan to accumulate very early in the month Infosys before its result which I expect to be better than market expectation and then in the next few days accumulate L&T and then wait for Tata Steel accumulation.
The strategy in Tata steel would be to let it come down when the results season kick in and may not see the results as good as the market expects for the steel sector and market as a whole. We can add more to our portfolio.
Let's see how the plan go in the month of April.
Over to you
As always I'd love to respond to any questions or comments that you may have. Thanks!
Charts by chartink.com