Even if you don't want to be day trading, knowing how it is being used by traders can help you invest at a better price on any given day.
I often get this question about how to select the right stocks for anything from day trading to find the right pattern to find the wealth building opportunities and many other.
So let me answer the question about how to find the right stock for day trading and how you should go about day trading. Even if you don't want to be day trading, knowing how it is being used by traders can help you invest at a better price on any given day.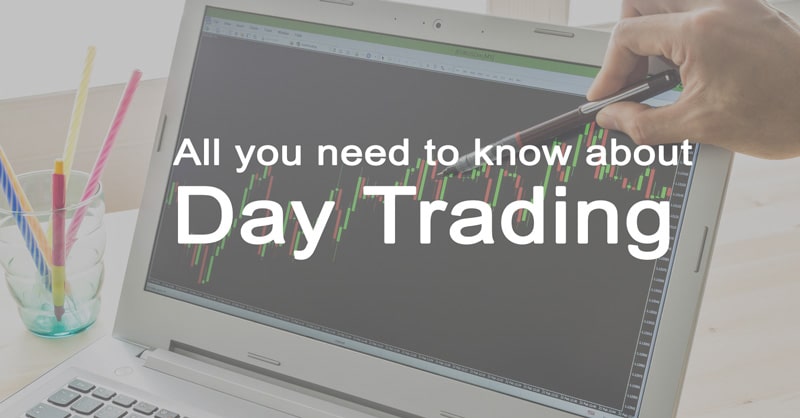 Why Day Trade?
There are mainly three reasons why people prefer day trading:
Leverage position with margin: I don't recommend margin trading because it can lead to disasters and if one of your reason to opt for day trading is margin, you should know the consequences of it.
Lower Brokerage: At times people don't take a delivery position because they may need to pay high brokerage (calculate brokerage on the fly) which they don't expect to be gaining if they hold the position for a day and so instead of loosing on the brokerage, they prefer to be squaring the position off.
Short Selling: Cannot short sell in the cash market segment in India and have to square off your position the same day unless you are shorting in futures or options (in foreign markets you can actually short sell in the cash market as well).
I could not find any other valid reason to be day trading. For me trading has never been for the above reasons.
My simple trading funda
I prefer to buy a stock where I am fine entering at a level where I can execute my stop loss and then can wait for the target. In either case, I will either lose executing the stop loss or win by hitting the target.
To be profitable in market, I have to outnumber my wins over my losses and outperform my wins over the losses.
I prefer to keep trading really simple so I can focus more on the charts than anything else.
Once you trade with this, I don't see how you can be doing day trading or any time wise trading at all. You will more often trade based on price targets and gain and loss and not based on time like day trading or weekly trading.
Stocks Overlap in Various List
The list of stocks for day trading as well as positional trading can be overlapping. My list of stock for positional trading and investment has quite a few overlapping stocks.
Why not trade in fundamentally sound stocks?
Trading entry point will be different from the entry for my long term investment. As an example I purchased Tata Steel in February for my wealth building portfolio when it was grinding lower but was above the support levels (You cannot take the trader out of you) because it was an investment but I will avoid taking long position on a day if the stock is taking such a beating. The entry will be more on a breakout above certain levels or even in the leg up after the formation of W.
Let me share a recent trade. Blue arrows are entry and exit point.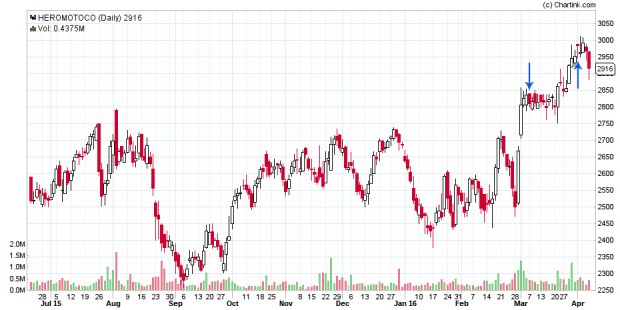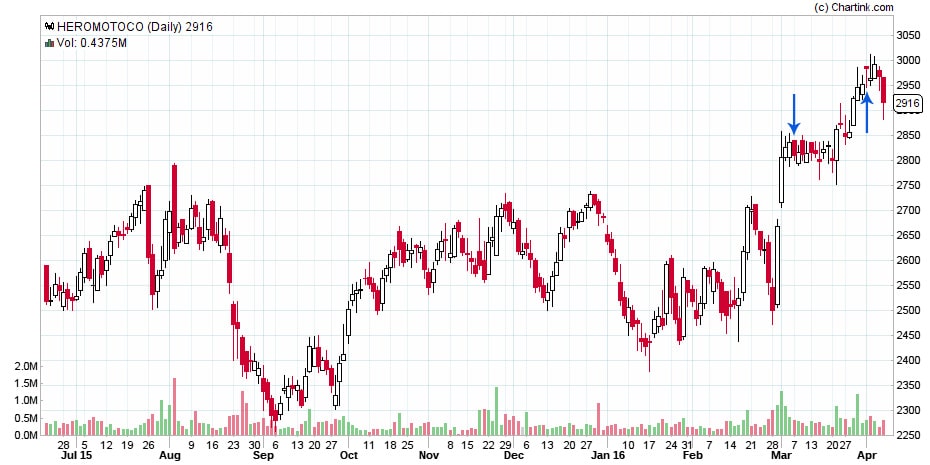 Decisive breakout in Hero Moto Corp above 2700 and trading around 2800 was an entry point for my trade with stop loss around 2720. Entered at 2832 on March 8th took the dividend of 40 Rs and was out of the stock at 2965 on 4th April. Stop loss of 110 Rs and gain of roughly 160 Rs.
Will Hero Moto Corp be part of my wealth building? Ideally NO as of now because it has a declining market shared compared to Honda Motors and they have no product which can be termed as unique when comparing to Honda (had good USP when compared to TVS and Bajaj earlier).
But that does not mean it will never be part of my wealth building portfolio and it can be if it can gain market share or it is available at a cheaper price to earnings or price to book in the future.
An example of stock which is in my trading list but not in my wealth building list.
Stocks which are fundamentally good (Zydus Wellness from January Wealth Building Report) but have low volumes are avoided from my trading list.
Stocks like L&T, Infosys will be in my both the lists.
How to Build List of Stock for Day Trading?
If you want to be building your list of stocks for day trading here is 5 point strategy.
Volume: Opt for stocks that are traded with good volumes. If you opt for low volume stock, you can have issues getting out of your positions easily.
Price: Penny stocks under Rs 20 and stocks above Rs 1250 has never been good for day trading. I would have loved to short penny stocks but then I prefer trading only in the cash market and so long positions don't work for me in those stocks.
High Beta: Opt for stocks that have high volatility and have higher intraday swing. Stocks above 1250 are often have lower beta and so they are not preferred for day trading.
Sectorial News: Stock specific news may not work because you could be late in reacting to it but the news around the sector can be used to trade in specific stocks on any given day.
Earnings calendar: You can always get the earnings day for the stock in advance and though I prefer runup to the news pattern, it is also good to use the earnings to trade in the given stock.
I am not a day trader but I do day trading in my long term portfolio where I sell off my position based on any news and may buy it back the same day or a few days later to book profit in my long term portfolio.
How to Day Trade?
Once you have a list of stocks for day trading, here are tips to be doing day trading the better way.
Less is More: Day trading is not about tracking all the stocks in the news and trading in each of them. Have your own list that you want to be focusing on and don't go for more than one to two stocks for the day. It is not humanly possible.
Start early: Day traders will always start early. You will find lot of news channel describing stocks that are in the news on that given day and if you have a list of your stocks that is in the news or want to analyze a stock to add it to your list, do that before the market starts.
Follow the Trend: Trade strong stocks in an uptrend, weak stocks in a downtrend. It is quite simple but then people always look for a trend reversal and I prefer to keep it really simple. It's blindly obvious but still many people actually miss it.
Book Profits: Even in day trading, you should have your target and stop loss and so try to cut your losses and try to book profits. Trading is all about booking losses and making profits and outnumbering the profit over the losses.
Take a Break: At times you may not realize but things don't often work well in a series of trade and this happens to the best of the traders as well. It is better to be stepping aside and see things from the sidelines than to just put more efforts into it and try to turn things around.
Final Thoughts
If you cannot day trade, that's all ok and I am not able to either. I have blogs, forums, do freelancing and consulting for my clients and is involved in many other ventures. I cannot be sitting in front of the terminal whole day but then if you can, do it the right way.